Did you overindulge a bit this past holiday season? I know I definitely did. Christmas cocktails, rich foods, cheese plates, and exercise being illegal between Christmas and New Year's Day have left us all feeling a bit meh. Thankfully, Dry January is here to cure your meh, and I've found 10 mocktails for Dry January to cure your Dry January blues.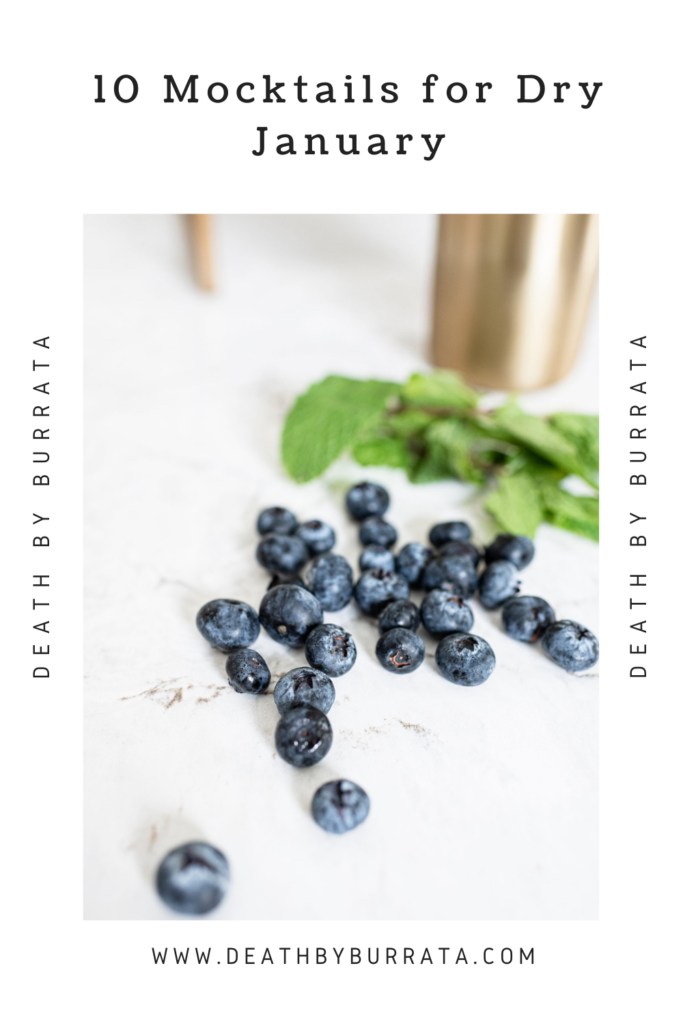 Wine without the post-wine anxiety? Sign me up. This one is supposed to taste like a slightly sweet rosé. I've been meaning to try this. If it's good I might just quit wine all together!
This is perfect for injecting some spring into your late winter days!
I recently tried the pineapple spindrifts and y'all… they are life-changing. If you want to take the lazy way out of this recipe but still keep the flavor, try a pineapple spindrift paired with some muddled mint and lime juice.
Rosemary + blueberry. Need I say more?! Combine rosemary or basil with any fruit and I'll drink a gallon of whatever you're making, no questions asked.
This drink uses the best fruits winter has to offer, but it still seems fresh and light. If you're like me and will take any excuse to buy more pomegranates, this one is for you.
This sounds delicious and will be a great way to make sure you don't waste any mint!
My parents have meyer lemons in their backyard and anything meyer lemon-related makes me think of that tree. We thought they were normal lemons for the longest time but they made the weirdest tasting lemonade. My mom just realized this year that they're meyer lemons when she asked me why I had bought lemons for salads. Now that I think about it, I should have stolen some to make candied lemon peel. I guess that'll have to wait until next winter.
I find that ginger is one of the most comforting flavors. I enjoy it added to anything since I think it always improves (or overwhelms, in a good way) the flavor. Grapefruit and ginger sound like a match made in heaven.
Okay, so, I listen to the Harry Potter books to fall asleep every night. Every. Night. I didn't read any of the books until all the movies had come out so I was never a super fan, then I read/listened to the books in high school and again in the past 6 months and now I'm obsessed. Warm butterbeer on a cold winter's night? Not exactly a *healthy* Dry January pick, but it sure sounds like a delicious one.
This is to balance out the Butterbeer! Drink this anti-inflammatory mocktail to remind your body what a vegetable tastes like.
I'm looking forward to watching everyone's Dry January journey, and I hope that you enjoy some of these 10 mocktails for Dry January so you don't get bored and quit before your goal. Let me know if there are any fun mocktails I should try out!