I love fall and winter clothes and the many opportunities they offer. Don't get me wrong, I love spring and summer clothes, too, but it would get so. hot. in south Louisiana that most of my styling decisions revolved around staying as cool as possible.
As I've mentioned before, I don't like having "one-hit wonders" in my closet, meaning I don't like to purchase something that can only be worn as part of a particular outfit. If I add in a new piece, I want to make sure it is something that I will be able to pair with multiple items that I already own. My rule is I have to think of a minimum of two different outfits I would wear, and I have to already own every other part of the outfit. To make this process easier, I like to go for a new texture, color, or unexpected detail that will still look elegant when I'm adding new pieces into my wardrobe.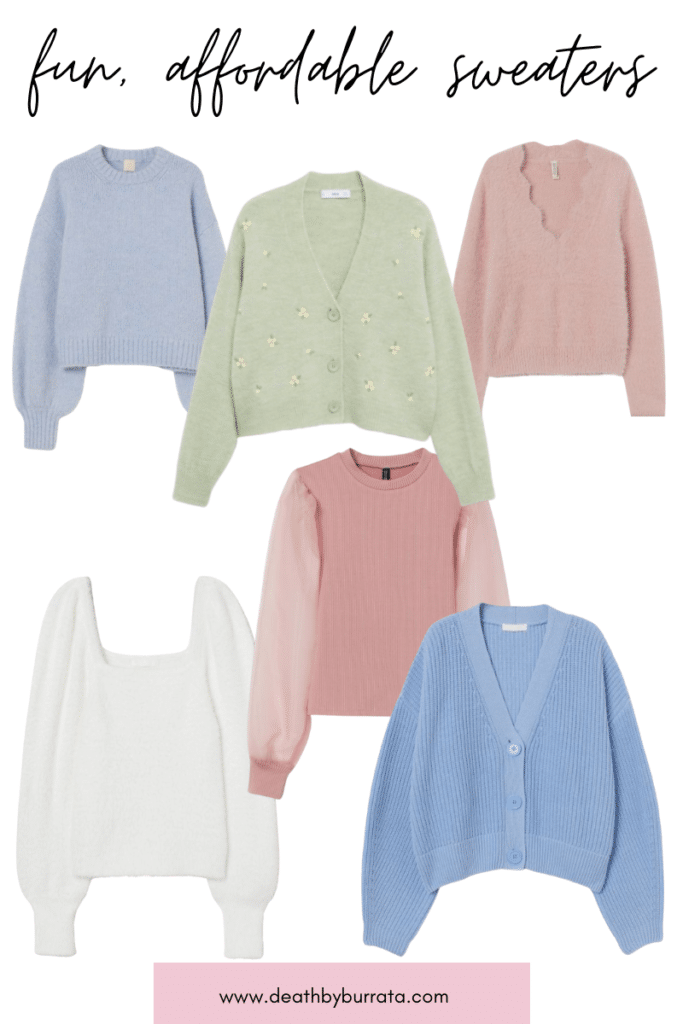 Balloon Sleeve | Embroidered Cardigan | Scallop Neckline
White Fuzzy Sweater | Organza Sleeve | Ribbed Cardigan
I find that the key to wearability when adding in a fun option is to choose for a solid color over a pattern and to select a neckline that is flattering on your frame. I try to save patterns for dresses and outerwear unless they are more classic like a houndstooth or plaid!
If you're picking up a new cardigan, either choose statement buttons and a neutral tone, or buttons that blend in with the color of the cardigan. This will keep you from having to think too much about making sure the multiple different elements contribute to a cohesive look.
My last tip is to save. your. money. by purchasing fun items from more affordable retailers. This helps to ensure that your cost per wear remains low, even if you get less wear out of it that you originally intended. I'm also a big fan of "testing out" fun pieces with a high street option, and then investing in the real thing later down the line if I love and wear my placeholder to bits.
These sweaters are all fun and affordable, and they are not only great transitional pieces but they will also work well into fall and winter!
Do you find that your wardrobe leans more trendy or classic? Let me know if the comments!