Today's post is all about blue and white home decor. Recently, I'm loving all things blue, white, and regency (blame Bridgerton!). This is pretty in line with the "grandmillennial style" I see everyone raving over, and I'm here for it. Bring on all the chinoiserie, please!
Blue and white seems to be the official color palette of all grandmillennials, and for good reason. It is a classic color combination that will never go out of style and will always look clean and fresh. I used to be all about blush this and blush that because it felt similarly "clean" to me. However, it's difficult to incorporate too much blush into a home that you share with a boy who doesn't love blush as much as you do. I'm not quite ready to give up a light and fresh vibe, so blue and white seems like the perfect replacement palette.
With that being said, I've had a pretty good idea of what I was looking for when planning our home refresh. However, I couldn't justify the price of what I truly wanted. Then came this retailer, a gift card, and a 20% off coupon. Dreams do come true! I've found the perfect, high quality, blue and white, grandmillennial home decor pieces and I think you'll love them!
Blue and white home decor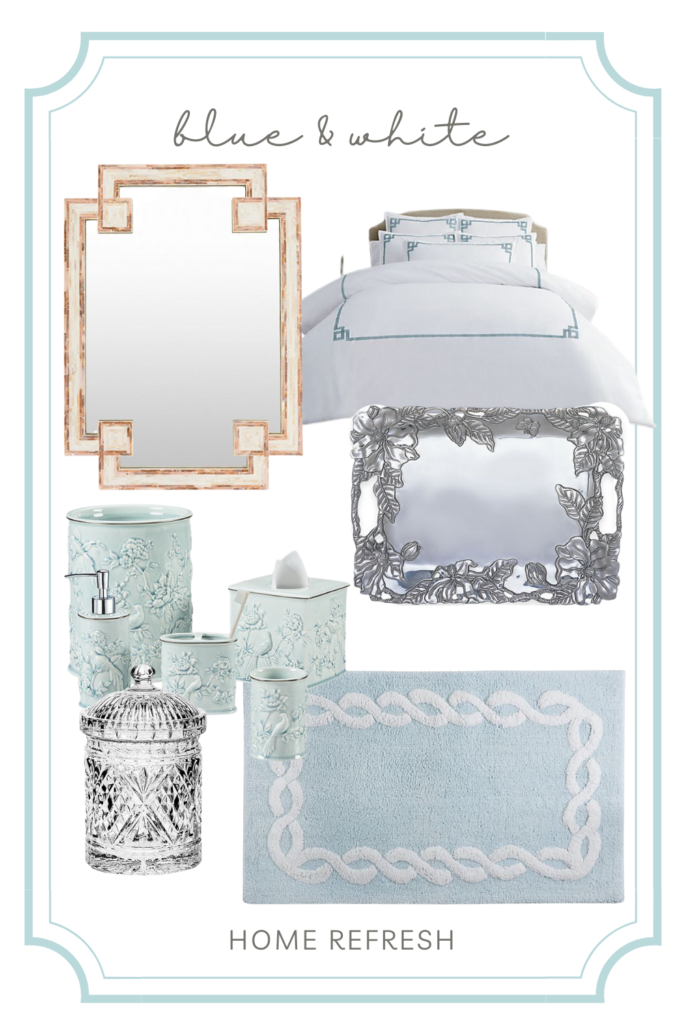 mirror // bedding // wastebasket // tissue cover // soap dispenser // toothbrush holder // tumbler // crystal jar // silver tray // bath mat
These pieces are all so classic and elegant, you'll be able to keep them in your home for years to come! I am especially in love with the pieces from the chinoiserie bath set. I'm considering getting them for our bedroom/vanity set up instead of using them in the bathroom. The toothbrush holder and tumbler cup will be perfect fr makeup brushes!
This bedding is exactly what we go! I was looking at a similar set from Ballard designs that had a thicker line, and while I really liked it, it was way out of budget. This set is high quality, classic, and a STEAL.
Are you digging the grandmillennial movement? I definitely am!

Looking for a gift for someone else in your life? Check out my gift guides below!
This post contains affiliate links. Thanks for your support!