Happy Wednesday, friends! Today I'm sharing my The Haunting of Bly Manor style inspiration.
Last weekend I binge-watched all of The Haunting of Bly Manor in a single day. It was…interesting. I was expecting it to be scary and I'm a bit of a chicken when it comes to scary movies, so I think I was waiting for the scare that never came. Even though it wasn't quite what I was expecting, I still really enjoyed it and recommended it to everyone who asked how I liked it!
By far, my favorite part of the series was the fashion. The whole time we were watching it I kept commenting on how perfectly the very 1987 styles perfectly fit today's trends. Hannah's outfits are my elegant autumn workwear inspiration, and Dani's clothes are a cozy sweater + mom jeans DREAM. I'll get more into the clothes at a later date, but this post is going to focus on my favorite part of the series: Hannah's earrings!
Check out my updated post that dives into the Bly Manor clothes here!
I have a serious obsession with gold jewelry, so I went wild over Hannah's earrings. I think gold jewelry looks so beautiful and classic. It can really "ground" an outfit and make it look more intentional and elegant. Unlike other metals, I think yellow gold looks beautiful against pretty much any skin tone.
While I love a classic pair of smooth, thick gold hoops, I've found myself drawn to braided and twisted styles lately. I'm not usually a "fun earrings" kind of person, so I think this is a testament to how classic and wearable gold jewelry is, even when it has an interesting design!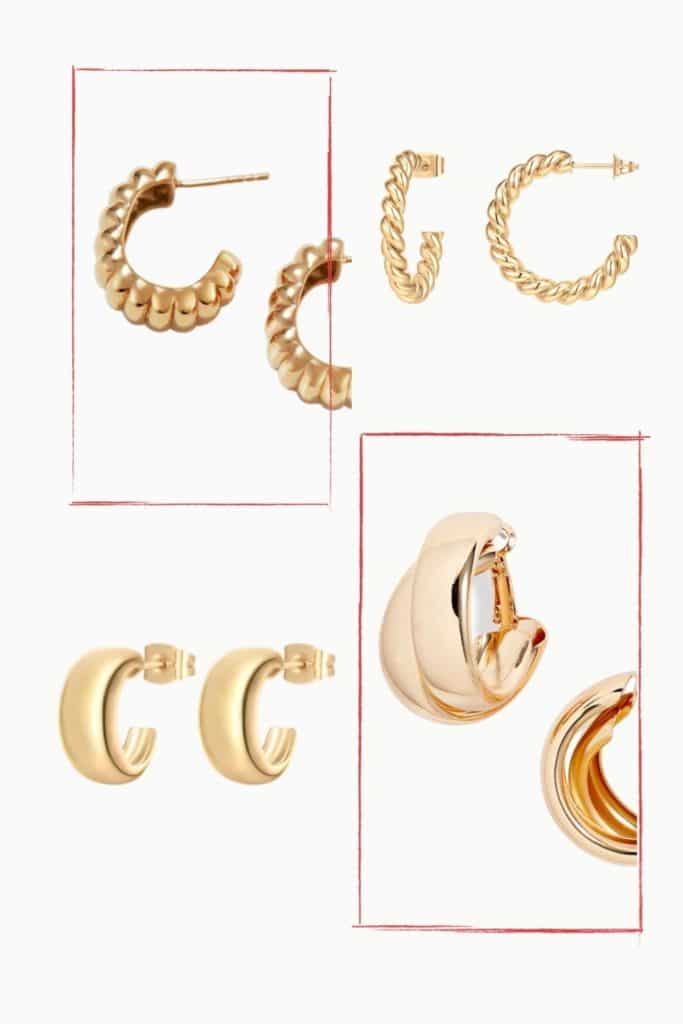 If you aren't on the yellow gold earrings train yet, hop on board! There are so many beautiful styles available now, and the price points are fantastic. I recently picked up this pair from Pavoi Jewelry, and I'm super impressed with the quality. The earrings have a great weight to them and are so high quality. For $13, you can't beat them! I think this pair is next on my acquisition list. I've been looking at them for a while and they might have to be my Christmas present.
I'm really glad that gold earrings are back, and I hope they're here to stay! I've linked more of my favorite bly manor-style inspired earrings below. Let me know what you think!

Are you caught up on all my recent posts? If not, start here!
This post may contain affiliate links. Thanks for your support!