Today I'm sharing some of my budget-friendly fall favorites from Target! As you probably know by now, Target is one of the happiest places on earth. I find that browsing the aisles is a meditative experience for me, especially when there is a holiday coming up! Target is my go-to place for stocking up on seasonal candies and budget-friendly, stylish decor.
I recently went to Target for the first time in the entire month of September (crazy, I know!). Seeing all the fall decor on display warmed my heart. I put together this collage of some of my favorite budget-friendly fall decor pieces that are currently in stock. If you check out anything on this list, start with the three-wick candle! I can't believe how good it smells and the price is amazing.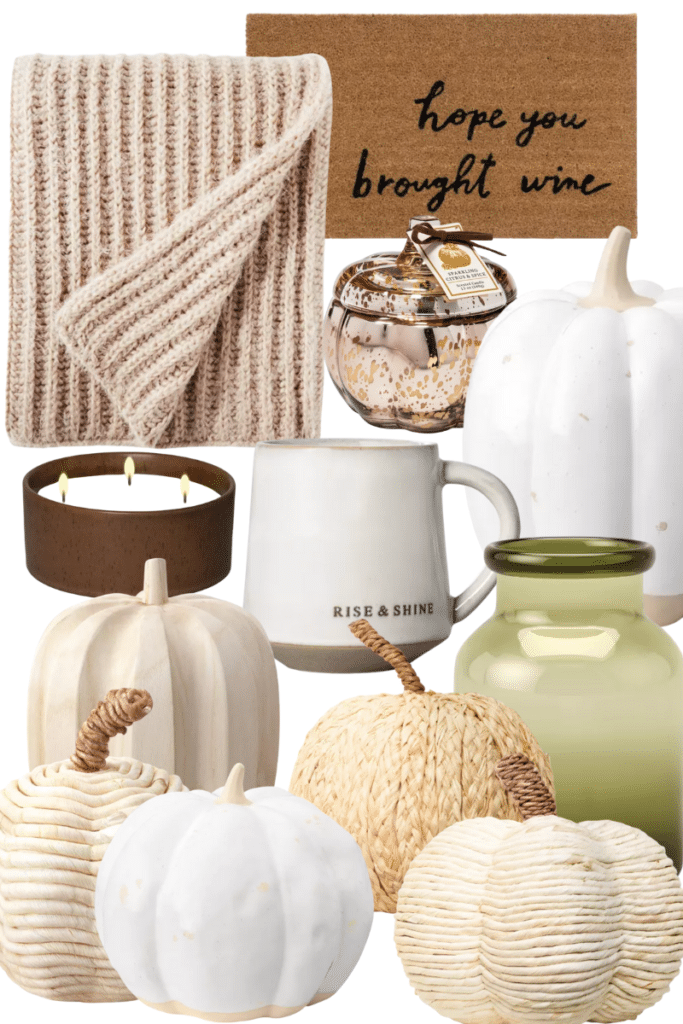 doormat, blanket, pumpkin candle, three-wick candle, mug, tall ceramic pumpkin, wood pumpkin, glass jar, pumpkins (left to right) one, two, three, four
As you'll notice, I tend to gravitate towards neutrals and more "fall" items rather than cutesy, holiday-specific decor. There are a few reasons for this, which I'm happy to share. The first reason is that I'm in the early stages of setting up my home. I don't like the idea of pigeonholing myself into a specific color scheme that I may dislike in a few years. The second reason is that I don't like the idea of only being able to use decor for a certain season – I'll reserve that for Christmas! And the third is that I genuinely prefer neutrals! Neutral pieces that complement my existing decor make my home feel cozy and autumnal. Additionally, they blend in better if you decorate a little too early or too late!
An added bonus to choosing decor that isn't holiday-specific is that you have to perfect excuse to go all out on the Halloween candy to really feel like you've recognized the holiday 😉
Itching to get even more into the fall spirit? I recommend making a yummy pumpkin recipe or picking up a spooky book!