I injured my back a few years ago and it still gives me trouble every now and then. One of the key things I've found that helps is regularly soaking in an Epsom salt bath. The problem is, I get really, really bored in the bathtub and struggle to stay in there for more than 10 or so minutes.
Usually, this isn't a problem, but a few weeks ago, I tweaked my back and was having the worst lower back pain. Absolutely no position was comfortable, the only thing that helped my pain was alternating ice and heat. I knew that soaking in Epsom salts would make me feel better, but I just couldn't bring myself to stay in the bathtub for long enough to make any difference. I thought that maybe if I could find a way to make my bath more relaxing or distract myself, then I would be able to actually soak for long enough to help my back.
I'm happy to report that I figured out a few different ways to make my baths more relaxing and enjoyable! Keep reading to hear about some of the items I think are essential to making the most of your baths.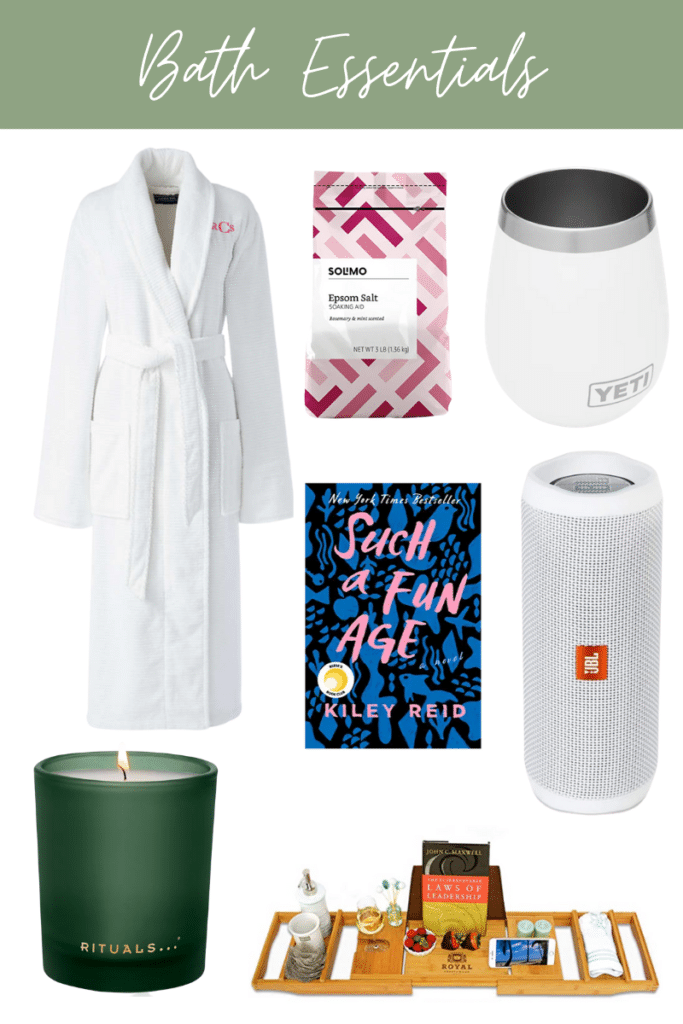 First, a cozy robe. You need something to hang out in while you set the ~mood~ for a relaxing bath. The last thing I want to do is get my jeans wet or be thinking about the day at all while I prep for the bath, so the first thing I do is put on a comfy robe. Once I've got the robe, it's time for a cold drink. I love using these yeti glasses because they keep things cold and the glasses don't sweat! Usually, I go for water with some true lime or orange added to it if I've been taking NSAIDs, but I highly recommend a crispy cold glass of wine if you're not taking any medications that shouldn't be combined with alcohol.
Next, I'll light a candle in a soothing scent. Both the lighting from the candle and the scent help me get into a chill mood. This candle has been at the top of my wishlist for a long time, and I'm ready to purchase now that I'm actually enjoying my baths! Once the candle is going, I'll start filling up the tub and sprinkle in some Epsom salts. I really enjoy these rosemary mint-scented Epsom salts because the combination of the salts + aromatherapy really helps me relax.
Then, I'll set up my most prized possession – and the most essential item for making these baths a success – my bath tray! A bath tray can really help if you are like me and want to be entertained. You can rest your phone or a book on the tray and there is also room for any bath products, a drink, a candle, and even snacks! I like this natural wood tray because it makes me think of a sauna at a spa.
Finally, I'll either set up a podcast or audiobook on a waterproof speaker, grab a book (this one was one of my favorites this summer!), or honestly just make sure my phone is charged and then put it on the tray so I can read or watch something on there during the bath.
Do you have any essentials for a relaxing bath? Let me know in the comments if there's anything I need to add to my set up! 7