Today I'm sharing a cozy glam New Year's Eve outfit. This outfit is equal parts glam and comfortable. You will look amazing and so well put together while staying warm and cozy all the way into 2021!
This outfit is actually almost exactly what I'll be wearing this New Year's Eve. I am accustomed to a cozy night in since it's my brother's birthday, so I always try to inject a little glam. It's amazing what some sparkly earrings, a bold lip, and a comfortable pair of heels can do for your holiday spirit!
I think I need to pick up these hoops to spice up my cozy-glam outfits. I love the brand and for $12, they can't be beat! As you're reading this, I'm probably on the way to pick up a sugar lip treatment in punch. I've hemmed and hawed over adding this lip color to my arsenal, but I think it's time. It's just so fun and fresh! Let me know if you'd be intersted in a blog post about red lipstick + skintones. I am very passionate about finding the most flattering lip shade.
Whatever your New Year's Eve plans are, I hope you make them both cozy and glam!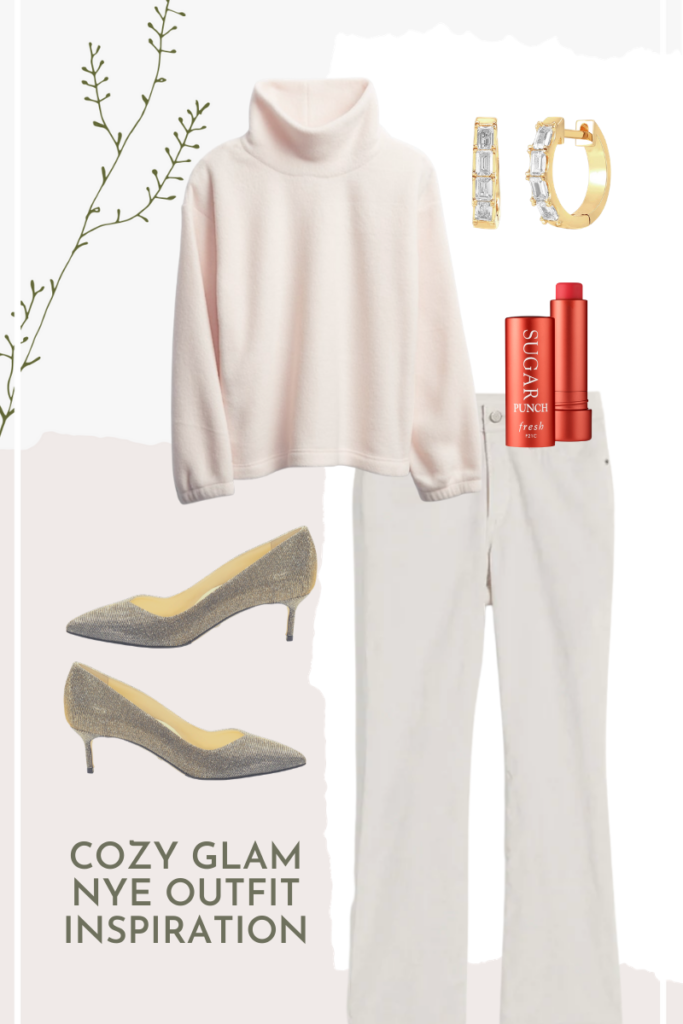 Also, great news! I am a Sarah Flint brand ambassador, so you can use my code for a discount on your first pair of shoes. Use code SARAHFLINT-BAERIKAR to to get a $50 discount!
Looking for a gift for someone else in your life? Check out my other gift guides below!
This post contains affiliate links. Thanks for your support!