Today's post is all about crisp and cozy New Year's Eve outfit inspiration. These looks are all budget-friendly and perfect for a cozy evening at home!
New Year's Eve actually happens to be my brother's birthday, so I'm used to a cozy evening at home. Even if there wasn't another reason to have a low-key evening at home this year, that's what I'd be doing! Since I was never allowed to have a crazy going out evening on NYE, I'm a big fan of a cozy and cute New Year's Eve outfit.
I especially love setting the tone for the new year and opting for something crisp and clean. I love a warm-toned holiday season with all the glitz, warm colors, and indulgence. However, I'm always ready for a clean slate in the new year!
Without further ado, let's get into the crisp and cozy New Year's Eve outfit inspiration!
Winter whites will never go out of style, but there is a right way to go about winter whites. The right way is to incorporate cozy textures that are seasonably appropriate. These high waisted velvet jeans are just the thing you need to elevate your winter whites and make all your winter outfits look chic and effortless. The best part? They're only $25.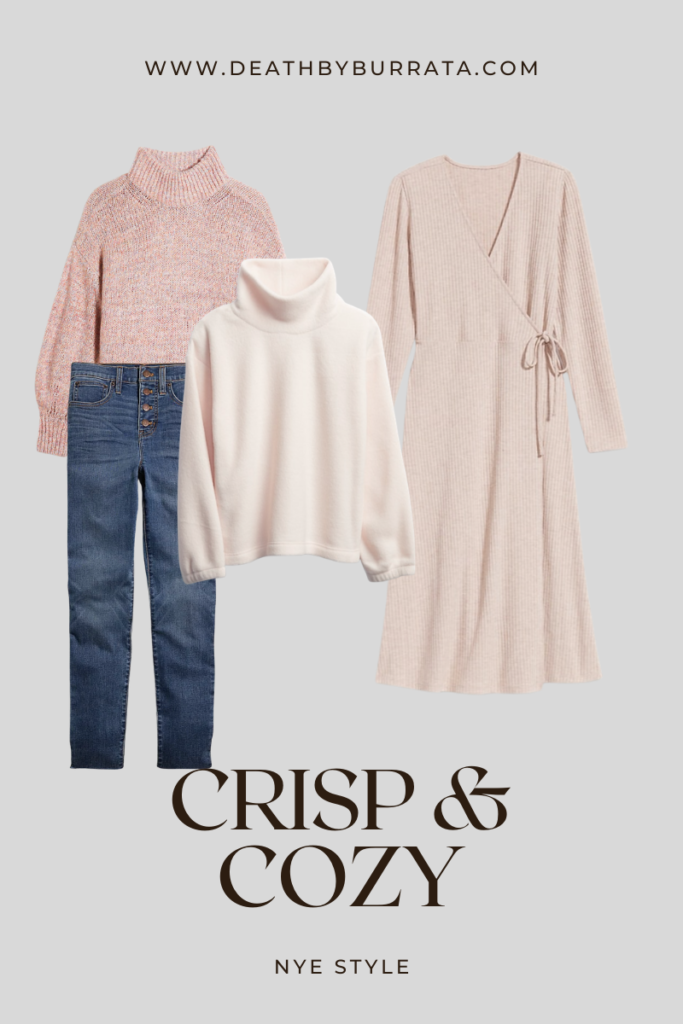 If there's one thing I hope I can convince you to treat yourself to, it's these super soft, comfortable, flattering jeans. The price is ridiculously low and they are the SOFTEST jeans I've ever worn. Seriously. I can't get over them. I even choose these over leggings when I take my dog out because they are that comfortable. And they're jeans, not jeggings! I don't know how they do it. I've washed them a bunch of times already (because I'm always wearing them) and they still look brand new!
If you're looking for a middle ground between real pants and sweatpants, I also highly recommend a pair of these velvet leggings! I have (and love!) a dark blue pair that I find pairs so well with everything. They are so comfortable and flattering, and you would never know that they were a legging if you wore them with a longer top! If I don't give in and buy every single item I listed here today, that's probably what I'll be wearing this NYE!
Looking for a gift for someone in your life? Check out my gift guides below!
This post contains affiliate links. Thanks for your support!