Happy Sunday, friends! Today I want to share my easy, everyday jewelry with you.
I am all about easy, everyday jewelry that is timeless, well made and has a special meaning attached to it. Every time I catch a glimpse of my earrings and necklace in the mirror or look down at my hands when I'm typing, I'm reminded of the special meaning behind my pieces.
When I say everyday jewelry, I mean every. day. jewelry. Even if I'm not getting dressed for the day, you won't catch me without my earrings, rings, and necklace. This is in part because I sleep in my jewelry, so I rarely have to put it back on, lol. But even the pieces I don't sleep in I make a point to put back on every morning. There's just something about wearing jewelry that makes you look so much more put together and intentional. I love it!
Now, without further ado, let's get into the jewelry!
Earrings
My easy, everyday earrings are pearl studs. I got the same pair of pearl studs I wear now back in 6th grade, and I've worn them basically every day ever since! I actually have to remember to take them off every now and then so I can clean them properly, but you'll rarely see me without them. Pearl studs are the perfect, timeless touch to any outfit. You really can't go wrong with pearl studs. They go with everything!
Bracelets
I wear two bracelets on most days. I do take these off every night just because I take off my apple watch to charge it and it just feels wrong to leave my other wrist jewelry on! My two everyday bracelets are my Mimosa Handcrafted magnolia bangle and an old gold bracelet my mom got when she was a teenager. I love the way these look together. I actually got my mom the same magnolia bangle for Christmas a few years ago and she gets compliments on it from all her coworkers!
Necklace
My favorite, favorite necklace of all time is this beautiful piece from Mimosa Handcrafted. I actually stole it from my mom and lost it, then my fiancé repurchased it for me. It is such a gorgeous piece and I always get so many compliments on it. It is the perfect finishing touch to my workwear and casual outfits.
Rings
Now for my favorite easy, everyday jewelry pieces – my rings! To be completely honest, I used to very, very rarely take off my rings, but now I take them off every night. I like to wear them to work and I work at a hospital, so I don't want any extra exposure germs that may be lingering under my engagement ring stone. If I had unlimited funds, I would. probably invest in a second, bezel set ring to wear to work so this wasn't so much of an issue, but that isn't the case for now!
My favorite ring is (obviously) my engagement ring. I like having a little reminder of my fiancé right on my finger! My other two easy, everyday rings are, you guessed it, from Mimosa Handcrafted! I love the pelican ring because it reminds me of my home state and my parents and friends who live there. I also love this breathe ring. They have a more in-depth, well-written description on their website, but essentially it is a reminder to breathe deeply to help center yourself and reduce stress/anxiety. As a person with anxiety, I love having this little reminder! I bought this ring pre-engagement, so it only fits my ring finger. I just wear it with my engagement ring, and I actually love the look. I'm considering getting it made in 14k gold to use as my wedding band.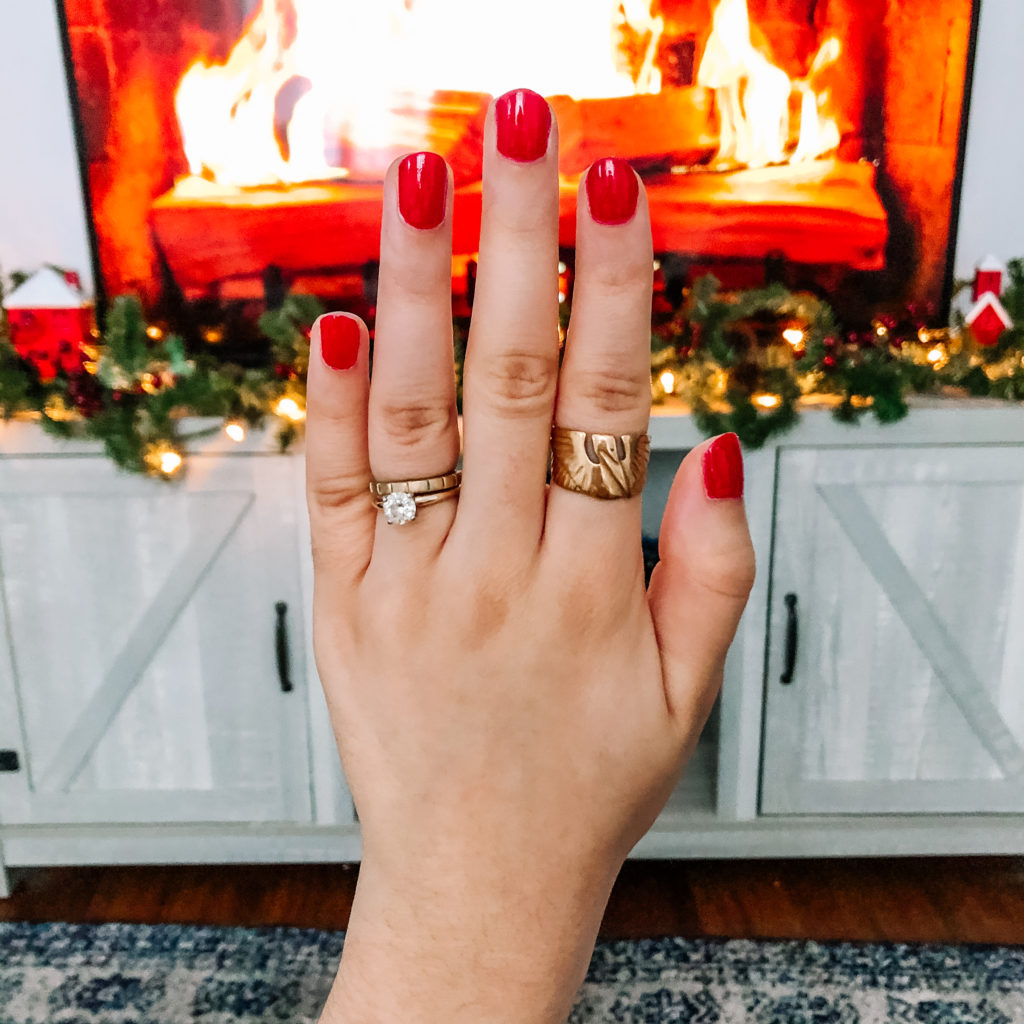 What are your favorite easy, everyday jewelry pieces? I'd love to see what you wear every day!
Are you caught up on all my recent posts? If not, start here!
This post contains affiliate links. Thanks for your support!