Happy first day of Fall, y'all! I have put together a list of bucket list activities to do this Fall. I am thrilled to experience my first fall as a northerner! Previously, I have had to squeeze a season's worth of activities into a weekend or two spent in Minnesota when we would visit my fiancé's family. We would get a lot of Fall activities done when we visited, but I like to spread things out in order to soak in the experiences better.
As I am fairly new to a real Fall experience, I thought it would be fun to put together a Fall "bucket list" of everything I am excited to do this season.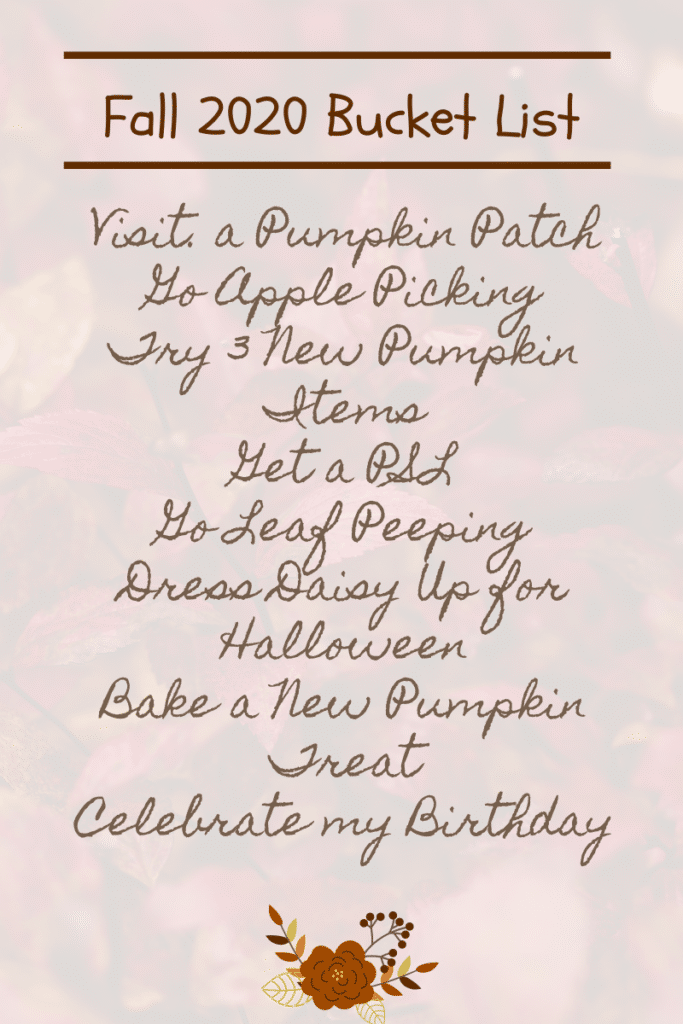 ONE // Visit a Pumpkin Patch
I am hoping to visit a pumpkin patch and pick out a few cute pumpkins for our home! Our landlord recently painted our front stoop, so I am itching to make it extra cute with some fall decor.
TWO // Go Apple Picking
My fiancé and I went to an apple orchard with friends last fall, and it was SO. FUN. It drizzled the day of, so we spent most of our time inside eating delicious pumpkin treats and drinking cider. I am hoping to get out to an apple orchard again this year – socially distanced, of course – and pick a few apples. Apple cinnamon treats have been calling my name lately!
THREE // Try 3 New Pumpkin Items (from Trader Joe's)
Y'all, it has been almost a month since I've been to Trader Joe's. Daddy, if you're reading this, I promise I haven't been abducted, I just haven't made it out there! I keep seeing everyone's Instagram posts of the fun new pumpkin items and am dying to try some. I generally stick to my favorites, but this year I want to try to branch out and try at least three new-to-me items.
FOUR // Get a PSL
I've been actively working on my Starbucks addiction for the past month. I haven't gone into Starbucks once! Has this been so I don't bankrupt myself on the pumpkin beverages? Maybe. Anyway, I'm going to give myself a day pass and get a PSL, probably today! It isn't really Fall until you have a pumpkin spice latte, right?
FIVE // Go Leaf Peeping
I'm so excited to see the leaves change!!!!!!!!!! If you grew up with leaves changing, you might not understand the level of excitement that I'm feeling, but I can hardly wait to see the leaves change. I want to plan a long drive or day trip so we can go leaf peeping this year!
SIX // Dress Daisy Up for Halloween
Have you met my dog, Daisy? She is all over @deathbyburrata on Instagram! Daisy loves sweaters and is oddly pretty amenable to me dressing her up – probably because of all the extra attention she gets. I can't wait to pick out a Halloween costume for her and dress her up this year!
SEVEN // Bake a New Pumpkin Treat
Did you see the list of pumpkin recipes I put together recently? I can't wait to get to baking now that the weather is getting cooler! If the weather is still warm where you are, this pumpkin pie smoothie looks like the perfect warm-weather fall treat!
EIGHT // Celebrate my Birthday
It's Libra season, baby! In true Libra fashion, I will be claiming the rest of this month and all of October as my birthday season. Get ready for a few (too many) treat yourself moments!
Do you have a fall bucket list of activities this year? Let me know what fun activities you are hoping to do this fall!