Hi, friends! Today I am sharing five mental health tips for the holidays.
Without even considering the crazy times we are living in, the holidays are undeniably stressful. The sun is setting earlier, obligations come out of nowhere, and everyone expects you to be in a good mood because, hey, it's Christmas. With the times we are living in, it is safe to say that our mental health is under more strain than ever before. As the holidays draw closer and closer, it is easy to get overwhelmed and feel that your mental health is suffering.
If you're already feeling overwhelmed, please take this as your sign from the universe that it is okay to step back and take care of your mind. And, if you're really struggling, give your doctor a call! They're here to help.
Not sure if you need to take care of your mental health over the holidays? Well, these tips are especially good for you! It's better to enter the hustle and bustle of the holidays with a game plan for how to take care of yourself. If you start implementing these tips before you start to experience any holiday strain, you may be able to keep that festive feeling all season long!
So, without further ado, let's get into my five mental health tips for the holidays.
Screentime
My first tip is to set a screentime limit on your phone. With holiday messages, Facebook posts, Instagram stories, and last minute-sales, I'm sure your phone is blowing up. Or, at least mine is, so if yours isn't, teach me your ways! It's so easy to get caught up in comment thread conversations with family, browsing sales, or responding as soon as a new text comes through. It's extra difficult if you're off of work and are enjoying getting to relax and mess around on your phone more than usual! However, setting a strict amount of time for how long you'll be on your phone will help your mental health immensely this holiday season. Reduced time staring at the blue light will ensure you get better sleep at night! You won't play the social media comparison game! You'll be more present with your loved ones in real-time! I could go on and on.
The moral of the story is, figure out how much time you want to spend on your phone and try to stick to it. If you end up going over because the Christmas memes were just too good or Facetime with your family ran long, don't beat yourself up. Just make sure you are mindful of how much time you're spending on your phone. This way you can save your time for those special moments.
Hot tip: set this kind of high! I'm almost always on my phone, so I set a pretty high time limit for how much time I want to be on it. My goal each day is to never get that screen time reminder.
recharge
I am totally guilty of making my visits back home super jam-packed and not wanting to miss out on a single event, holiday activity, or coffee catch-up with friends. However, that literally never works out well for me. As an introvert, it is super, super important for me to have time to recharge. Not only does it benefit me, but it benefits those around me!
Even if it's just 10 minutes to lay in bed and contemplate life, a walk around the block, or coffee outdoors, it's so important to have a little bit of quiet alone time. I promise, your family would rather have you in a good mood and at 90% of the Christmas activities than in a foul mood and at 100% of the activities. Or, at least mine would, lol.
alcohol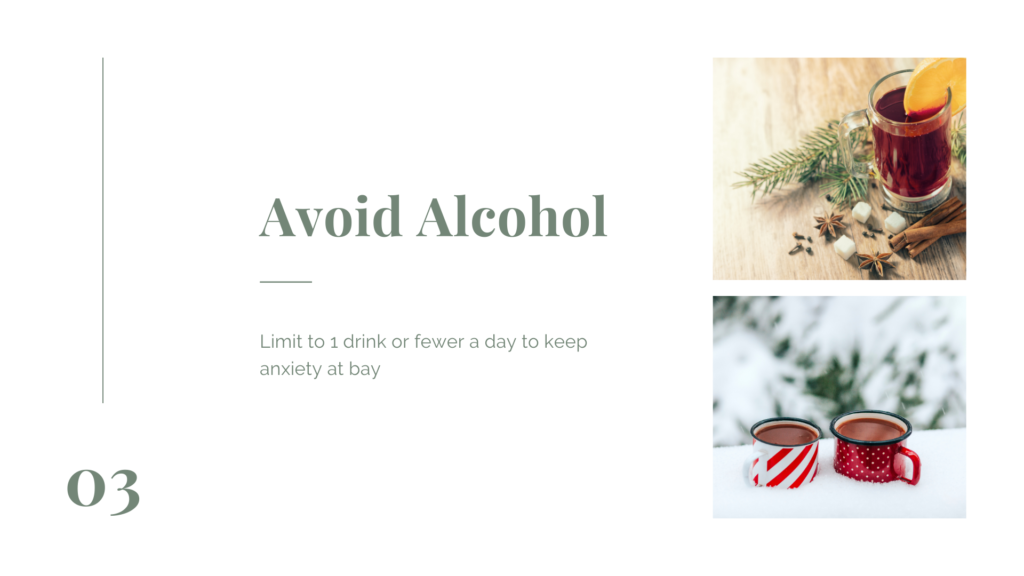 Okay, this one might be controversial, but try to cool it on the holiday cocktails. They're SO good, I know. But, personally, if I know if I overdo it with alcohol I'll have heightened anxiety for at least the next three days. Overdoing it can mean more than 2-3 drinks in a night, or even just drinking a few too many days in a row.
If you know you'll be around alcohol a few days in a row, opt for a mocktail in-between days you choose to drink. If there's one night you know you'll be around a lot of drinks, start off the day with water, juice, or a few mocktails, then move on to a cocktail later in the evening. I find it's easier to start drinking later than to switch to water after I've already had a drink or two!
mindful movement
I know, I know. A mental health tips list that tells you to exercise? Groundbreaking. WELL, I wouldn't recommend it if it didn't work. It doesn't matter what you do or when you do it, but try to get some movement every day. This will help you work off the holiday stress and will help you maintain your headspace throughout the day. Bonus points if you use this as your alone time for the day!
practice gratitudetice
When I sat down to think of five mental health tips for the holidays, gratitude was right at the top of my list. So, here I am putting it at the bottom! In all honesty, this year is so, so different from years past. Many of us are not able to see our families or partake in many of our usual festivities and traditions. It can be super easy to dwell on the things we're missing out on what we're missing and forget to appreciate what we have.
So, this holiday season, try to take a few minutes each day to list what you're grateful for. It could be your own health, your family's health, a yummy cocktail, those 5 minutes of peace and quiet you got, or even a great sale find. Whatever it is, name it! Acknowledge it! Enjoy it!
I hope you found these tips helpful!
Looking for a gift for someone in your life? Check out my gift guides below!
This post contains affiliate links. Thanks for your support!