Welcome to your ultimate guide to clear, glowing summer skin on a budget! Truly, there is no bigger confidence boost than looking in the mirror and seeing that your skin is clear and glowing.
This is especially true in the summer! As temperatures rise, you want to feel confident in your own skin and don't want to worry about your makeup melting and revealing some lingering winter dullness.
While there are plenty of makeup products that can temporarily take away dullness and give you a glowing goddess look, this post focuses on game-changing skincare products that will take your skincare routine to the next level. There is absolutely no replacement for being confident in the skin that you are in!
Now, let's get into exactly what you need to transform your dull, tired winter skin into clear, glowing summer skin!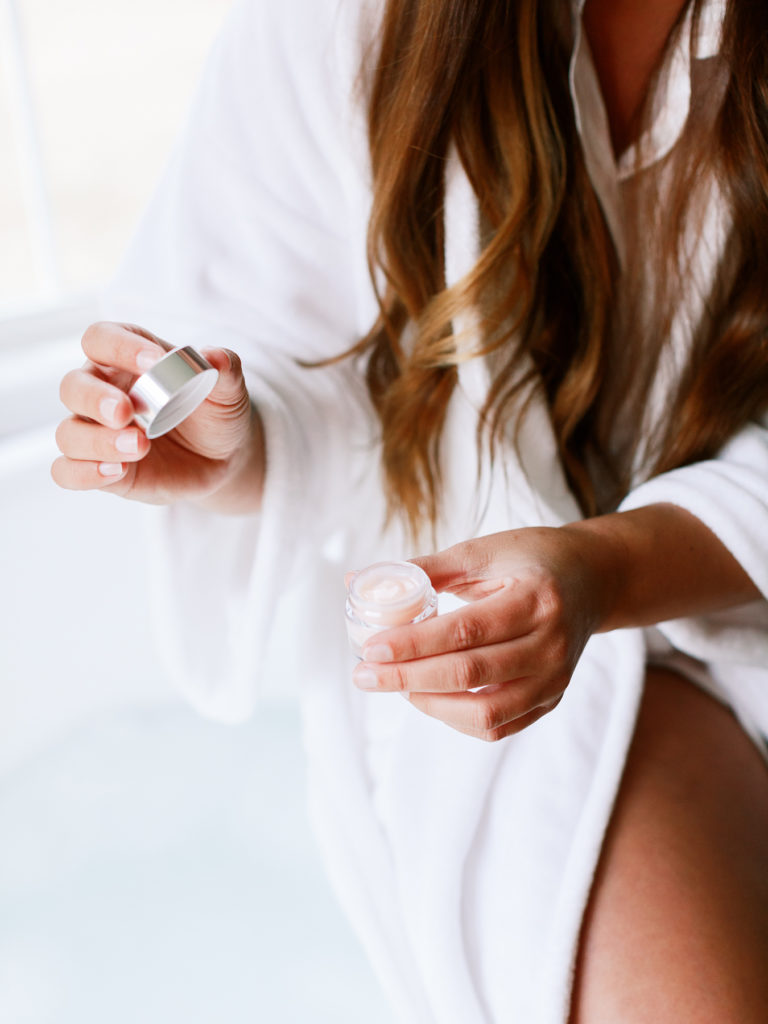 ONE // Cleanse Your Way to Glowing Summer Skin
My dermatologist loves this brand and gave me a sample of this cleanser years ago! This is the best for keeping your skin hydrated and protecting your skin barrier! This affordable cleanser is key to making sure that you don't get ghat tight, itchy feeling. Your face should never feel stripped after you wash it!
TWO // This Dark Spot Corrector is Key for Clear, Glowing Skin
This is the best dark spot correcting serum on the planet, regardless of the price. And, girl, the price is right. Seriously. You need it. I tend to pick my chin when I am really stressed and used to just LIVE with a dark chin all the time, but this product completely takes away that issue. And the price?! It can't be beaten!
THREE // Vitamin C Serum is Your Ticket to Glowing Summer Skin
Listen, if you have the budget for a $200 vitamin C serum, please let me know what your job is and if your company is hiring. I, unfortunately, don't have the wiggle room for a $200 serum right now. Boy, do I wish I did! I have heard nothing but good things about this serum and my dermatologist (who I trust with my life) recommend it when I asked her for what she thought was the best. However, it just really isn't in the cards for me to spend multiple weeks of the grocery money on a serum right now. Maybe one day!
In the meantime, this is an amazing alternative. I have tried a lot of vitamin c serums, and while they almost all instantly deliver on the glowing summer skin promise, they also tend to oxidize (aka turn orange and lose some of their efficacy) pretty quickly. This is the only vitamin C serum I have EVER used that stayed the correct color until I was completely finished with it – and I didn't even have to store it in the bathroom or do anything crazy to keep it safe! For the price, you won't feel bad about slathering it on every morning and night.
FOUR // Hydrate your Way to a Summer Glow
I've had my eye on this Finnish brand for a while, so I was thrilled to see it was available in the drug store! Y'all, this moisturizer does not disappoint. It absorbs super quickly and will give you glowing summer skin without looking greasy. This is great for any skin type, but you may need to add a little extra to your drier patches if you have extremely dry skin.
FIVE // Retinol is Your Year-Round Glowing Goddess BFF
You didn't think you were going to read an article about skincare without hearing about retinol, did you? Of course not! Retinol is truly the secret to clear, glowing summer skin.
The only downside of retinol is that your skin can go through a purging phase during which it looks worse than before you started using it. Retinol speeds up cell turnover, so if you are acne-prone it can cause your acne to come to the surface faster. It can also leave your skin dry, tight, and flaking for a bit. Wow, I'm really selling this, aren't I? Trust me, it is worth any sort of purging period for the aging prevention, skin smoothing, and overall GLOW you can get from using it. If you start using it now, you should have clear and glowing skin just in time for summer!
If you are worried about how your skin will react, start by adding it into your routine every other night, or try mixing it with your moisturizer – or do both if you are really worried! Personally, I didn't have a bad "onboarding" period with retinol. However, I will occasionally have extremely flaky on occasion. This is typical if I don't wait for my skin to completely dry after cleansing. Retinol should only go on clean, DRY skin. Brush your teeth, wash your face, let it dry, apply your retinol, then apply your other skincare products. Trust me.
If you are new to retinol, this is my favorite drugstore retinol for glowing summer skin!
SIX // You Absolutely Need this Oil-Serum Hybrid
If you want to take your skin to next level glowing summer skin level, please buy this oil serum hybrid. This is perfect for if your skin is looking extra dry one day, or even if you just really want to look like a glowing summer goddess!
SEVEN // Sunscreen is a Must-Have for Glowing Summer Skin
La piece de resistance! If you only do one thing for your skin, let it be wearing sunscreen every single day. For your skin to truly glow from within, it needs to be healthy. Sun exposure stresses your skin and, besides making it more difficult for you to look your best now, it causes wrinkles, uneven skin tone, and skin cancer.
Though I'm all about prevention, my favorite sunscreens are actually ones that make my skin look better automatically. I use this one every day, but this one here will seriously make you GLOW from afar and looks so, so nice under makeup. Be warned, it is super You will look like a damp, glowing, summer skincare goddess!
Do you have any favorite products that rely on for glowing summer skin? Please let me know in the comments, I would love to try some out!
Looking for a gift for someone in your life? Check out my gift guides below!
This post contains affiliate links. Thanks for your support!