Happy Sunday, friends! Today I am sharing all about Health for the Holidays.
It will come as no surprise to you that the holidays look a little different for most of us this year. Now more than ever, everyone is focused on trying to remain as healthy as possible. However, the sun sets earlier now, we can't interact with our family and friends like we are used to, and there's the whole imminent-collapse-of-society-as-we-know-it thing.
In a Rut
With everything going on right now, I've found myself in a serious fitness rut. No joke, yesterday was the first day I exercised since June, and the two workouts I did in June were my first workouts since March. I definitely needed some of the rest I took in those months, but I was starting to feel stuck. I was feeling kind of blah physically and mentally, and I know the complete lack of exercise and excessive cheese consumption probably had something to do with it. So, I polled some of y'all on Instagram to get ideas on how to get out of a rut. The results were really surprising!
I expected to hear about some new workout classes or cute activewear, but that was not the case. Instead, about 90% of the people who responded shared that they also feel like they're in a rut and don't know how to get out of it. That really got me thinking. I was really feeling alone in this whole fitness (and general wellness) rut. However, clearly, other people are experiencing the same thing. I know social support is critical for physical health and wellness. So, if so many of us are in this rut together, shouldn't there be a social-distancing-friendly way get out of it together, too?
Well, I couldn't find any that focused on the different dimensions of health I wanted to address, so I decided to make one!
Health for the Holidays
Health for the Holidays is a community of people who want to focus on their physical, mental, and spiritual health throughout the holiday season. It is not a diet or exercise program. This is simply a way to connect with other people who want to set and commit to small, achievable goals to improve their health. Health for the Holidays begins on November 1st (today!) and goes through December 24th. Throughout this time, we will all strive to meet 5 small, achievable goals to increase our physical, mental, and spiritual health every. day.
Five daily goals might sound daunting, but I promise it isn't! To give you a reference for how simple these goals can be, my goals are as follows:
Get 15 minutes of movement
Drink 32 oz of plain water
Eat one fruit or vegetable with every meal
Meditate for 5 minutes
Do one act of self-care
See, nothing revolutionary! You may even think these goals are kind of silly. Anyone should be able to meet them every day, right? That's kind of the idea! None of these goals are crazy or difficult to achieve. However, I can't remember the last time I did even two of them on the same day, much less all five!
How to Get Involved
If you're reading this and think it is a good time for you to get involved, then great! I can't wait to cheer each other on! In order to be able to do so, it would be great to get connected.
If you're on Instagram, you can follow along with me here. Tag me in any stories or posts you make about Health for the Holidays, and make sure to use the hashtag #HealthForTheHolidays2020 so we can find each other and others who want to connect.
If you're not on Instagram, no problem! I'll also be posting about this on Pinterest (follow me here!) and on this site regularly. You can follow along by subscribing (check the side bar!) to make sure you don't miss a post, or by just checking back here regularly. I post every day, so I'm hoping to do a weekly check-in regarding the challenge. If you don't want to subscribe, you can also just email me at deathbyburrata@gmail.com. I'm happy to help support you any way that I can!
If you're following alone via social media, use the printable below on your feed or stories. You just have to hold it down to save it to your phone. Don't forget to use the hashtag #HealthForTheHolidays and tag @deathbyburrata so I can feature you!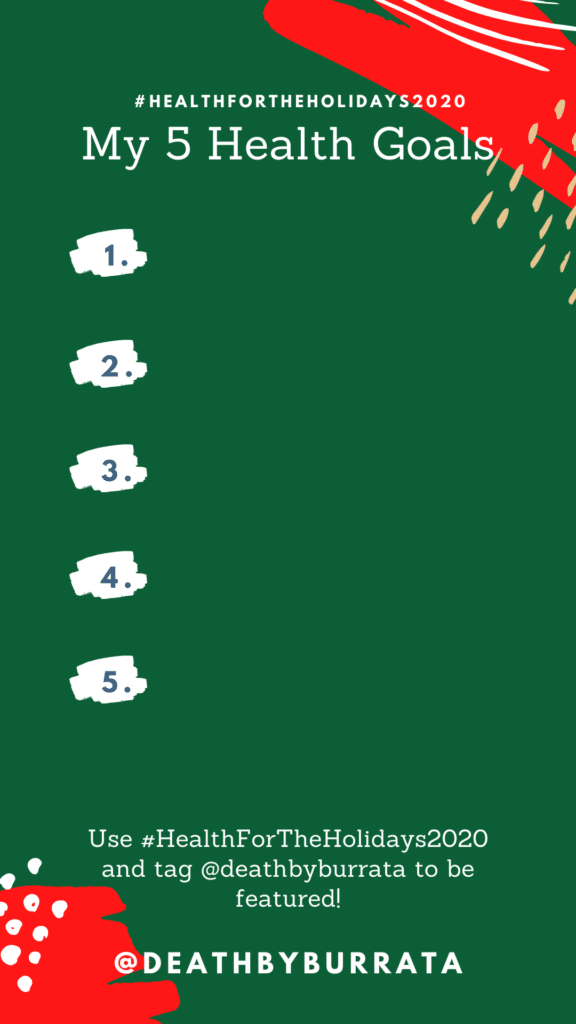 I can't wait to get started and to help support each other throughout this holiday season. It's going to be great!
Are you caught up on all my recent posts? If not, start here!