Hi friends! It is time for all your last minute Christmas gifts! Christmas is just around the corner, and deadlines to order online are even closer! Luckily, you can still find a few good sales. I've put together this list of last minute Christmas gifts – all on sale! All of these items are available for great prices, especially considering they are an extra 30% off right now! Check these out if there is anyone left on your list – or maybe something for yourself to celebrate the end of Christmas shopping!
Last Minute Jewelry Gifts
bracelet / pearl necklace / small initial necklace / initial pendant necklace / bow earrings
These jewelry gifts are timeless, well priced, and will be here just in time for Christmas! I think they'd look beautiful on anyone and would fit into anyone's style.
Gifts for the Person Who has Everything
coin purse / felt ornament / calendar / puzzle
These gift ideas are so cute! I love the idea of an explore the world calendar is such a great idea for 2021. I'm so looking forward to being able to travel and see the world again. For while we're still safe inside, this puzzle makes a great gift. Also, you can't go wrong with a cute personalized gift. I love this felt ornament and coin purse!
Last Minute Cozy Self-Care Gifts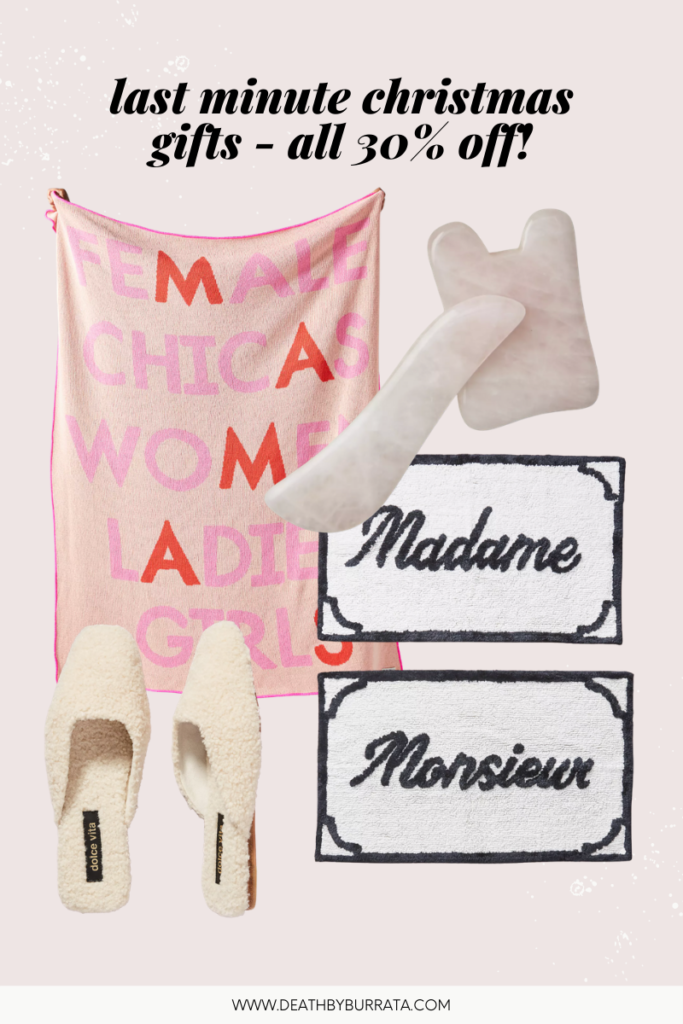 throw / gua sha / slippers / bath mats
You've probably realized that I am the self-care queen by now. These cozy, indulgent self-care gifts will be perfect for anyone on your list. I'm especially loving the Madam and Monsieur bathmats. They would be so cute if you have his & hers bathroom sinks!
Gifts for the Home & Kitchen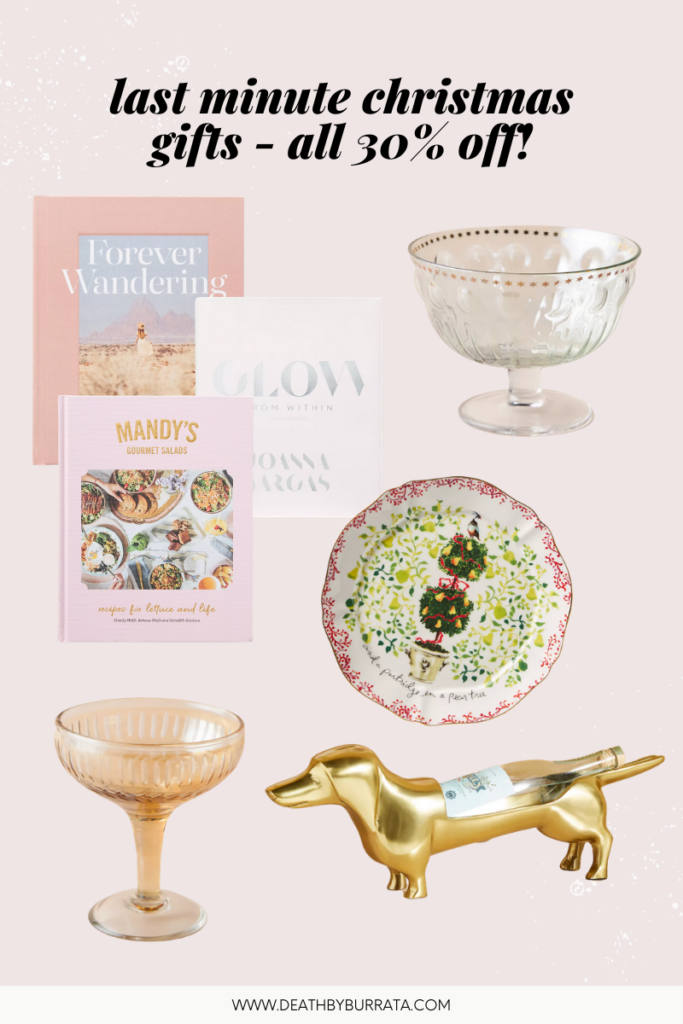 book (1, 2, 3) / mini coupe / amber coupe/ plate / wine holder
Last but certainly not least, these cute gifts for your home and kitchen! I'm all about champagne coupes lately, and these vintage styles are just so cute. Get an adorable wine holder, too, and you've got the perfect Christmas gift. These books are also lovely. They'd be beautiful on a coffee table and look like such great reads. Lastly, I can't get over the sweet partridge in a pear tree plate. It would be perfect for Christmas cookies. You can get the whole set of the 12 days of Christmas. I think it would be so sweet to collect these and eventually have a set for Christmas lunch and dinner.
I hope you enjoyed these last minute Christmas gifts. Be sure to order soon so you can make sure to get them in time for the holidays!
Looking for a gift for someone in your life? Check out my gift guides below!
This post contains affiliate links. Thanks for your support!