Hi there! Today's post is all about Lilly Pulitzer pieces that you can wear every day. Keep reading to find out how you can win a $200 gift card to Lilly Pulitzer today!
I have invested in quite a few Lilly Pulitzer pieces over the years and have really enjoyed having a fun, unique piece for some of my life milestones. I still absolutely adore the hot pink and white lace Lilly dress that I wore for my college graduation, and I frequently break out a cute skirt set that I originally bought for my honeymoon (TBD when the wedding is actually happening, but at least I got to wear my honeymoon outfits!).
Another thing I love about Lilly? It is so recognizable – but only to Lilly lovers! I can't tell you how many friends I have made at weddings because another girl and I bonded over both wearing Lilly, or one of us owning another item in the same print! Anything from Lilly is an automatic ice breaker if you find a fellow fan of the brand.
As you can tell, I am a huge fan of Lilly Pulitzer's fun prints, bright colors, and high-quality pieces. However, while I love their bright and fun styles, I completely understand that you may be hesitant to purchase some of their brighter pieces. They are super fun and can be a bit loud, so they might not immediately look like something that is super wearable. Thankfully, Lilly Pulitzer has plenty of pieces that embody fun, fresh Palm Beach style while still being ultra-wearable for everyday outings or special events! This post today is dedicated to the Lilly Pulitzer pieces I think you can easily wear every day. These pieces are perfect for everything from a special life event to brunch with friends, and some are even appropriate for work!
Before I share these Lilly Pulitzer pieces you can wear every day, you absolutely need to find out how to win a gift card – it's guilt-free shopping!
Win a Lilly Pulitzer Gift Card
I decided to put this post together today because some friends and I over on Instagram are giving away a $200 Lilly Pulitzer gift card! We thought that this giveaway would be the perfect way to kick off the spring shopping season, particularly since we have had such a cold and dreary winter! With $200, you could buy any of the pieces in this post! Whether you are looking for an effortless, solid-colored Lilly Pulitzer Piece that you can wear every day, a sweet white dress for graduation or wedding-related events, or some fun, colorful accessories, there is truly something here for everyone!
So, head on over to Instagram and join the giveaway, then come back here to pick out what you'll buy if you win!
Bridal and Graduation Dresses
click the images below to shop!

These effortless Lilly Pulitzer dresses are perfect for any spring or summer special even. Whether you are graduating, having a bridal shower or engagement party, or even just heading to a nice dinner, you can't go wrong with any of these fresh, sophisticated, and fun white dresses.
Summer-Ready White Tops
click the images below to shop!

These white tops are absolutely perfect for spring and summer! Whether you are like me and struggling through a chilly northeast spring, already sweltering in the south, or enjoying a breezy, beautiful, perfect spring day, there is an option for everyone! Since it is still cold here, I am especially drawn to the pearl-embellished sweater or the Chanel-lookalike white cardigan sweater. I think these would be perfect for adding a warm layer to a spring look while still keeping things looking fresh and seasonally appropriate.
Solid Lilly Pulizter Favorites
click the images below to shop!

Okay, y'all, truly, I nearly fainted when I saw these gorgeous solid-colored dresses. Especially that cobalt blue number with the ruffle neck – it is so, so chic! These effortless shift dresses are perfect for truly any event. The high necklines automatically elevate the look, and the detailing at the collar adds the perfect, unexpected, high fashion touch. The loose fit of these dresses will ensure that they flatter a variety of body types. If you carry more of your weight in your hips and stomach, I recommend sizing up one size. If you have any extra fabric in the collar or arms, you can always get it taken in a bit, but you want to make sure the dress isn't tight anywhere so that you can maintain that effortlessly chic look.
Fun Lilly Pulitzer Prints
click the images below to shop!

This is where the real fun is! If you are a Lilly Pulitzer fan already, then you know that the signature bright and fun prints are the brand's signature style. While I love a good, highly recognizable Lilly print, I think that these ever so slightly more subdued options will really provide you the most bang for your buck. While you are still rocking the fun, signature bright-colored Lilly look, the smaller pattern sizes and effortless, breezy silhouettes will ensure you don't look too overdone.
Bright Cardigans and Sweaters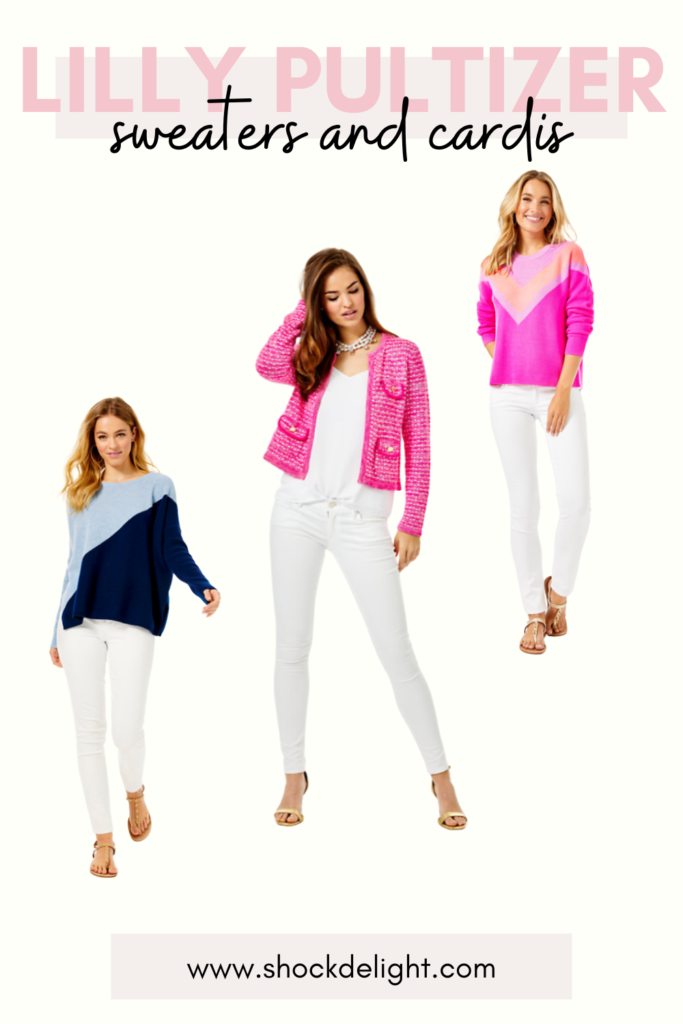 click the images below to shop!

If you are in a cold part of the world, then you know how frustrating it can be to see all of the cute spring styles come out while there is still snow on the ground! All I want to do is wear dresses and sit on the beach, but it is freezing! If you aren't willing to get frostbite, then I highly recommend investing in some fun sweaters in bright, springy hues! You will get plenty of wear out of them as the years go by, and you'll be able to get that fresh spring feeling even when it is freezing.
Colorful Spring Accessories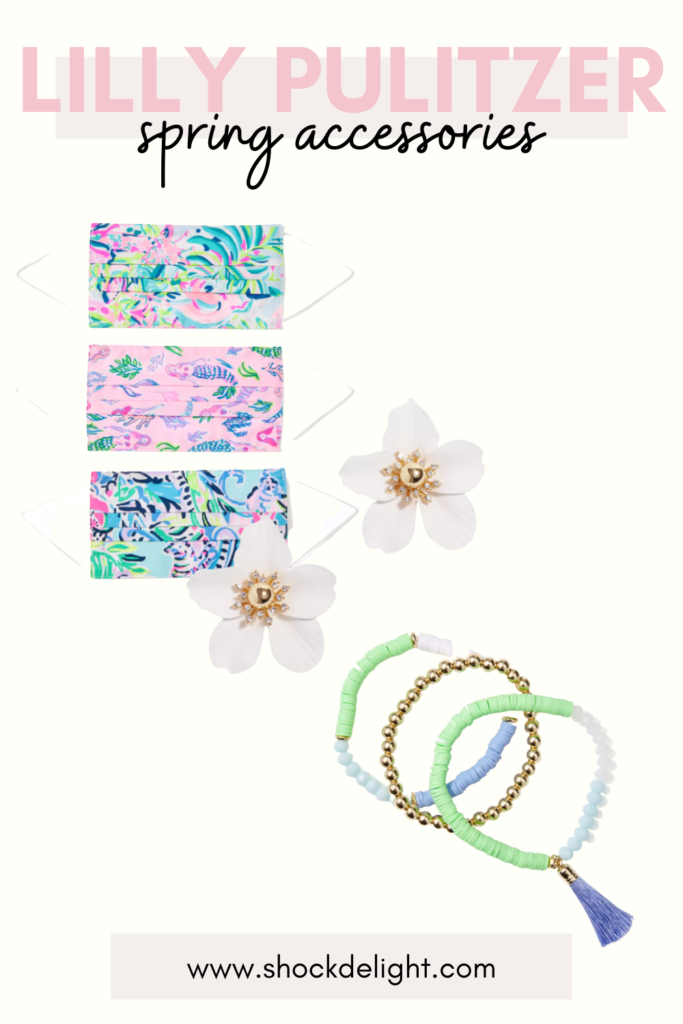 click the images below to shop!

Previously, I have been a major classic jewelry gal – only gold or bronze solid medal, please! However, I am loving the statement earrings and bright, fun accessories that are starting to pop up on the market. I was reading recently that this might be because of the recent generational shift. Gen Z is starting to obtain more buying power as they get older, and they tend to prefer more textured jewelry and fun, colorful pieces. As a young millennial, I was originally traumatized because this totally reminded me of those awful J. Crew bubble necklaces. Side note: who let us out of the house like that?! However, I think I can come around to some multicolored bracelets!
This bracelet stack is perfect because it takes the guesswork out of the equation for you. There's really no need to figure out how to combine colors or stack different textures together when you can just buy a set that looks perfect already!
Oh, and, you'll probably still need a face mask for a few months, so pick up one of these colorful options for a fun twist!
Easter Outfit Inspiration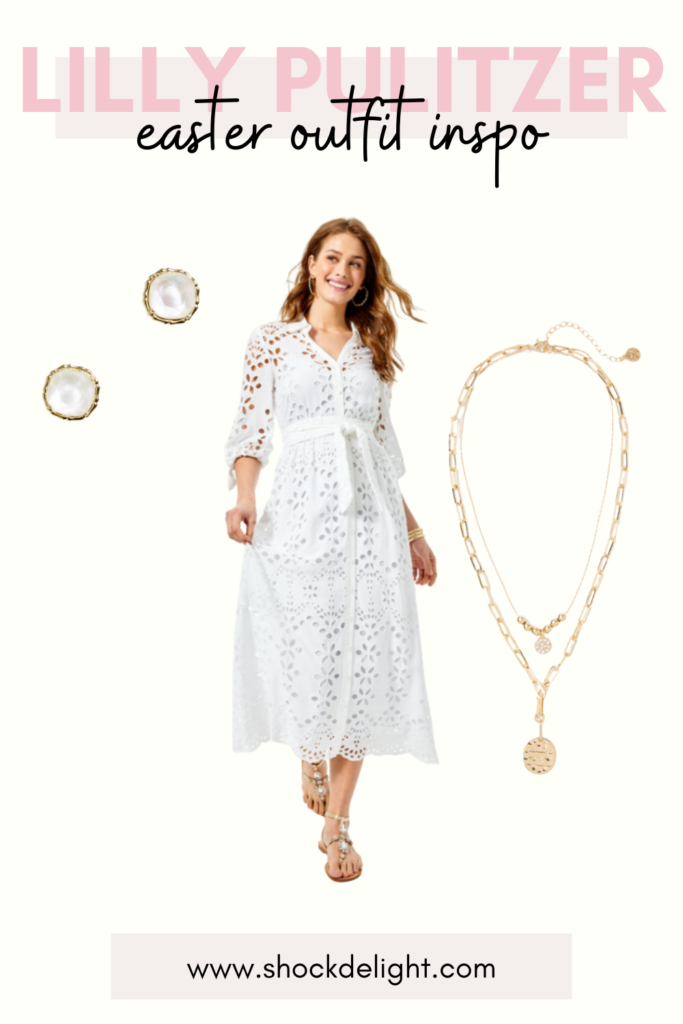 click the images below to shop!

I saw this outfit and thought it would be absolutely perfect for Easter! It is fun and fresh while still being conservative and timeless. This whole outfit will truly never go out of style!
The Perfect Spring 2021 Outfit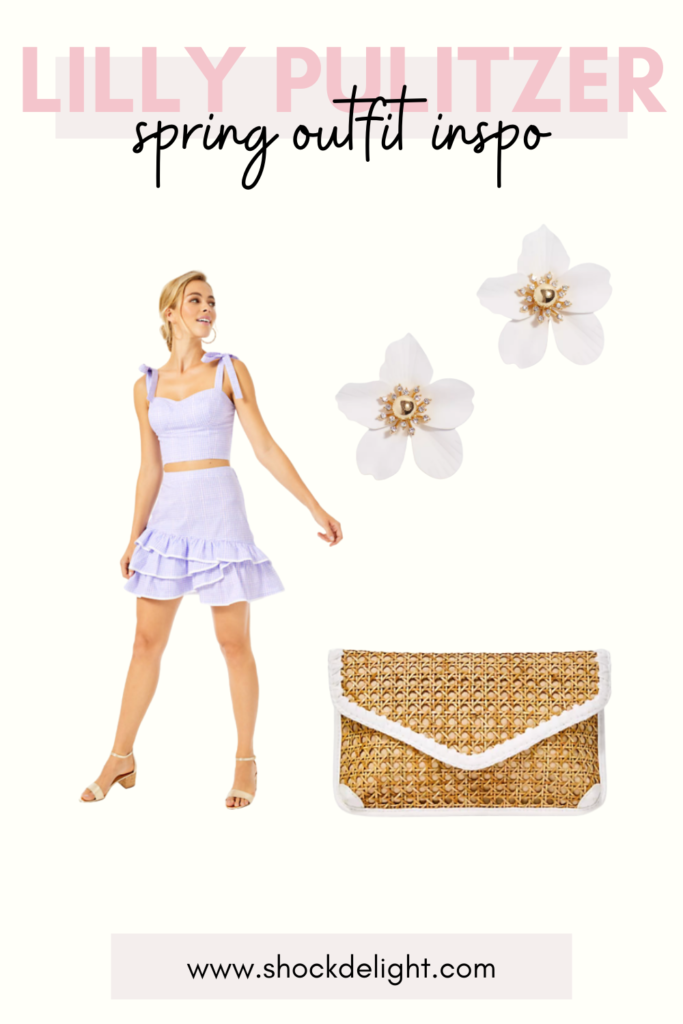 click the images below to shop!

This fun and flirty spring outfit is perfectly on-trend, so I just had to share! I originally fell head over heels for this sweet skirt set, but I think I might have to pick up this bag. Wouldn't it be perfect for a tropical honeymoon?!
LOOKING FOR MORE? TRY ONE OF THESE…
This post contains affiliate links. Thanks for your support!