Today's post is all about spicy and warm winter perfumes! First off, I have to admit that I'm a bit of a freak when it comes to perfume. If a perfume doesn't smell exactly how I want it to, I won't buy it. The way you naturally smell is just fine! So, if a perfume doesn't smell exactly how you want to smell, don't buy it. It's not worth it!
I am super, super picky about scents and have been known to try out a perfume and end up returning it because I hate it. I can't stand smelling like an old lady or like anything artificial. As you can probably tell by this post, I like warm and spicy scents for winter. Year-round, I love a scent that smells like something that occurs in nature or like something familiar that you can't quite put your finger on. For this reason, I typically stick to more luxury perfumes.
The way I look at it, perfume is a luxury, so you might as well get exactly what you want or not get anything at all. Thankfully, there are easy ways to purchase luxury perfumes while you're on a budget. The trick is to keep in mind the three cardinal rules of perfume buying.
Buying Luxury Perfume on a Budget
If you love a luxury scent but can't stomach the price of a full-sized bottle, let me let you in on a few secrets: perfume expires, it should last all day, and you shouldn't need more than 1-2 spritzes.
Perfume expires quickly. It is sensitive to temperature and light changes. If you store your perfume anywhere that it will receive direct sunlight or in your bathroom (gasp!), it's going to go bad sooner rather than later. But even if you take perfect care of it, you're only looking at about a year's worth of prime time value. Buy the smaller size. You won't finish that giant bottle before it expires, anyway.
Perfume should last all day. That giant bottle of perfume you scored for $30 may be super and smell amazing when you put it on, but can you still smell it in an hour? Probably not. A good perfume should stick around, and my favorite warm and spicy winter perfumes definitely do this!
Perfume should only require 1-2 spritzes. Do you remember the days of Victoria's Secret perfumes and body mists? I sure do. I used to attempt to drown myself in Love Spell on a daily basis. My failed drowning attempts were all due to one culprit: the scent wasn't that strong. I could spritz and spritz to my heart's content, but it would never be too much. This wasn't a problem since the bottle was $7 and 98% of the novelty experience was spritzing. However, for anything more than $7, I just can't get behind it.
Even if the price initially seems a bit high, when you factor in making sure your perfume doesn't expire (aka buying a smaller size), using a scent that doesn't need to be re-applied, and only using one, maayyyybe two spritzes, you really aren't spending that much on about a year's worth of luxury perfume!
Warm and Spicy Luxury Winter Perfumes that Last
My favorite warm and spicy winter perfumes are perfumes that I think truly deserve a place on your vanity. These all smell amazing, last forever, and only require a spritz or two and you're wonderfully fragrant for the rest of the day.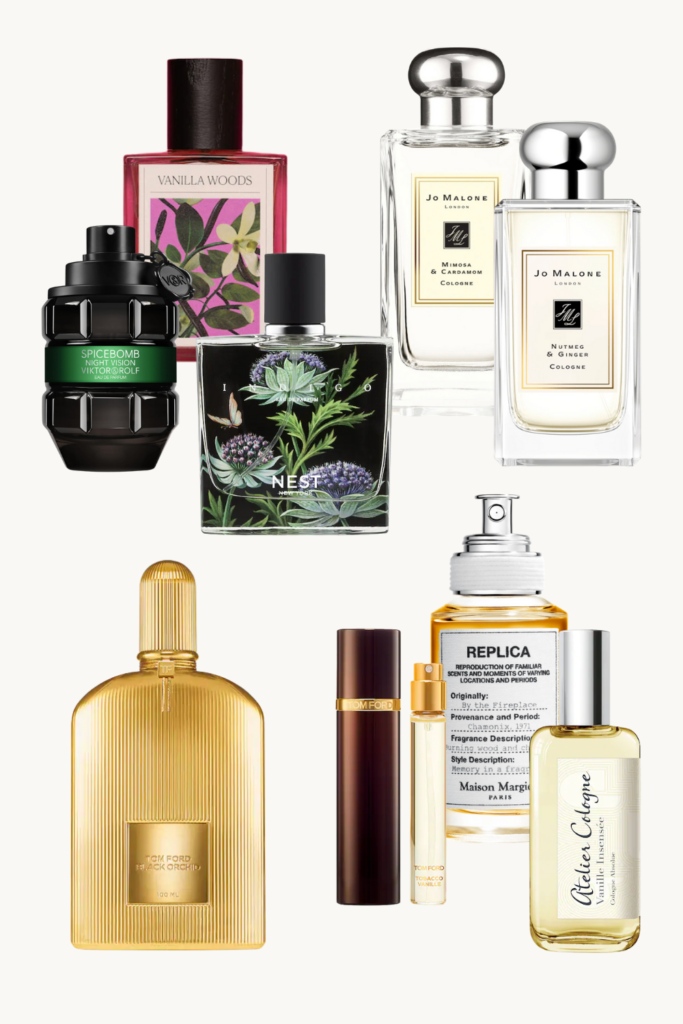 The first time I wore this perfume was in a Jo Malone in the Dallas airport. A random man I was sitting next to made me take out my headphones so he could ask what perfume I was wearing, then he immediately got up and bought it for his wife. If that isn't the best recommendation, I don't know what is, lol! If you love cardamom but don't like an overly spicy scent, this one is for you. The mimsoa keeps it just fresh enough while still keeping the spice.
Your man will go crazy for this scent, trust me. My fiance doesn't like any perfumes or scented candles but he's obsessed with this perfume. Sexy, warm, and sophisticated. Need I say more?
This is probably my favorite winter scent. It really does smell like you're relaxing by the fireplace on a winter night. It's slightly spicy and smells like burning wood – in the best way. Buy this one if you want to spend all day thinking you're the sexiest person alive. My mom shipped me a coat I had forgotten in Louisiana recently and the package smelled exactly like this perfume. Makes sense, seeing as I wore it basically all of last winter. This is a unisex scent and is definitely powerful and pretty strong. A little goes a long way.
This perfume is so, so good for fall and winter. The bergamot & spice mix keeps it from being too spicy. It's almost like a fresh, slightly floral/fruity spice. This is a definite crowd-pleaser perfume. Even if you don't absolutely love it, you'll definitely like it. It's a spicy, warm scent that still manages to be feminine and classic.
"Reminiscent of a gentleman's club" is probably the best possible description of this scent. It's lovely, warm, spicy, and creamy. This is on the heavier, more masculine side, so a little goes a very long way.
I'm pretty sure my great grandmother wore this perfume or something under the same name. I don't currently own this, but I've smelled it and it is divine. It's woody, spicy, and very grown-up and sophisticated. I'm thinking this will be my wedding perfume because the bottle is so beautiful.
This scent is warm, sweet, and familiar. You'll smell like you spent the day making vanilla bean rice crispy treats.
This scent is oh so good. It is super, super spicy and sensual. It is meant for men, but I think women can wear it too. This is definitely the most intense scent on this list, so keep that in mind. This would be perfect for a special man in your life.
If you want to smell like the world's most delicious spiced holiday dessert bread, pick this baby up. Warm, spicy, and sophisticated sum Nutmeg and Ginger up perfectly. You'll want to devour yourself!
Looking for a gift for someone in your life? Check out my gift guides below!
This post contains affiliate links. Thanks for your support!