Today's post is all about my essential spring to do list!
How many times have you thought "okay, I need to clean my house today," spent the whole day cleaning, and then ended the day feeling like you didn't accomplish anything? You probablybit off more than you could chew – trust me, I know! I probably used to do that about once a week! And what happens when you repeatedly put too much on your plate? Well, you get overwhelmed!
It is so easy to get overwhelmed by a larger task and allow that overwhelm to take over so you keep putting something off, isn't it? While I love setting big goals, I find that it is much easier to complete a project if I break it down into small, manageable tasks. Once those tasks are laid out, I have a clear idea of how long something is actually going to take and if I am setting myself up for success or failure.
How Long Will This Take?
On that note, I am here to set you up for success when it comes to your spring to do list – style edition! This is an essential list of items that you should do every spring. Following this spring to do list will ensure you are fully transitioned into the warmer months and are set up for when fall and winter roll around again. Transitioning your wardrobe is a big task. However, I know you can do it! This list is meant to be broken up over a week. However, you can easily lump two or three tasks together depending on how much time you have. Honestly, I can't spend more than an hour or two dealing with my closet per day, so this takes me a whole week to do. I get waaayyy too distracted if i try to do multiple steps in the same day!
Follow this spring to do list, and say bye to closet overwhelm forever!
ONE // Wash E V E R Y T H I N G in Your Winter Wardrobe
First of all, you need to wash EVERYTHING. I mean it, everything. Unless it is hanging in your closet completely clean and fresh, it needs to be washed.
Personally, I think this is the hardest step because it includes making sure that all of your cashmere and wool items, heavy coats, and dry-clean only pieces are washed appropriately. I don't know about you, but I pretty much put off taking things to the dry cleaner until this last possible second. Well, this is that second! The last thing you want to do is keep any of your clothes in "well, it doesn't *have* to be cleaned right now limbo, because we need everything to be ready for the next step!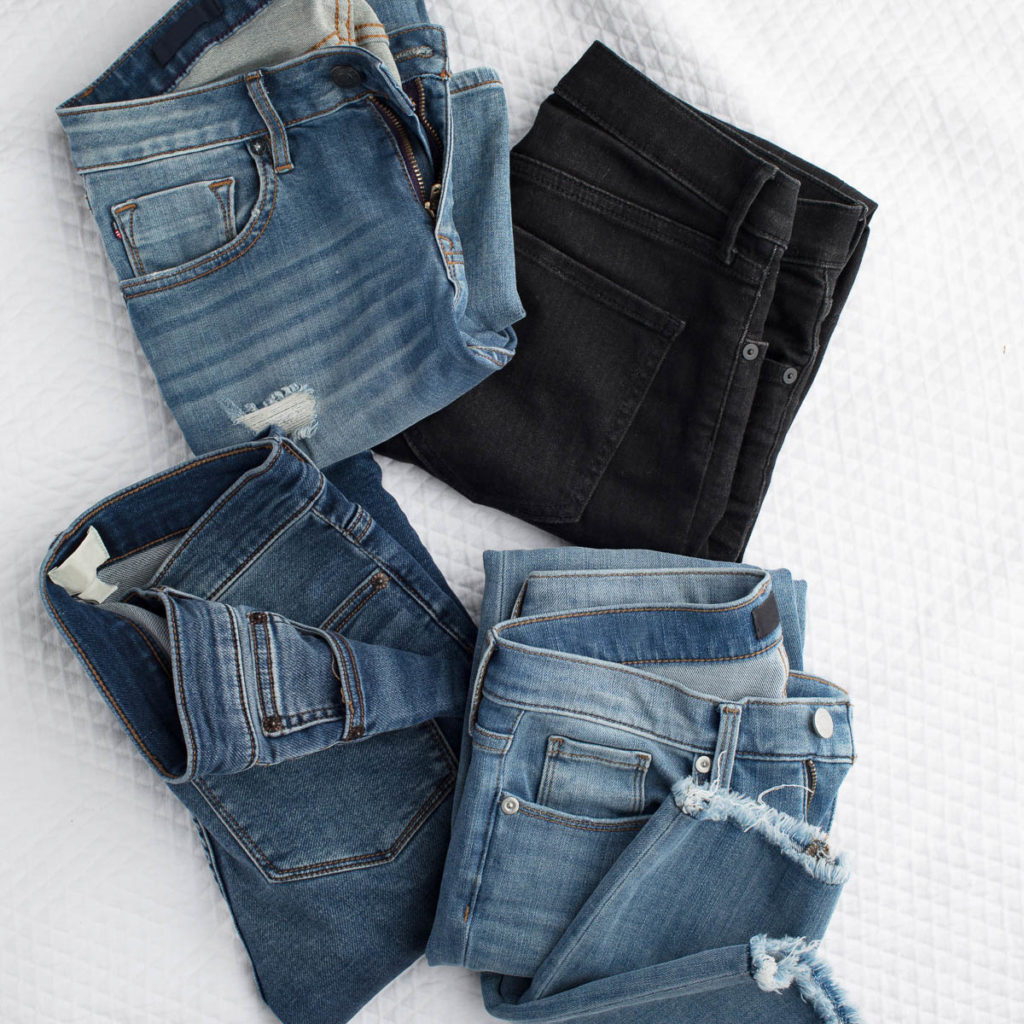 TWO // Take Stock of Your Winter Wardrobe
Is everything clean now? Good! Now, it is time to take stock of your winter wardrobe. This means assessing all of your winter pieces for any holes, stains, or wear and tear. If something needs to be treated or sent off to the tailor, now is the time to do it. If it can't be salvaged, take it out of your wardrobe and add it to your winter shopping list. Now is a great time to buy any winter staples that need replacing, or to fill any gaps in your wardrobe that you may have identified!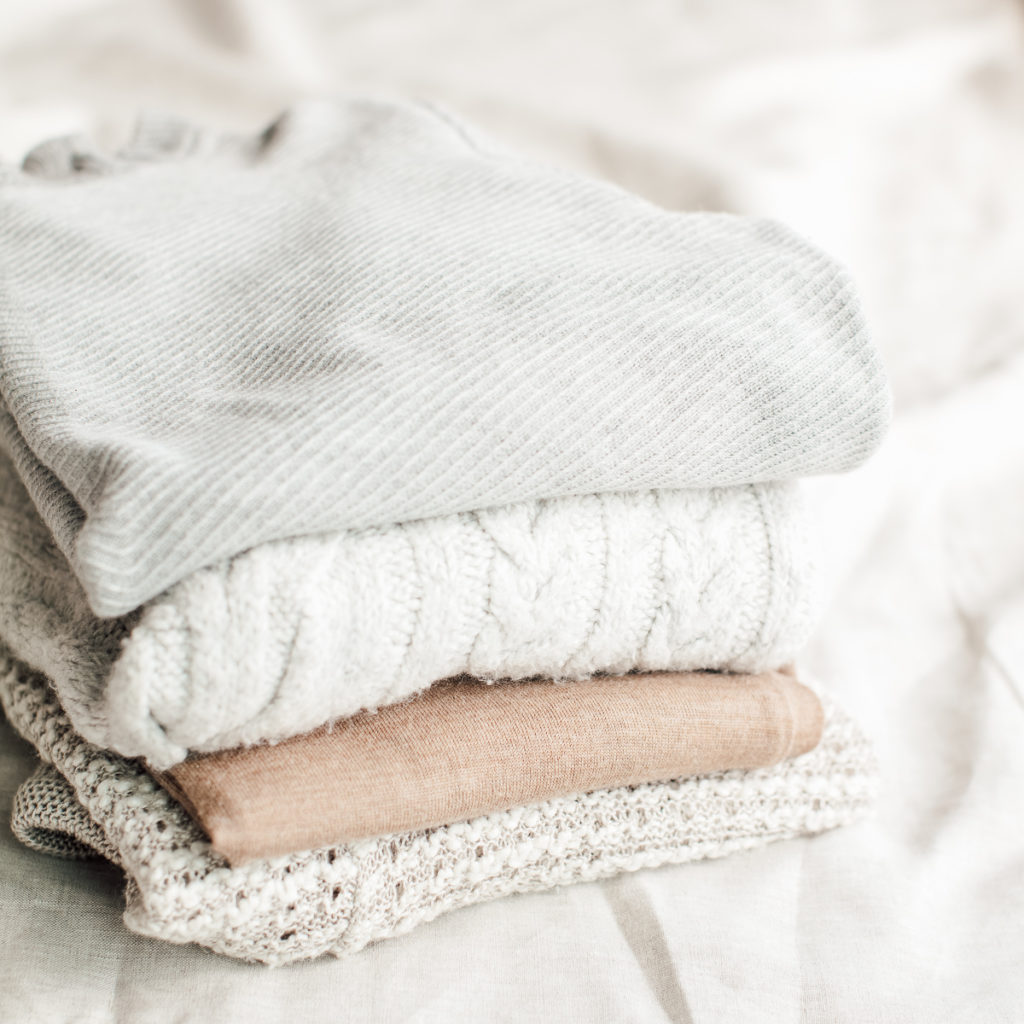 THREE // Closet Cleanout & Storage
Now that everything is clean and you have done your damage checks, you are ready to clean out your closet! At the end of every season, I can feel a little shocked by what I have accumulated or pieces that I owned and *never* wore. If you never wore something because it is no longer your style or no longer fits, now is the time to sell/donate/toss it to make room for the pieces in your wardrobe that are actually serving you.
After you finish clearing out everything that you won't need for next winter, we can move on to storage!
If you have a ton of closet space, you may not need to store your winter clothes as aggressively as I do. However, city and apartment living make clothing storage an absolute necessity! I like to use these bags to store (or move!) my clothes that I won't be getting any use out of until the next time winter rolls around.
Before you ask, no, there is no way to keep your clothes from wrinkling if you use this method. Honestly, that's why "ironing/steaming" your clothes isn't a step that I take at this time! If something is too delicate to be crumpled for the spring and summer, I will keep it folded or hanging as needed. You can also store in one of these bags without vacuuming, which would keep the fabric from being damaged, but it will take up the same amount of space.
FOUR // Spring Wardrobe Review
Now that you have finished dealing with your winter clothes, it is time for the fun part – spring and summer clothes! I use the same storage system for my spring and summer clothes as I do for any winter garments. So, next you will take all your clothes out of storage!
Once everything is out, look at each piece individually and see if there is anything that looks worn out, isn't your style anymore, or if it was damaged in storage. Now is the time to remove anything that you may have kept last year "just in case." You won't wear it! Get rid of it!
FIVE // Spring Wardrobe Refresh
Once you know which spring styles you want to sell/donate/toss, steam/iron any of your clothes that were in storage to make sure that they look fresh and are ready to wear.
If you want to make everything extra fresh, use a refreshing laundry spray to get rid of any slight odors they may have picked up during storage. I love this one!
SIX // Create a Shopping List!
Since you took the time to look at every piece in your spring wardrobe, you probably identified a few gaps in it or some items that you wish were a little more flattering. Once you have an idea of what your spring wardrobe actually needs, make a shopping list! You'll add more trendy/fun pieces later. However, you want to start off your shopping list with the pieces you know you will get a lot of wear of or that you have been missing for a few years. This is where you'll want to spend the bulk of your spring clothing budget!
Once you have those pieces figured out, the real fun begins.
SEVEN // Add Some Fun Trends
Once you have an idea of what you already own and what gaps you need to fill in your wardrobe, you are in a great position! Now you can shop for new, fun, trendier pieces! While I don't tend to opt for super trendy styles, there are definitely always a few items that I will take note of and want to add to my wardrobe. Usually, these are pieces that I think I will keep wearing even if they aren't in style anymore. However, every now and then I will jump on a fun trend just because it is so darn cute. Hello, puff sleeves, I'm talking to you!
Fully taking stock of your wardrobe and making sure it is in a great spot for spring is absolutely essential. This is the easiest way to know exactly where to invest. If you already have a perfectly balanced spring wardrobe, yay! You are in a great spot to add alllll the fun trends into your life! If you still need help in the well balanced wardrobe department… stay tuned 😉
LOOKING FOR MORE? TRY ONE OF THESE…
This post contains affiliate links. Thanks for your support!