Welcome to a new seasonal feature on Solarith! Every season, we'll be sharing a chic, versatile seasonal capsule wardrobe to make it super easy for you to look put-together and on-trend for everything the season has to offer. To celebrate restrictions beginning to lift nationwide, we are kicking things off with this summer capsule wardrobe!
Why You NEED a Summer Capsule Wardrobe
Summer is the perfect time to invest in a chic, versatile capsule wardrobe that will stylishly carry you through the season. This season brings about so many trips, events, and al fresco dining opportunities that it is easy to get wrapped up and end up buying too much or investing in too many pieces that don't work well together. A capsule wardrobe allows you to get the most "bang for your buck" by prioritizing versatile pieces that you can effortlessly pair together.
Another added benefit to having a summer capsule wardrobe? You'll know exactly what to pack for any upcoming trips. Call me crazy, but you might even be able to fit this all into a carry-on!
The summer capsule wardrobe is full of on-trend, versatile, and effortlessly chic pieces that you can easily incorporate into your wardrobe. As this is the first Solarith Capsule Wardrobe, you will see several staple pieces are included. You may already have these in your closet! However, if you haven't added some of these wardrobe essentials to your closet yet or are looking for an upgrade, we highly recommend the picks you will find here.
What is the Price Range?
There's nothing worse than finding a piece you love and seeing it's $600, right? While all of these pieces are investment-worthy, the majority of pieces are under $100. Honestly, I was pretty surprised by how affordable some of these pieces ended up being! To allow for a broader range of budgets, you will find a few lower-cost options for every piece in this wardrobe. While I do recommend spending a little more on basics that you will get a lot of wear out of, that isn't always in the cards, or you may prefer to "test out" a style before committing to an investment piece.
How Many Outfits can I get out of the Summer Capsule Wardrobe?
Honestly, a lot! When you center your wardrobe around chic, wearable basics, you pretty much have no limit on the number of outfit combinations that you can make. However, having a basics-centric wardrobe doesn't mean that you'll look boring! On the contrary, having all your wardrobe essentials and basics will ensure that you are able to maximize your wardrobe and can truly get the most wear out of eveything in your closet, including your statement pieces!
There are over 32 unique outfit combinations that you can create with this capsule wardrobe. This wardrobe will take you anywhere from a beach-side cabana to a vineyard wedding in Napa. Truly, this is everything you need for anything you might have on your calendar this summer.
What's in the Summer Capsule Wardrobe?
Oh, I'm so glad you asked! Keep reading for a full breakdown of the wardrobe.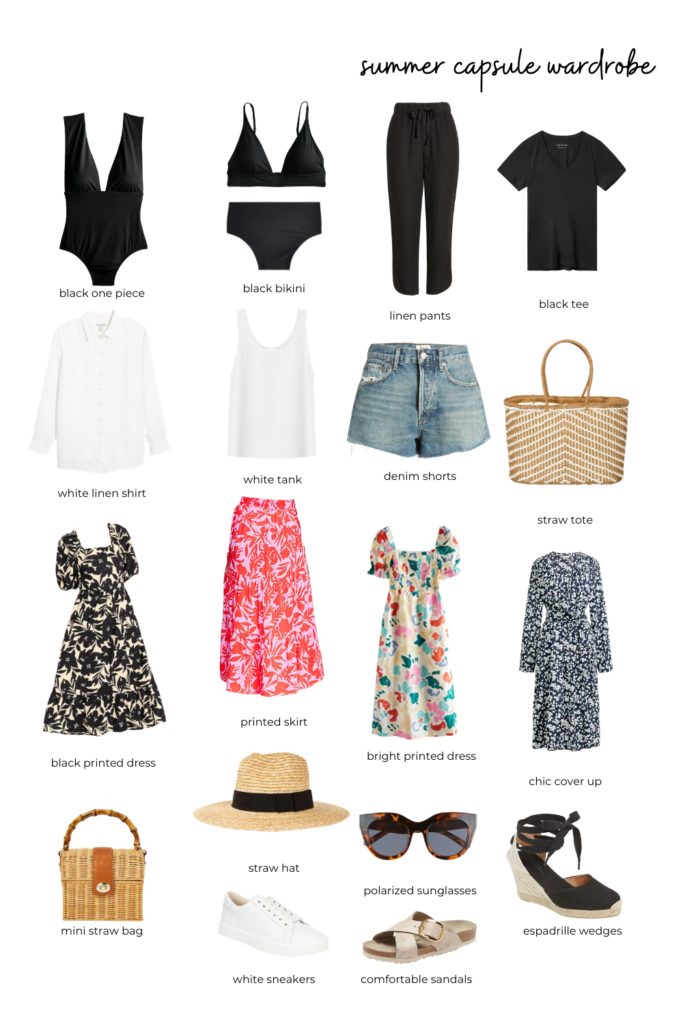 black one piece // black bikini top // black bikini bottom // black linen pants // black tee // white linen shirt // white tank // denim shorts // straw tote // black printed midi dress // brightly colored printed skirt // bright printed dress // swimsuit cover up // mini straw handbag // straw hat // polarized sunglasses // white sneakers // comfortable sandals // espadrille wedges
Swimwear
Listen, this is the absolute best place to buy swimsuits. I truly only purchase my swimsuits from J. Crew at this point because the quality is just so good. If you're looking for a great, chic bathing suit that holds up for years, you need a J. Crew bathing suit. I personally own this one and am going to add this one to my wardrobe once we figure out the date for my bachelorette weekend.
Tops
If I could only choose three tops that truly work with anything, they would be a linen shirt, t-shirt, and tank top. Truly, this is all you need to make sure you have a versatile wardrobe!
Bottoms
You'll never run out of options with some nice jean shorts, a pair of chic linen pants, and a beautiful statement skirt. While jean shorts are pretty casual, you can very easily dress linen pants and statement skirts up or down. You'll see plenty of examples of dressier and more casual looks with all three bottoms in the outfit examples!
Dresses
Dresses are another great summer item that you can easily dress up or down! With a midi dress, fun sundress, and a chic swim cover-up, you will never run out of dress options.
Handbags
While I absolutely love handbags, I am a big believer in only having exactly as many as you need. If you have the perfect handbag, there is no reason to splash out on something that doesn't work as well! Truly, if you were getting down to basics, you really only need a tote and a small, structured bag. This summer capsule has two perfect options for summer. Whether you're headed to the beach, dinner with friends, or church, you only need these two all season long.
Shoes
Like handbags, you really only need a few pairs of shoes! For the summer, you really only need a pair of comfortable sandals, white sneakers, and espadrilles to round out your shoe options. If you're headed to the beach, you might want to throw in a pair of waterproof sandals or flip-flops, too!
Accessories
Accessories are one of my favorite things to shop for, but, again, a little goes a long way in this department! Start with an ultra-chic, large pair of polarized sunglasses to ensure your eyes are protected in all circumstances. Add a great straw hat, and you're all set!
Everything In the Summer Capsule Wardrobe
Click the images below to shop absolutely everything in the summer capsule wardrobe!

Extra Pieces for All Budgets
Shoes

Hats

Midi Skirts

Swimwear

Linen Shirts

Tanks & Tees

Dresses

Handbags

Shorts & Pants

Sunglasses

Summer Outfit Inspiration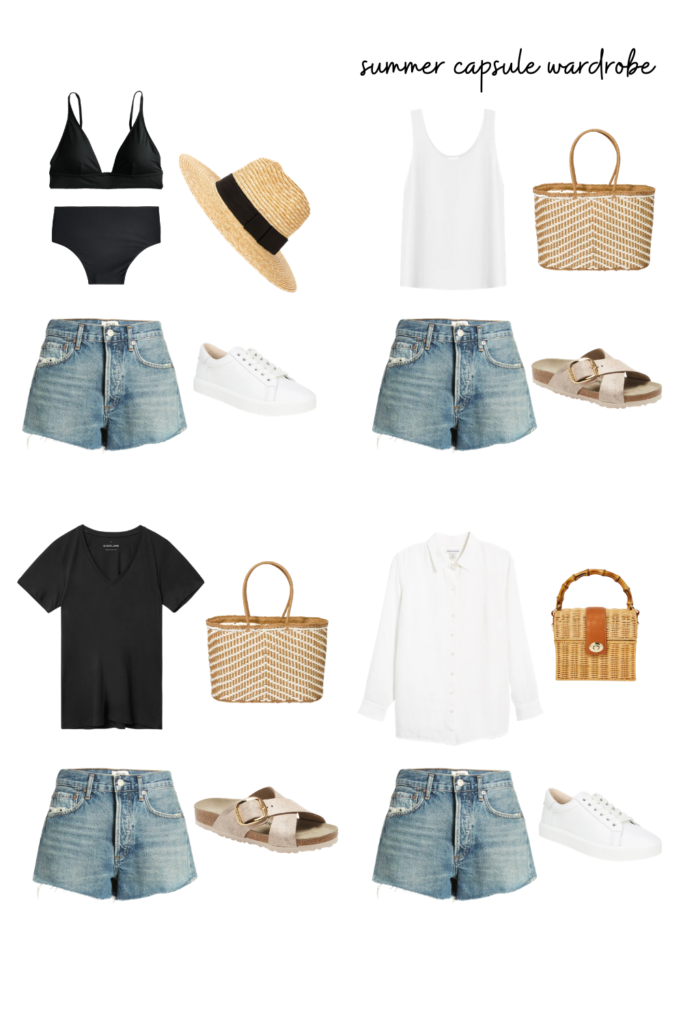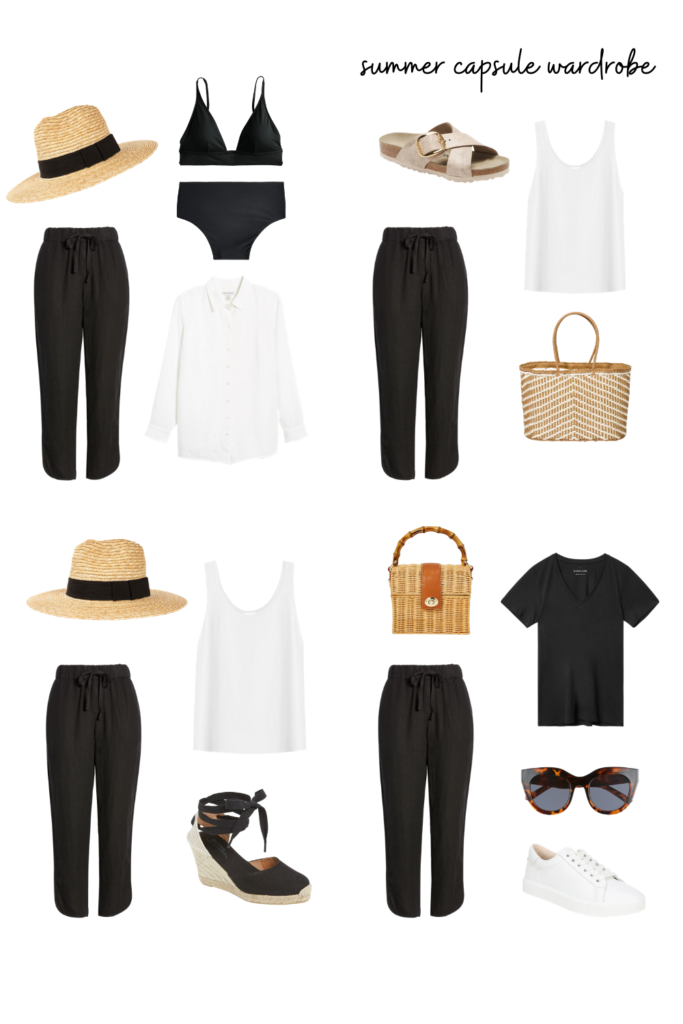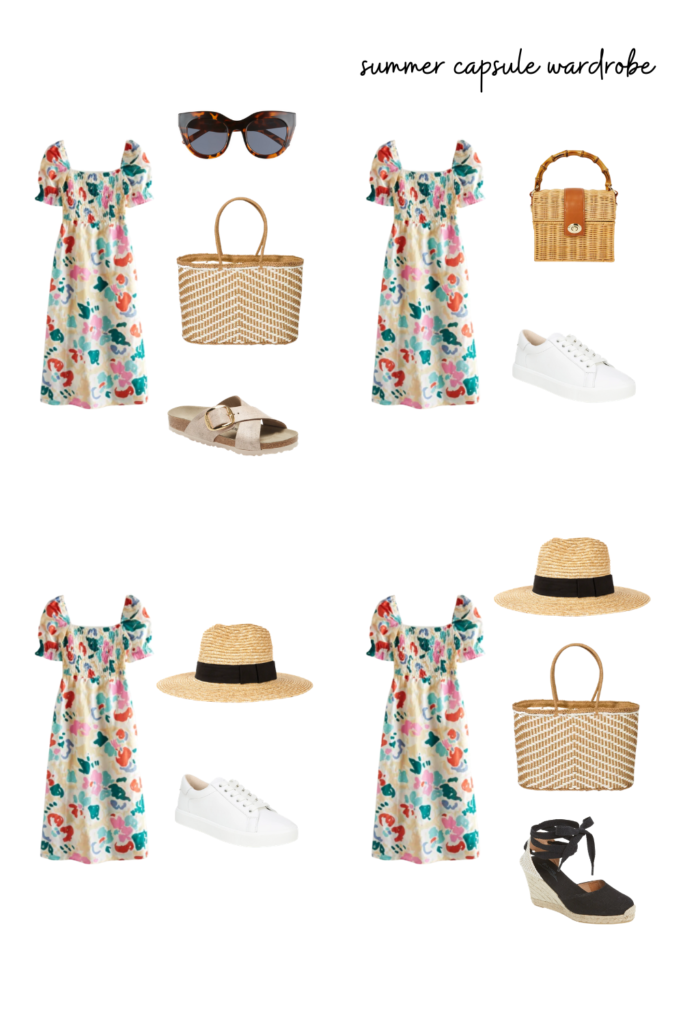 LOOKING FOR MORE? TRY ONE OF THESE…
This post contains affiliate links. Thanks for your support!