Today's post is all about the best of 2020. I'll be talking through Death by Burrata reader favorites, the best books I read, my top Amazon purchases, new beauty items I discovered, and the trends I hope stick around.
There's no denying that this year was so difficult for so many people. I've written and deleted several sentences talking about missed opportunities, life events, etc., but I'm choosing to leave that out of this post. Maybe when we're further removed we can all talk about that. For now, I want to focus on the best of 2020, or at least my favorite bits of it.
A Note of Gratitude Before We Start
Before I actually get into the products, I have to tell you that YOU, yes you, the person reading this right now, are my top favorite anything in 2020. I started Death by Burrata after wanting to start a blog for years but being afraid that I would start it and give up or that people would think it was silly of me to do this at all. I didn't tell anyone about DBB when I started, not even my fiancé or my best friends. This community may be small, but I appreciate knowing that when I see check my "viewer count" it isn't solely made up of family members or people who think it's silly. Well, maybe you do think it's silly, but that's fine! You're still reading this. No matter why you're here (even if it's to make fun of me!), thank you for being here!
How I Put Together this Post
One aspect of blogging that people are super interested in and the reason why people are able to do it as their full-time job (not me quite yet, I wish!) is that you can make money from blogging. If you've seen the disclaimer at the end of any of my posts, you'll see that I use affiliate links. Affiliate links mean that I can make a (very, very) small commission if you happen to buy something that I linked on the blog. This doesn't impact the price of the item in any way, it's just a commission from the brand since if I'm posting about a product, it's basically a free marketing campaign for them. This is how I was able to put together some of this post. Thanks to RewardStyle analytics, I'm able to see the top things that Death by Burrata readers have been loving over the past few months.
If you have any questions about affiliate links, please let me know! I'd be happy to help explain them to you more in-depth. Just leave a comment, email me at deathbyburrata@gmail.com, or DM me on Instagram at @deathbyburrata.
Internet Karma
The most important thing I want you to know is that I never post something just because I could potentially make money from it. If I'm posting something here, I love it and would recommend it to my mom or any of my friends. I will never post something on here that I haven't fully vetted. I've only been at this for a few months and I've turned down collaborations with dream brands because they wanted me to write a rave review of a product I hadn't tried before that I would only get to try for maybe one or two weeks before the post went live. I fully believe in internet karma and truly trust other bloggers' reviews (especially Grace Atwood's or Kate's!). I don't want to post something I don't truly love because then I might end up spending my own hard-earned money on something that wasn't worthwhile.
So, without further ado, let's get into Death by Burrata's Best of 2020!
2020 Death by Burrata Reader Faves
Dudley Stephens Dupe Funnel Neck Fleece // Hoop Earring Set // Candy Cane Natural Deodorant // Almond Shower Oil // Regency Tarot Cards
I want to start things off with some of YOUR favorite things! only just started Death by Burrata at the end of August, so these definitely lean more fall/winter. However, I think these would be pretty consistent if I had this space even back in January of last year! I've personally purchased everything on this graphic, and let me tell you, y'all have good taste. Seriously. I'd buy each and every one of these over and over again. If I had to pick an absolute top favorite from this list, it's this shower oil. It lasts forever and will make you feel like you're at a spa in Provence. This Dudley Stephens dupe is a close second 😉
The Best Books of 2020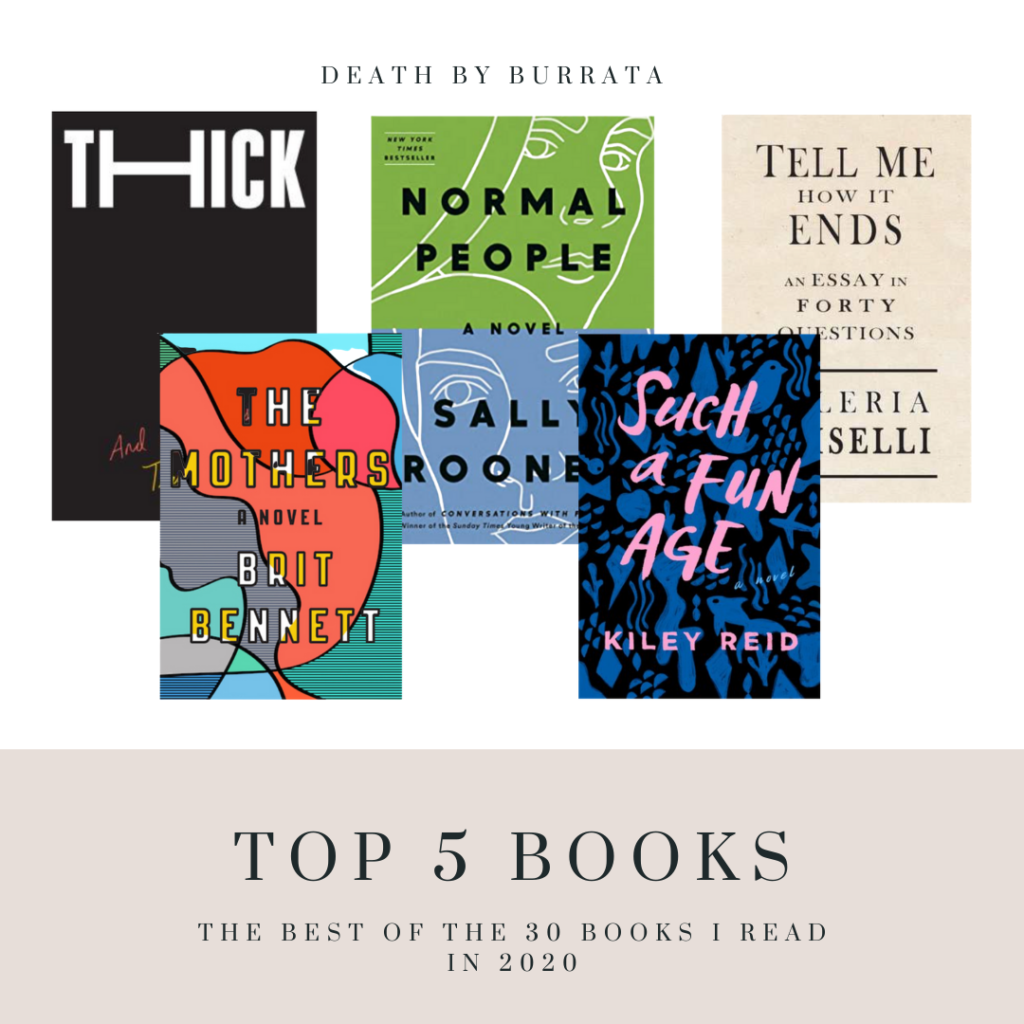 Thick // Normal People // Tell Me How It Ends // The Mothers // Such a Fun Age
Okay, so, all of these books didn't come out in 2020. However, I hadn't heard of any of them or read any until 2020, so I'm considering them my top 5 books of 2020. I read 30 books this year after a multi-year hiatus from reading, and these are the ones that stood out the most! I can confidently recommend these to anyone and feel assured that they'll enjoy them.
Thick and Tell Me How it Ends are both books of essays. I've never been a huge fan of essays because I don't think they give the same immersive experience as novels, but these definitely do. I cried every few pages in Tell Me How it Ends so don't read it if you're feeling vulnerable.
The Best of Amazon
The Best Pillows // Bath Tub Tray // Ugg Dupe Slippers // Nespressso // Affordable Kitchen Utensil Set // Affordable Vitamin C Serum
Y'all. I placed one hundred and nineteen orders on Amazon this year. ONE HUNDRED AND NINETEEN. I tried to justify it by saying that we moved and I was using "buy now" on a lot of smaller home items. Honestly, there's no excuse for this kind of behavior. My financial goal this year is to only place a maximum of two Amazon orders a month. My fiancé probably doesn't believe me, lol.
That being said, I think I've really found some incredible gems on Amazon this year. These pillows have over 64,000 reviews and they are amazing. They remind me of the pillows from when my fiance took me to the Ritz for my golden birthday. These slippers don't leave my feet when I'm home. They're super supportive and cozy. I bought these utensils for our new apartment and they're so so so nice. Under $25 for the set and they're dishwasher safe. They still look brand new and I wash them in the dishwasher every single time I use them. This vitamin C serum is a steal for $13 and it works just as well as $135 serums I've tried. I took a shot on Nespresso and now you can't mention it around me or I'll rave about it for hours. This machine is beautiful and is like having a coffee shop in your own home. And last but certainly not least, this bath tray is possibly my best purchase of all of 2020. I take a bath almost every day and use it every time. It. Is. Lifechanging.
2020 Best of Beauty
Exfoliating Toner // The Best Affordable Daily Moisturizer // Oil Serum Hybrid // Sunscreen // Tinted Sunscreen
I love beauty and try lots of new products every year, but this year was probably the happiest I've ever been with the products I've found. Yes, there are two sunscreens on this list. I know, I know, I'm ridiculous. But they have different purposes! This one was my favorite pre-WFH because it has a tint. I would wear it to work as a tinted moisturizer. It's super, super moisturizing. I would slap it on for Zoom and WebEx meetings once we started working from home and I would look like I had actually tried for the day! In my new job, I very, very rarely have video calls (bless), so I don't really have a need for it anymore. This sunscreen is my new go-to and also works great under makeup. Both are great for acne-prone skin!
This oil-serum hybrid is perfect if you want glowy, dewy skin. I pair it with this moisturizer when I want a slightly thicker, more hydrating base but don't want to wear a thick cream. This toner keeps me exfoliated so my products actually work how they're supposed to, AND it clears up maskne. I can't say enough good things about it!
I'm still obsessed with my under $20 La Mer dupe, don't worry, but I discovered that back in 2016 so I'm not featuring it here!
The Best 2020 Trends
Tennis Skirt // Turtleneck // Mask Chain (pearl, tortoise) // Loungewear Set Top // Loungewear Set Bottom // Affordable Nap Dress
2020 fashion was sometimes questionable, sometimes right up my alley. I'm glad we as a species have decided that we need to be in comfy clothes at all times. Life's too short to wear Spanx! My favorite trends this year included tennis skirts, mask chains, matching loungewear sets, layering turtlenecks, and nap dresses.
I actually own four of these tennis skirts because the quality is so good and they're so comfortable and flattering. As someone who has always been self-conscious of their legs/thighs and but, tennis skirts are perfect for when. you want to wear athletic shorts but don't want your butt to be on display.
If you're considering a mask chain but think it's silly and that you won't use it, please go buy one immediately. My friend (hi Kiki if you're reading this!!!) bought me one for Christmas and it has chain-ged my life. It's so much easier to take my mask on and off now and to keep it easily accessible and clean.
This loungewear set was the first set I bought, and it is worth every penny. It is as soft as lululemon align leggings but the fabric is plushy and *just* warm enough without being too hot. The cut is also beautiful! I'm on the curvier side and felt like I looked sloppy in other loungewear sets, but this one actually looks as good as it feels.
Disclaimer: I don't own this dress yet, but it's on my list for my first 2021 Amazon order!
That's a Wrap on 2020!
Well, that's the best of 2020 and probably my last post on anything 2020 related! Again, thank you so much for reading, no matter if you've been around since the start or if you're brand new! I appreciate YOU for being here and spending this time with me. Please let me know in the comments or on Instagram if there is anything you'd like to see more, less of or the same amount in 2021. I can't wait to see where this next year takes all of us!
Looking for a gift for someone else in your life? Check out my gift guides below!
This post contains affiliate links. Thanks for your support!