As the 2021 skies start to clear, it looks like there are quite a few weddings on the horizon for all of us! Today I am sharing a few timeless wedding guest dresses over $100. If there's one pet peeve I have about wedding guest dresses, it is wedding guest dresses that look like bridesmaids' dresses. You know the look I'm talking about! It can be difficult to find an appropriate piece that is modest enough for a wedding, doesn't break the bank, and doesn't look like something the bridesmaids might be rocking. So today, I am sharing some of my favorite, timeless, elegant wedding guest dresses over $100. These dresses are all splurge-worthy and will be your new go-to for years to come.
Without further ado, let's get to the dresses!
My Go-to LBD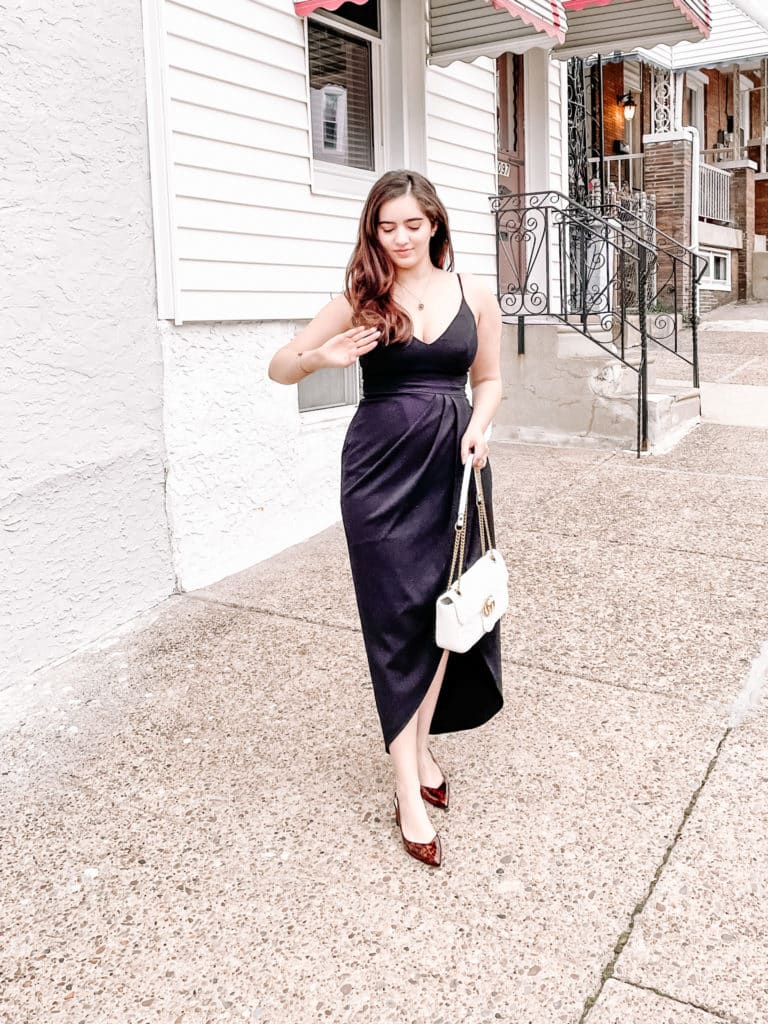 LITTLE BLACK DRESS // HEELS ($50 OFF WITH CODE SARAHFLINT-BAERIKAR) // HANDBAG // NECKLACE // BRACELET
I have to start off with a dress that I personally own. I have worn this to a few weddings and it never fails to earn compliments from everyone! The black is so easy it is to dress up or down. I usually pair it with simple gold jewelry and black pumps if I'm not sure of the wedding dress code (people are so lax with assigning dress codes these days!). The way the dress is cut is truly universally flattering. It hits at *just* the right spot at your waist, and the crepe fabric is incredibly forgiving. You don't even need to wear a bra with it, it is amazing! I usually just pop these on to avoid nip slips since the dress holds everything in place.
My absolute favorite thing about this dress? The size inclusivity! It is available in a size 0-26, which is basically unheard of. It also comes in navy, white, and emerald green. The white would be so cute for a bridal shower or rehearsal dinner, and the navy, emerald, and black would be perfect for any wedding guest – or even a more casual bridesmaid look!
Elegant Dresses I Love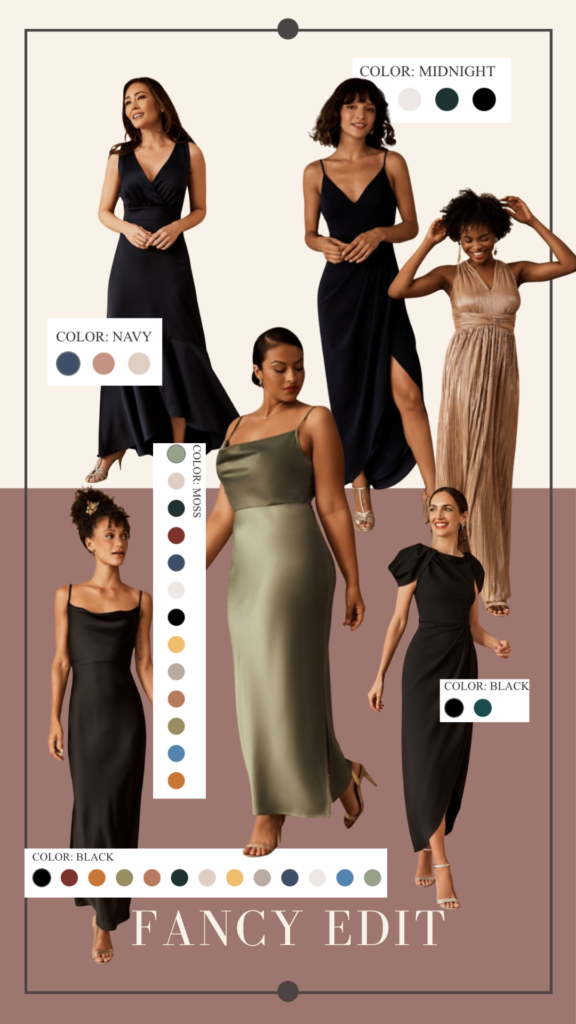 NAVY V NECK // BLACK SPAGHETTI STRAPS // GOLD GODDESS // DRAPEY SILKY MOSS // DRAPEY SILKY BLACK // STATEMENT SHOULDERS
Any of these styles would look amazing on any body type! I also love how many color options are available in some of these dresses. These color options, styles, and fabrics ensure there is a flattering option for everyone. I think these dresses are all investment-worthy and will last you for years to come. They will never go out of style and will ensure you look timeless, elegant, and special at every upcoming formal event!
Unrelated thought: my number one tip for finding styles for your *own* wedding-related events is to test out styles you know and love over time. You could easily buy one of these dresses in black, navy, or any of the myriad of colors available and use it as a "test run" to style different ways and wear to other people's events. Then, when the time comes for your own wedding events, you can buy the white or cream option and have one less thing to think about!
LOOKING FOR MORE? TRY ONE OF THESE…
This post contains affiliate links. Thanks for your support!