Today I am sharing some trendy and classic winter looks for less.
I love a good splurge-worthy item and fully believe in investing in pieces that will work in your wardrobe for decades to come, but investment-worthy pieces aren't always practical! Sometimes you just want to try a trend! Or you may not be sure if you'd use something enough to justify the price. Or, frankly, you may not have the room in your budget for something you really, really want. No matter the reason, I'm here to help you find the pieces you love at an attainable price point.
Without further ado, allow me to introduce you to Splurge vs. Save: Trendy & Classic Winter Clothes for Less – 2020 Edition. Today's post is all about trendy and classic winter looks for less!
click the images below to shop

I own these $98leggings, and while they're G.R.E.A.T, I've purchased several leggings that give the exact same look for less. You can't beat this price, but the OG is definitely worth the splurge if you have the room in your budget.
Houndstooth is such a timeless print that can also look fun and trendy! I love seeing it used in a puffer coat, but it's definitely different enough that you probably don't want to spend $240 (!!!!!) on something you might not wear next winter. If you're on the fence, this $40 version is the perfect price to try out the look.
I'm really into the heeled sherpa hiking boot trend, but I don't know how long it'll be around. To be fair, it's very, very cold in Philly, so I probably should buy another nice winter boot, but I already splurged on my go-to boot and don't have the budget for another boot splurge this year. This $40 version is perfect for trying out this trend.
click the images below to shop

I'm all about puffer coats in case you can't tell. I especially love how a white puffer gives such a great, crisp look. You absolutely cannot beat this $20 version. However, if you really want to splurge, I love the monochromatic look of the splurge option. And it's supposed to be ultra warm!
I have this $36 robe and I LOVE it. I've washed it several times and it hasn't lost any of its softness. I've tried on the splurge version of this and it feels the same. If you want to splurge on a gift for someone, they'd love this robe! But they'd love the $36 version just as much 🙂
I'm all about wraps this year, which is new to me. I'm very tempted by this splurge-worthy wrap that never seems to go on sale (even though the retailer has frequent sales *eyeroll*). This $20 version will be a great "starter" wrap that gives the same effect. It isn't cashmere, so you could easily eventually own both and would still get plenty of use out of them individually. I might have to go that route!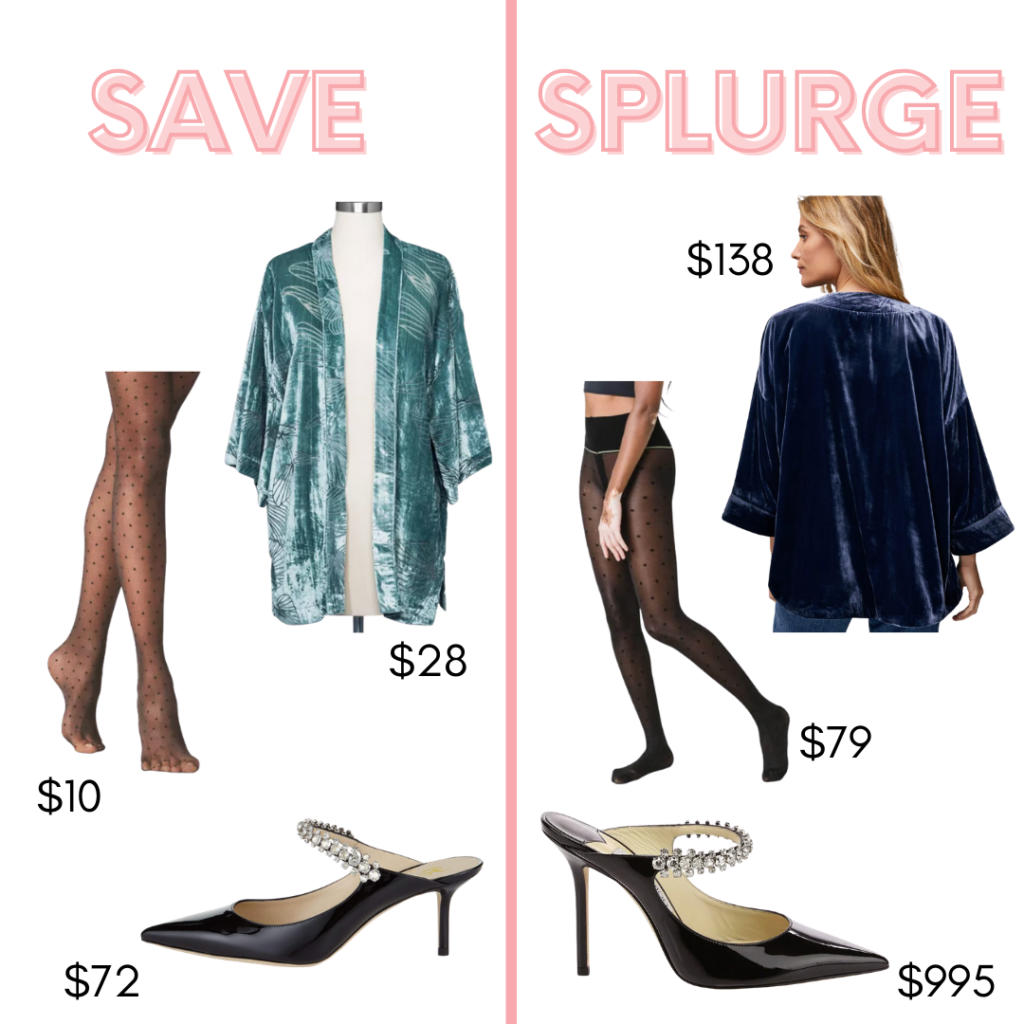 click the images below to shop

Polkadot tights are the absolute cutest. I think they're so fun and can be worn in so many different settings. However, I'm pretty self-conscious about my legs. I'm not sure if my love for the polka dot tights will be able to overcome my insecurities, so I was so excited to find this $10 pair!!! Even if I only get two wears out of them, I think that's well worth the price to try out the style!
I love a crushed velvet kimono, and both of these styles are so special. The blues are pretty different, and I actually think the lighter blue is more versatile than the navy. It would look so cute now, or over a slip dress in the summer! The possibilities are endless!
Confession, I've been looking for a dupe for these shoes for 8 years. Yeah, you read that right. EIGHT. YEARS. And I've finally found them!!! I don't think $995 shoes will ever be in my budget, so I can't wait to own this $72 version.
Looking for a gift for someone in your life? Check out my gift guides below!
This post contains affiliate links. Thanks for your support!