Today's post is all about Valentine's Day outfit inspiration! These outfits are all super easy to put together with things you already have in your closet. I also found some fun pieces in case you want to teat yourself to a new outfit for Valentine's Day!
I love dressing up for any occasion, but I get especially excited for a date night. If you combine a fun theme with a special date, I'm there! Many of us are likely celebrating Valentine's Day at home this year, but I think that's even more of a reason to get dressed up. Those heels you can't walk in for more than 2 minutes? Wear them! Two minutes should be plenty of time to get you from the kitchen to the dining table.
A Fun & Flirty Skirt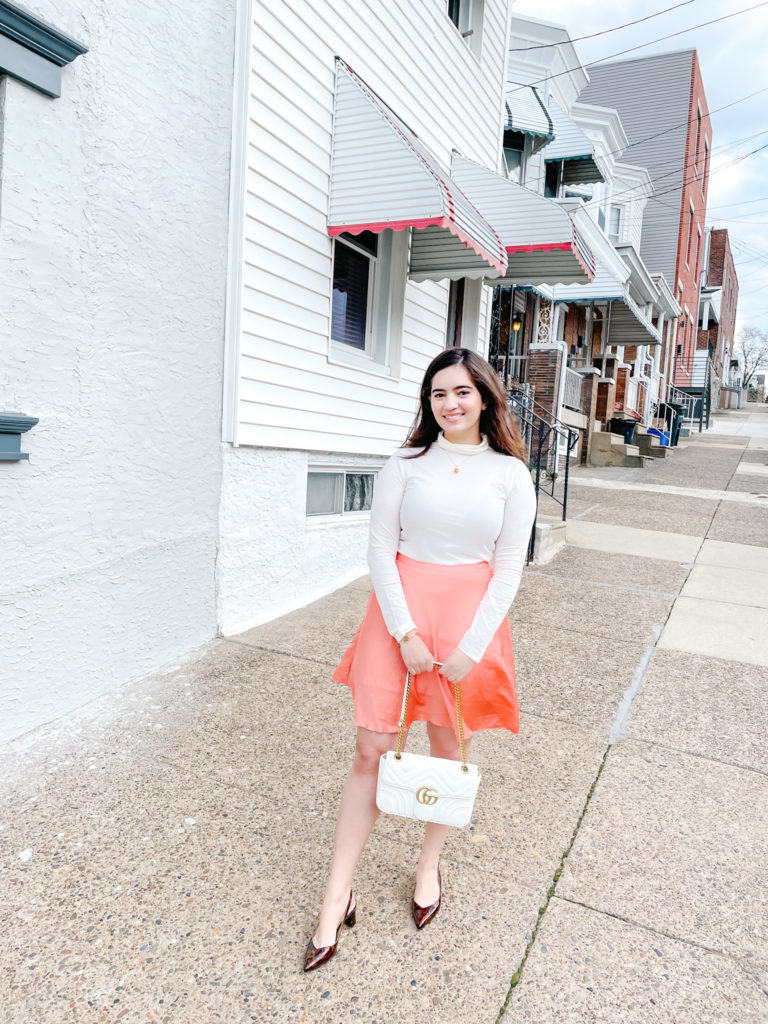 Turtleneck // Similar Skirt // Bag // Necklace // Bracelet // Shoes (Code SARAHFLINTBA-ERIKAR gets you $50 off!)
This turtleneck and silky skirt combination is perfect for any of your V-day plans! It is warm enough to wear in chilly weather but still looks fun and flirty. I love keeping the rest of the outfit neutral to let the peach skirt stand out.
The shoes I'm wearing here are my absolute favorites for work or play! They are a bit of a splurge, but I love how unique, comfortable, and flattering they are. If you have never ordered Sarah Flint shoes before, you can use my discount code to get $50 off your first order. Full disclaimer, I am a Sarah Flint Brand Ambassador, however, my ambassador agreement is just for Instagram (follow me here!). I am sharing these here because I truly love them!
Bright Red Fit & Flare
Scarf // Dress // Bag // Bracelet // Necklace // Shoes SARAHFLINTBA-ERIKAR gets you $50 off!)
This outfit is perfect for so many things! You wouldn't look out of place at church, work, or really anywhere you might go. This shawl I'm wearing is actually a cashmere scarf I picked up in the Nordstrom Anniversary sale this past fall! I love how big and warm it is. It adds the perfect cozy, elegant touch to any outfit.
Bold & Formal
Similar Coat // Dress // Bag // Bracelet // Necklace // Shoes SARAHFLINTBA-ERIKAR gets you $50 off!)
This outfit is not only great for a super fancy Valentine's Day date, but also for any winter weddings! It will keep you warm and festive all winter long.
LOOKING FOR MORE? TRY ONE OF THESE…
This post contains affiliate links. Thanks for your support!