Happy Thursday, friends! For this week's Wish I Was Wearing post, I am sharing a cozy, classic, and feminine workwear outfit.
Man, what a week, right? I never thought I would be so invested in a presidential election, but I guess that's what happens when our health and safety are literally on the line. At this point, I know what's done is done, and stressing won't change anything. Therefore, I'm trying to focus on things that bring me joy – like planning my work outfits!
I will be in the office for the next 5 working days, so I get to plan a whole week of outfits. When's the last time that happened?! I have three days of meetings back to back, so I even get to whip out some of my more formal business wear. As you can probably tell, I'm pumped!
This outfit looks very similar to something I'll be wearing next week. I love wearing a structured sweater dress to work. It is the best way to be cozy while still looking elegant and professional.
Cozy, Classic, Feminine Workwear Outfit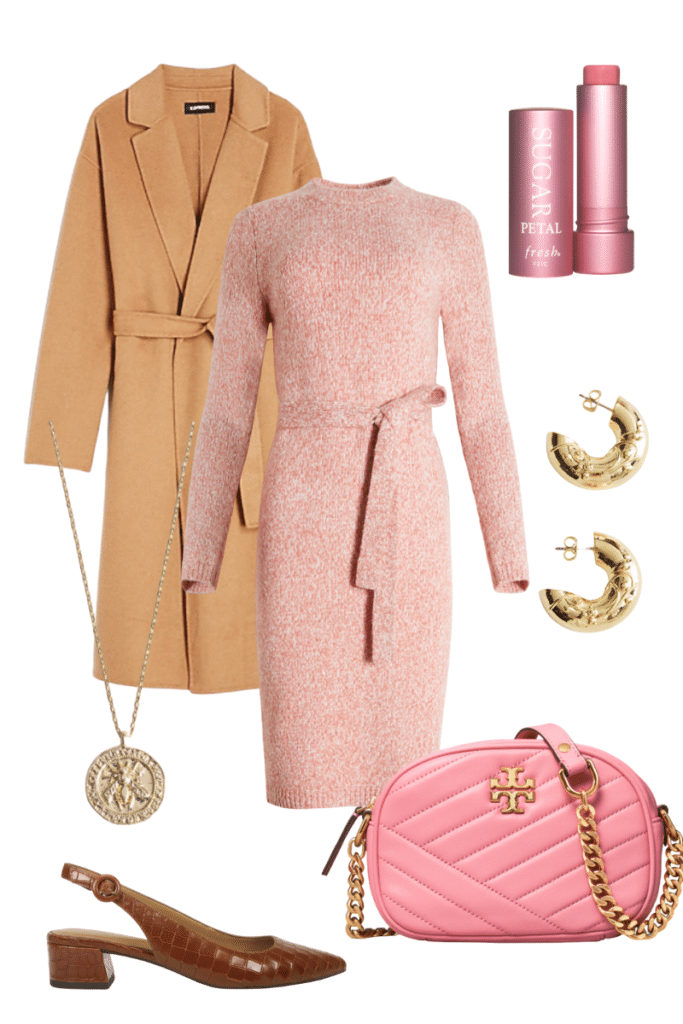 necklace // coat (on sale!) // dress (on sale!) // lip balm (on sale!)
earrings // handbag (on sale!) //shoes (on sale!)
Cozy, classic, and feminine workwear is kind of my jam. I love to inject a bit of pink into my wardrobe. I feel like this brings some of my personality into the office via my clothes.
Are you a giant work tote kind of person, or a smaller bag person? I am typically the girl with the giant 20lb bag over her shoulder, but I'm trying to change. The bigger the bag, the more stuff I'll shove in it, you know?! This adorable pink bag is currently on sale, and it looks like the perfect size. It'll fit everything you need but will keep you from trying to carry a full-sized sunscreen, extra pair of shoes, 3 snacks, and every highlighter you've ever bought (just me?).
What's your go-to workwear look? I'd love to know!

Are you caught up on all my recent posts? If not, start here!
This post contains affiliate links. Thanks for your support!