If you are looking for modern apartment decorations, you have come to the right place.
In this blog post, we will discuss a variety of different modern decorating ideas and the best modern apartment decorations that will help transform your apartment into a modern masterpiece. From sleek and simple designs to bold and extravagant ideas, we have something for everyone. So whether you are on a budget or looking for inspiration for your dream apartment, keep reading for the best modern apartment decorations!
Disclaimer: as an Amazon and RewardStyle affiliate, I may earn a small commission from purchases made through my links, at no extra cost to you. Read my full disclosure here.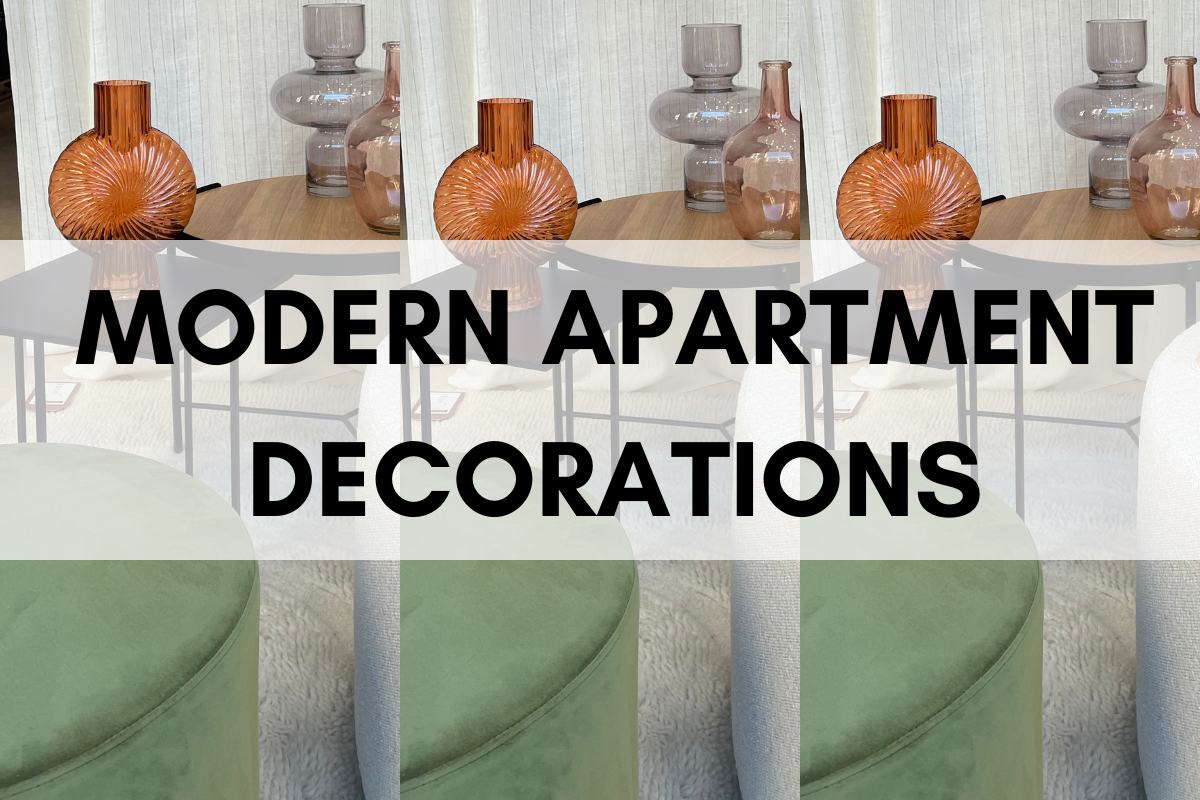 This blog post is all about modern apartment decorations.
What is Modern Design?
Modern design is rooted in modernism, which was a break from the past and a search for new forms of expression. In art, this brought a focus to the intrinsic components of a work of art – line, form, and color. As it follows, Modern design rejects maximalism and is all about monochrome colors, clean lines, minimalism, natural materials, and light.
There are five defining elements of modern design to keep in mind as you are searching for the perfect modern apartment decorations for your space:
Clean Lines
Minimalism
Neutral Colors
Open Floor Plans
Long and Low Furniture
Keep these elements in mind and you will be well on your way to your
What are the Best Modern Apartment Decorations for Each Room?
It's no secret that each room calls for different essentials in order to create you dream apartment. Whether you have a small studio apartment that you are decorating modern style on a budget or your dream mid-century apartment, we have found the best modern apartment decorations for each room.
Modern Apartment Decorating: Living Room
One popular decoration idea is to hang a large piece of abstract art on one of the walls. This will add a pop of color and make a statement in the room.
Another great idea is to invest in a modern sofa or coffee table. When you are shopping for larger modern furniture pieces, it is important to focus on clean, modern lines and keep in mind the size of your room. You don't want the furniture to overpower the space.
Finally, to complete the modern look in your living room, consider adding a few greenery plants. This will add life to the room and make it feel more welcoming.
You can't go wrong with these modern apartment living room ideas!
Modern Apartment Decorating: Bedroom
In the bedroom, modern style often means keeping things clean and simple. A great way to do this is by choosing a modern bed frame with a sleek design. You can also add a pop of color with modern bedding. Another way to keep things simple is by choosing minimalistic nightstands
Modern Apartment Decorating: Kitchen
When you're decorating your modern apartment kitchen, there are a few key things to keep in mind.
First, you'll want to focus on clean lines and minimalism. This means choosing modern accessories and keeping countertops clear.
Second, you'll want to focus on neutral colors. This doesn't mean your kitchen has to be all white, but you'll want to avoid too many bright colors. Keep this in mind when choosing your countertop appliances and essentials like a knife block.
Third, you want to make sure to incorporate elements that will make your kitchen more functional. This means adding things like a modern cookware set or a sleek toaster oven.
These are just a few modern apartment kitchen ideas to get you started.
Modern Apartment Decorating: Bathroom
A bathroom is one of the easiest spaces to keep looking up to date and modern! There are so many affordable elements you can add in to create a modern space.
The most important thing is to keep the basis of the bathroom very modern, sleek, and clean. This means choosing shower curtains and linens in neutral colors.
Once you have the basic foundation of your space, go in with sleek and clean designs for your toothbrush holder, soap dispensers, and any other essentials you need to keep easily accessible.
And finally, add a modern touch with a teeny bit of decor! You don't want to go overboard, but it's easy to make a bathroom look too sterile. Opt for greenery in an interesting modern planter or select a chic candle that livens up your space.
Modern Apartment Decorating: Dining Room
A modern dining room design is so fun and very trendy right now. If you have a modern apartment, it's the perfect time to show off your style with a chic dining room design.
The best place to start when you're modernizing your dining room is with the table. A modern table can have a sleek design with clean lines or a more traditional shape with modern details.
Once you have your table, it's time to add in modern dining chairs. You can choose chairs that match the table or mix and match for a more eclectic look.
And finally, don't forget the modern details! This can include anything from a modern chandelier to modern place settings that add some texture and functionality to your space.
These are just a few modern apartment dining room ideas to get you started.
Apartment Style Ideas:
Now that you've got the basics of modern design down, you can have even more fun with it! It's so fun to incorporate multiple styles into your space to make it something that is uniquely your own.
One way to do this is by mixing and matching different modern furniture pieces. For example, you could mix a modern sofa with mid-century modern chairs.
Another way to mix things up is by adding in vintage or antique pieces. This can add some character and warmth to your space.
Let's dive in to some of the most popular modern decor styles:
Apartment Decorating: Boho Modern
Boho modern is a decor style you might not have seen coming. But, it totally works! This style mixes modern elements with bohemian details for a chic and eclectic look.
To get this look, start with modern furniture pieces in neutral colors. Neutral, modern design elements make a great foundation for bohemian details to be added to later on.
Once you have your big furniture selected, add in bohemian details like colorful pillows, rugs, and curtains.
These bohemian details will warm up your space and add plenty of functionality! To make sure it seems put together, think of your space in layers.
For example, use modern furniture, boho rugs/pillows/poufs/etc, and then stick to primarily modern or boho lighting, mirrors, etc. Sticking to one general style for each "layer" of a room will make everything look more intentional and pulled together.
One of the easiest ways to add plenty of modern lines and shapes to your decor is through lamps and mirrors. There are so many budget-friendly modern options!
Apartment Decorating: Mid Century Modern
Mid Century Modern is one of the most well-known modern styles. This style was popularized in the 1950s and 1960s and has made a comeback in recent years.
To get this look, start with a modern sofa or chairs. These pieces will typically have clean lines and a simple shape.
Mid-century modern is also all about wood grains. Feel free to mix and match woods in your space to get that warm retro feel.
From there, add in mid-century modern details like a vintage rug, modern lighting, and retro art.
Retro, modern wall art is one of the easiest ways to add a modern finishing touch. This can include anything from modern paintings to modern photography.
Add another layer of interest to your room with coffee table books that speak to mid-century modern art and design. One of the best go-to's for coffee table books is this one featuring works from a mid-century modern photographer like Slim Aarons. His work is modern, classic, and so chic.
Apartment Decorating: Modern Chic
You really can't go wrong with modern chic decor! This style is modern, sophisticated, and fashionable.
To get this look in your apartment, you want to make sure to get your modern furniture absolutely perfect. A modern sofa or modern chairs in a light color are the perfect starting point.
Once you have your modern furniture selected, add in chic details like a fur throw blanket, modern art, and a glamorous chandelier to add texture and interest to your space.
Finally, the chic is in the details! Chic accessories are THE focal point in a modern chic apartment.
To avoid going overboard, stick to the essentials like lamps, vases, and coffee table books, but make sure they make a powerful statement. Less is more, but go BOLD with what you do choose to add to your home.
These chic details will add plenty of texture and interest to your space.
Modern Small Apartment Interior Design Ideas
First off, just know you're a genius! A small apartment is the perfect setting for modern interior design.
The modern style is all about clean lines and simplicity. This means that your small space will actually appear larger and more spacious with a modern interior design.
So, how do you achieve a modern interior design in a small space? Start with modern furniture. Keep the lines clean and simple and the colors light. To avoid looking too sterile, add in natural wood elements in light finishes where you can.
Next, focus on modern lighting. This is one of the most important aspects of modern interior design. Add in a good mixture of room lighting and task lighting to ensure your space is well-lit, comfortable, and cozy.
Finally, modernize your walls! This can be done by adding modern wall art.
There are so many options for modern artwork! A large piece of artwork will add scale to your apartment and make it seem larger and cleaner than several smaller pieces of art. You can go for anything from a neutral, textured piece to a slim photograph. Just be sure to add something to your walls to ensure it feels like home.
Trendy Apartment Decor
Finally, there's no better finishing touch to your apartment than adding trendy decor.
This can be anything from a modern vase to a fun piece of wall art.
The important thing is that your apartment reflects your personal style.
So, don't be afraid to add in a few unique pieces that you love. These pieces will make your apartment feel like home in no time.
There you have it! These are the essential modern apartment decorations. With these pieces, you will be well on your way to decorating your apartment in a modern style.
What are you waiting for? Get started on decorating your modern apartment today!
This post was all about modern apartment decorations.