If you're on the hunt for some insanely cute Danish Pastel aesthetic must-haves, you've come to the right place!
In this post, we'll be covering all things Danish Pastel: from what it is, to how to decorate in this style, and finally where to buy all of the essential products.
Disclaimer: as an Amazon and RewardStyle affiliate, I may earn a small commission from purchases made through my links, at no extra cost to you. Read my full disclosure here.
From danish pastel wallpaper to bedding and everything in between, we've got you covered.
So what are you waiting for? Start browsing these insanely cute picks and get inspired!
This post is all about Danish Pastel aesthetic.
What is The Danish Pastel Aesthetic?
If you've been on TikTok lately, then you know that the Danish Pastel aesthetic is all anyone can talk about. And who can blame them?
From wavy mirrors to funky pastel lamps, Danish pastel is everywhere.
But…what even is Danish Pastel?
The Danish Pastel Aesthetic can be summarized in three words: Clean Pastel Maximalism.
This interior design style perfectly encapsulates the Scandinavian girl aesthetic. Everything is fresh, soft, and basking in natural light.
This style is all about mixing and matching different pastel colors and funky, clean-lined patterns to create a fun and cohesive look. Mixed pastels look amazing juxtaposed against bright, white backgrounds. Think of a ton of fun pillows on a white couch or cute multicolored accessories in a white kitchen.
You can't help but think of spring/summer when you look at a pastel Danish room!
Danish Pastel Room Decor Essentials
The most popular colors in this aesthetic are pale blue, light pink, and mint green. You'll also see a lot of other pastel colors like purple, yellow, and peach.
Beyond color, the Danish Pastel aesthetic also introduces some fun post-modern elements like wavy candles and mirrors that are fun just to be fun.
Finally, there is a focus on artwork that is colorful while also being clean and simple. You will see a lot of Matisse cutouts in pastel danish aesthetic bedroom decor!
Now that we know what Danish Pastel is, let's talk about how to get the look in your own home!
Wallpaper
Wallpaper has been rapidly becoming more and more popular, and for good reason! It allows you to make a bold statement by literally decorating every square inch of your walls.
Danish pastel aesthetic wallpaper is a great option to consider if you want to add some color and personality to your space without going too crazy.
Look for wallpaper with clean lines and geometric shapes in colors like pale blue, light pink, mint green, and yellow.
Are you in an apartment or just not sure if you're ready to commit to a full room of Danish Pastel wallpaper just yet? Try peel and Stick wallpaper!
Peel and stick wallpaper is a great rental-friendly option for embracing the Danish pastel aesthetic.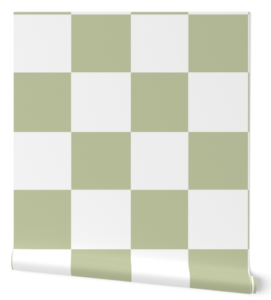 This super cute Danish pastel checkered wallpaper  is the perfect statement piece for your Danish pastel room! 
Checkered patterns are a huge part of Danish Pastel decor, and the pistachio green shade will add the perfect pastel backdrop.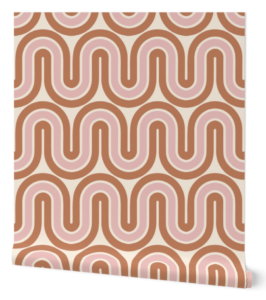 Danish Pastel Mirrors
Danish pastel mirrors are one of the most recognizable items in this aesthetic.
These wavy, post-modern mirrors come in all different shapes and sizes. They are often made of acrylic or plastic and have a fun retro vibe.
Hang one or two of these bad boys on your wall or invest in an incredible standing mirror to add some personality to your space!
This fun wavy mirror is perfect for your Danish Pastel space! The wavy lines are immediately interesting, but the minimal frame and light reflection you get from the mirror will keep it from adding too much visual weight. 
This will add a lot of interest to your walls without taking away from your other decor items, but it can also be the focal point of a more minimalist room. 
Danish Pastel Candles
Candles are absolutely essential for nailing the Danish pastel aesthetic. Danish pastel candles are the perfect way to add some ambiance to your space without being too overwhelming.
Danish pastel candles are categorized by their unique, wavy shape. These candles often come in fun and unexpected colors like pale blue, pink, and green.
Without a doubt, these pastel candles are show stoppers and instantly make your space look like a Swedish summer aesthetic dream.Choose a combination of fun pastel candles to put in cute, pastel candlesticks to really up your pastel aesthetic game!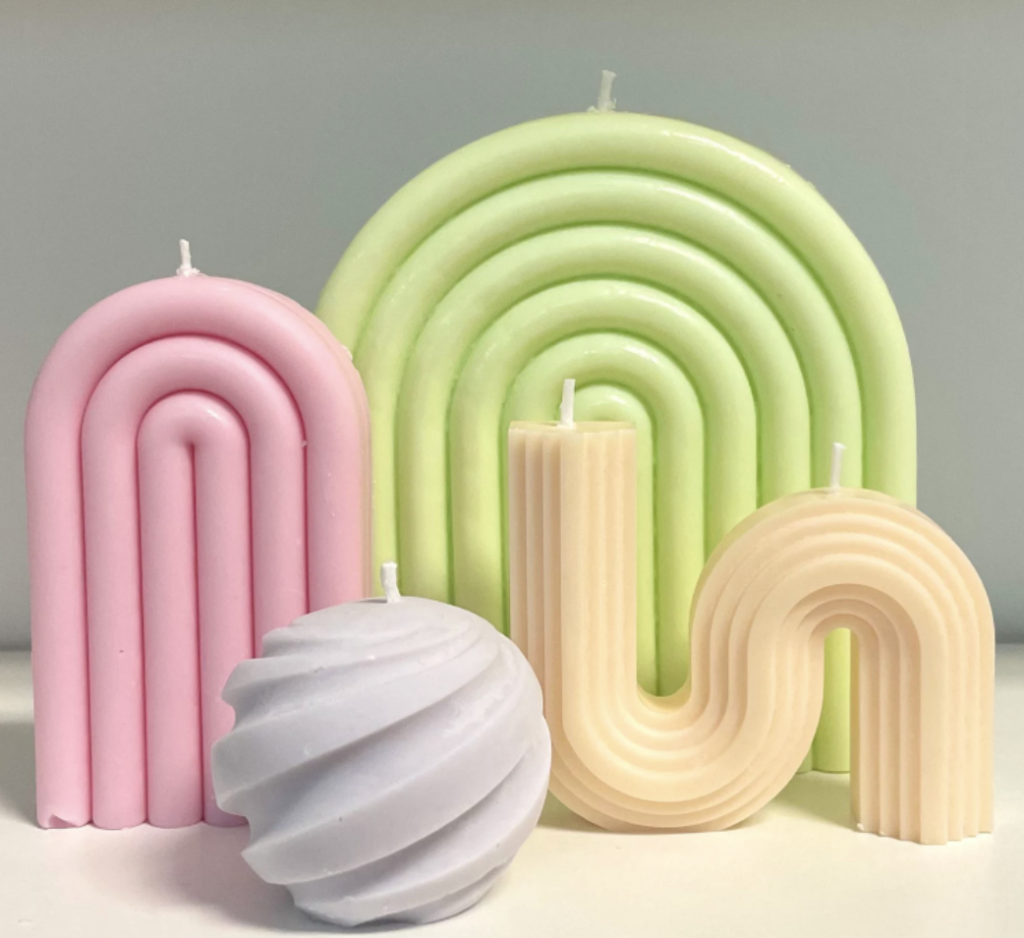 This set of wavy, funky, curvy pastel candles is practically SCREAMING Danish Pastel aesthetic!!! I am obsessed with how cute this set looks styled together. It is basically Danish Pastel in a nutshell. 
You can buy this set all together or the candles as individuals. You really can't go wrong with styling these separately, but the set is just perfect. 
Danish Pastel Table Lamps
You can't walk into a Danish pastel room without immediately spotting a cool, unexpected, fun, funky lamp.
Danish pastel table lamps come in all different shapes, sizes, and colors. Look for lamps with unique bases and shades in colors like pale blue, light pink, mint green, and yellow. You could completely lean into the aesthetic with an ultra recognizable shell lamp, or choose something more low-key funky like this stunning pale green all-glass lamp.
These lamps are the perfect way to add some personality to your space and up the cozy factor to make it feel more like home!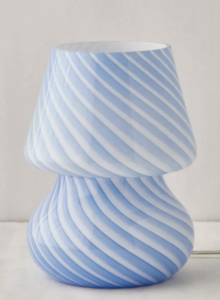 You NEED to check out this absolutely adorable pastel table lamp that may just be THE physical embodiment of Danish Pastel Aesthetic. Seriously. It is just SO cute. 
The wavy lines, pastel tones, and interesting shape make it the perfect piece for your Danish pastel bedroom. It would also make a great gift for any recent grads and would look adorable in a dorm. 
The cozy light it gives off will make you feel right at home. 
Decorative Jars and Vases
Decorative jars and cool vases are pillars of the Danish pastel aesthetic.
Look for funky shapes, colored glass, matte finishes, and unexpected textures (with a smooth finish!) to find the danish pastel vases of your dreams.
Fill them with fresh flowers or greenery for an extra touch of Danish charm!
These pastel squiggle vases are such a fun take on Danish Pastel! 
You will see a lot of matte pastel vases and decorative jars. And they are so, so cute! However, when you add too much matte to a space it can start to feel a little flat and heavy. 
These transparent vases are a fun way to mix up the textures in your room without diverging from the aesthetic. 
Danish Pastel Aesthetic Artwork
Danish pastel artwork is one of the easiest ways to get the Danish Pastel aesthetic in your space.
Look for artwork with clean lines, geometric shapes, and a focus on color.
You can find Danish pastel artwork in all different mediums from painting and photography to sculpture and textiles. However, the most popular kind of danish pastel wall art you will see are posters and prints.
Posters
Danish pastel posters are a great way to add some color and personality to your walls without breaking the bank.
These posters allow you to get a larger piece of art onto your walls without breaking the bank.
This poster of a Matisse cut out is perfect for your Danish Pastel room! 
You will see a lot of Matisse cut out posters and prints in Danish Pastel Aesthetic rooms. And for good reason! 
Matisse's cut outs are full of fun, funky shapes, interesting lines, and bold use of solid colors that work together beautifully. You could even base the color palette of your Danish Pastel room off of one of these pieces of artwork! 
Prints
Another great option for adding Danish pastel artwork to your space are prints. Whether you prefer typography or fine art prints, as long as you stick to the principles of clean lines, pastel colors, and interesting shapes, you will be well on your way to the Danish Pastel aesthetic!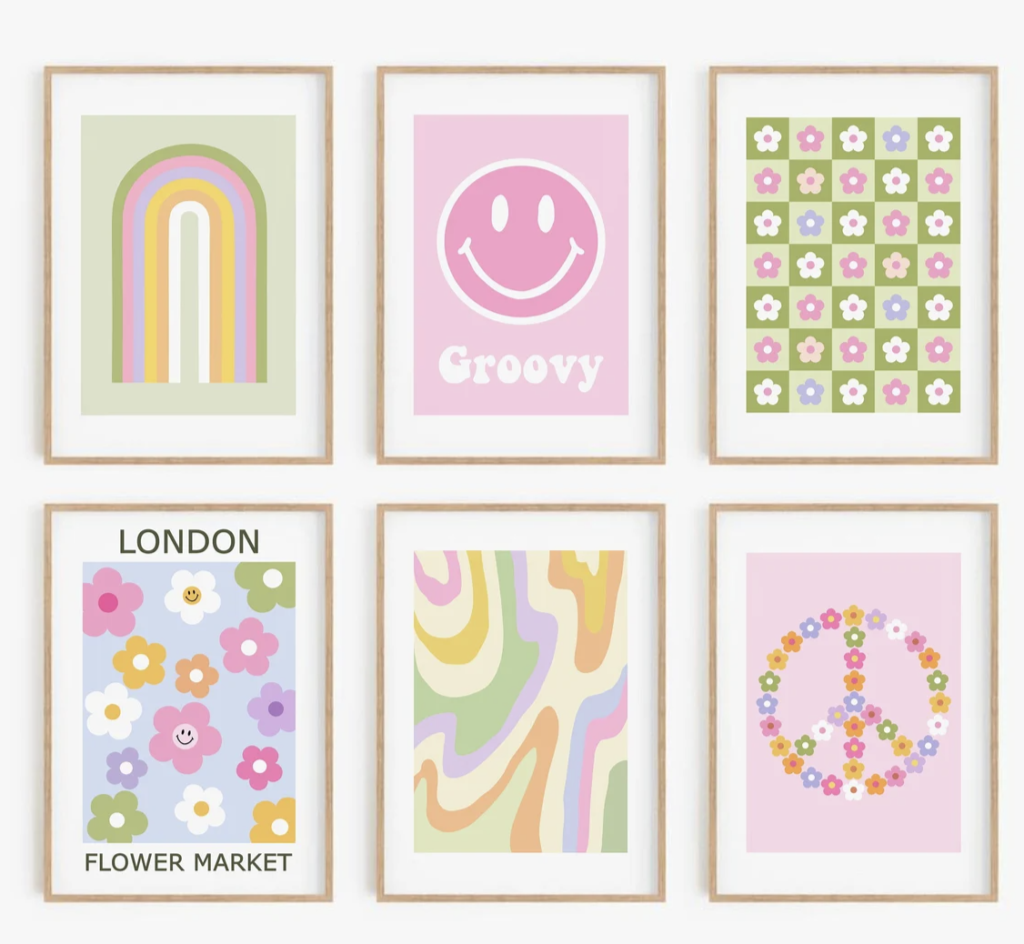 This super affordable gallery wall print set is perfect for your a living room or bedroom! This set really encapsulates the color palette, fun lines, and patterns of Danish Pastel decor. 
Plus it's under $15, so you really can't go wrong here!!!
This post was all about the Danish Pastel Aesthetic.