Do you want to know how to maximize space in a small apartment? This post will teach you everything you need to know!
Disclaimer: as an Amazon and RewardStyle affiliate, I may earn a small commission from purchases made through my links, at no extra cost to you. Read my full disclosure here.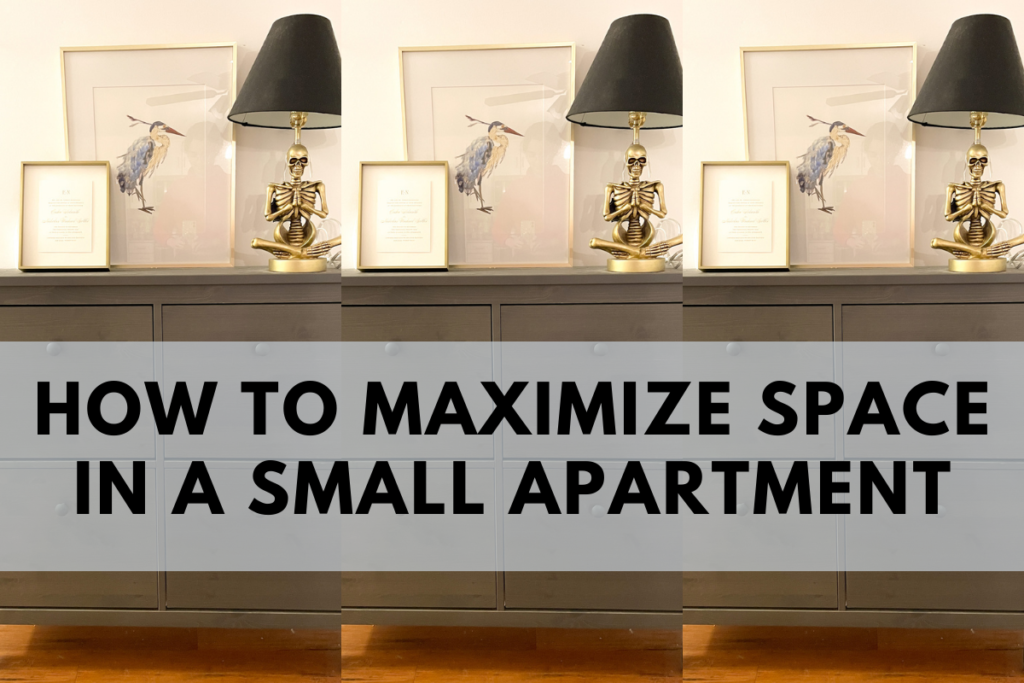 If you're anything like me, you probably didn't believe how small apartments could actually be. Once you realized how much (ahem, not very) space you had to work with, you are doing all the research you can to maximize your space. As a southern transplant with a few years of big city living under my belt, I am here to give you all of the tried and true tips and tricks for how to maximize space in a small apartment.
You are going to learn about all the top ways to maximize space in your small apartment. This post covers everything from organizing a small apartment with no storage, apartment organization tips, space-saving furniture, creative shelving, decor, and more!
After learning about all these different ways to maximize your space, you will be more than ready to make your small apartment a home!
This post is all about how to maximize space in your small apartment.
Brilliant Ideas for How to Maximize Space in Your Small Apartment
How to Organize a Small Apartment with No Storage
1. Drawer Dividers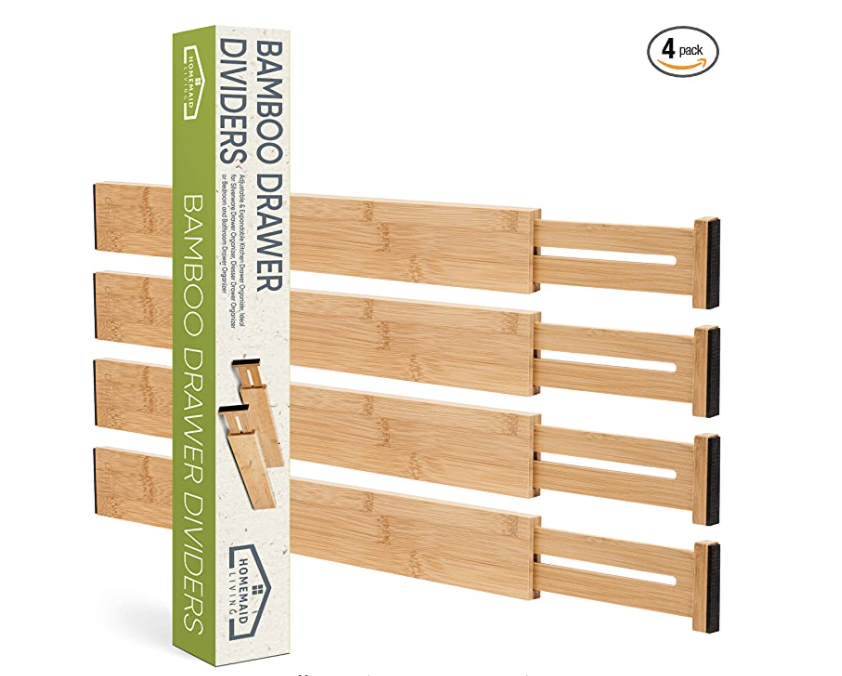 One of the most important things you can do when you have a small apartment with virtually no storage is to use drawer organizers to make sure you're maximizing the space you do have. This is especially important in your kitchen, where it is easy to accumulate tools with unique shapes. TheseBamboo Drawer Dividers will accommodate a wide variety of drawer sizes and ensure you have exactly the right amount of space for your kitchen tools, utensils, and more.
2. Drawer Organizers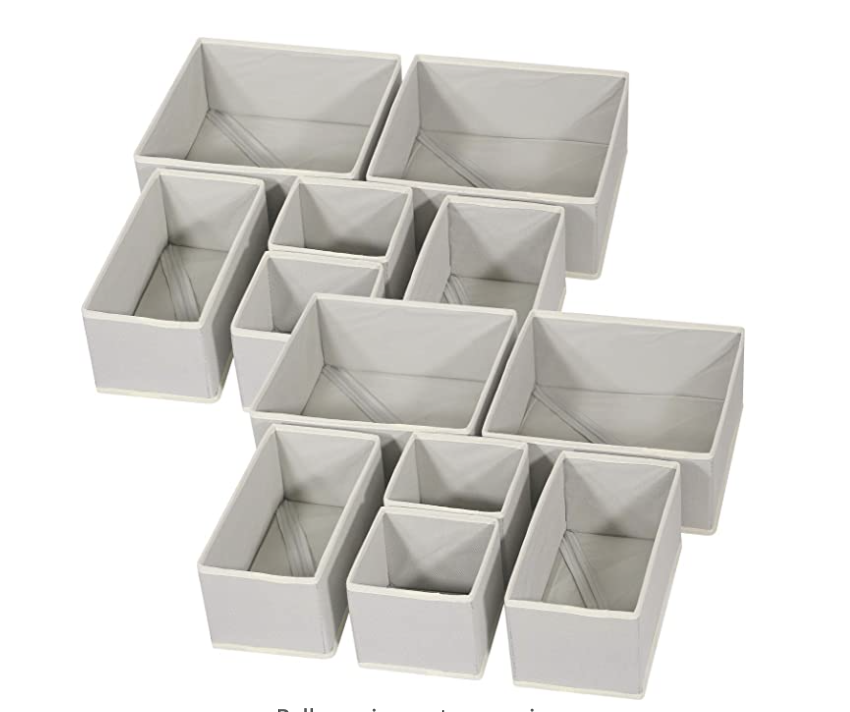 While on the topic of in-drawer organization, we absolutely have to discuss drawer organizers. Drawer organizers are great for pretty much any part of your home, but they are especially helpful in your dresser drawers. When I moved into my first small space, I had the hardest time dealing with the unexpectedly deep drawers in my Ikea dresser.
These Foldable Fabric Drawer Organizers have been a huge help. They both allow you to pack more stuff into your drawers and help you to pull things out without disrupting your folded clothes. This is key to ensuring that you can easily fit your clothes back in without having to pack everything down again. Combine these with the KonMari folding method and you are GOLDEN.
3. Pots and Pans Organization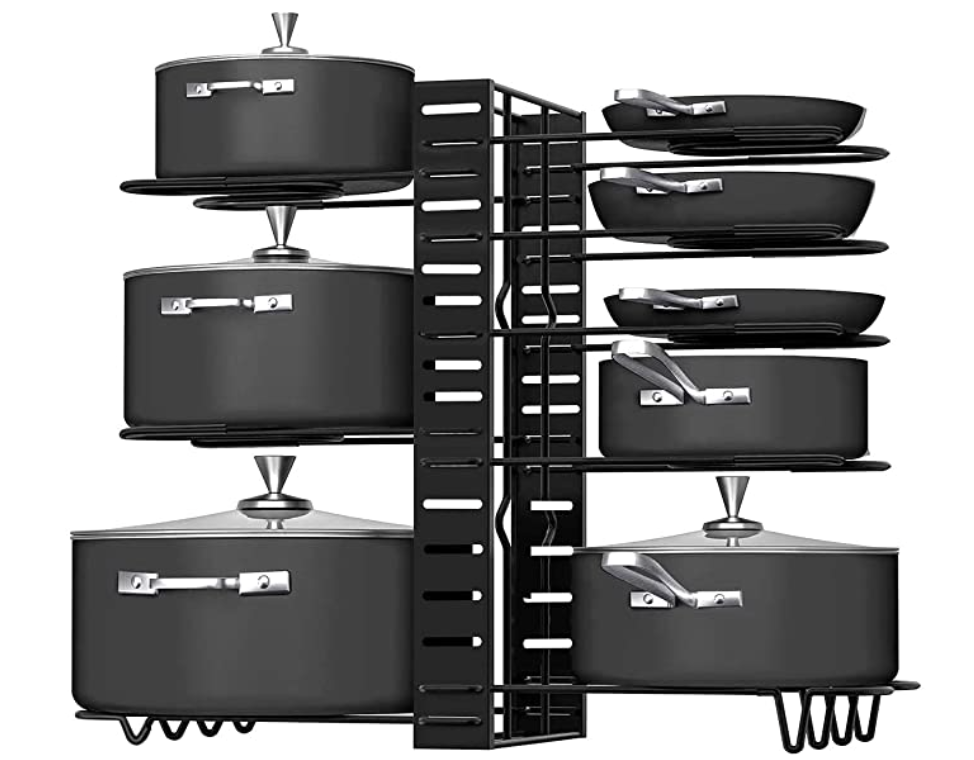 Cookware can take up a lot of space in your cabinets. When you only have a few shelves or cabinets, this is prime real estate that you do not want to give up. Using a Pots and Pans Organizer will help you save space in your cabinets and use the space as efficiently as possible. No more having to juggle three different pots to get to your frying pan!
4. Aesthetic Cookware

If you haven't built up your cookware collection yet, consider investing in a cookware set that you love looking at all the time. If you have a beautiful set, you could leave it out on the counter or open shelving. This Beautiful Cookware Set comes with its own organizer and would look beautiful on display in your kitchen. Think of all the extra space you would have in your kitchen!
5. Floating Paper Towel Holder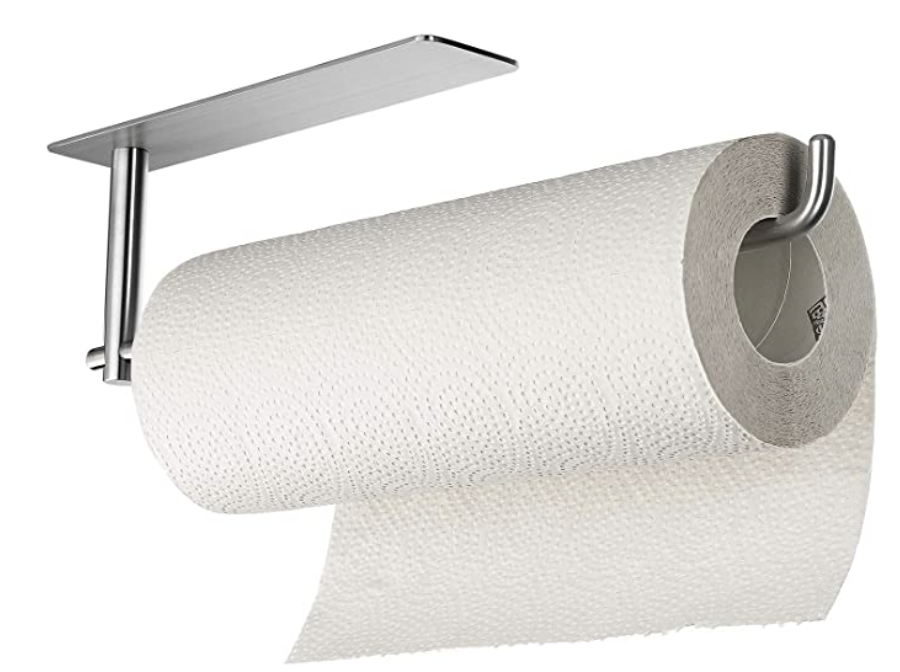 Counter space can be hard to come by in small apartments! If you are short on space, this Under the Cabinet Paper Towel Holder may be just the thing you need. This easily adheres to the underside of your cabinets or the side of your fridge to keep your paper towels handy without taking up valuable real estate
Shelving for Small Apartments
6. Spine Tower Shelves

When you have a small apartment with no storage, it can be hard to figure out what to do with your books. This Spine Tower Shelf, sometimes called a floating bookshelf, is a genius way to store your books in a way that keeps them accessible without taking up too much space. Rather than taking up a wall with a large bookshelf, all you need is a small corner or pocket of space to store all of your books!
7. Waterproof Shelves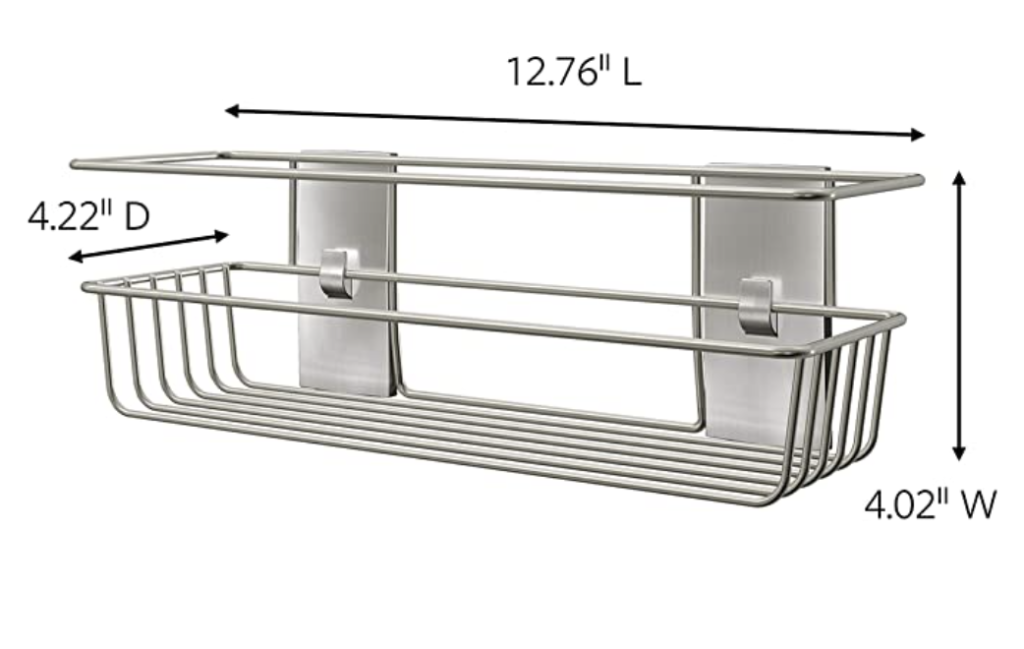 When considering shelving for small apartments, you can't forget your bathroom. These Waterproof Shelves are a great shelving solution and will help you maximize space in your small bathroom. Using renter-friendly, removable shelves is especially helpful because you can easily move them to another spot in your apartment at any time during your lease.
8. Stackable Containers for Dry Goods

One of the most important things you can do to maximize space in a small apartment is to decant your dry goods into a container set. I used to think this was completely unnecessary and a little bit wasteful, but it is a GAME. CHANGER. Not only do stackable containers help you prevent food waste, but they also make organizing a small apartment with no storage an absolute breeze.
The most important thing when looking for stackable dry goods containers is to purchase a full set or smaller sets from the same brand. Getting a full set will ensure you don't end up with half of your goods in mismatched boxes and that your storage containers fit well together.
This Set of Stackable Dry Goods Storage Containers is the top-rated on Amazon. I own this exact set and can attest that it is well worth the money!
9. Space-Saving Tiered Spice Rack

Keeping spices organized is one of the easiest ways to maximize space in your apartment kitchen. This Tiered Expandable Spice Rack is an easy way to keep your spices visible and minimizes the amount of space they take up in your drawer.
Having an expandable spice rack is especially helpful as it will ensure you can expand it to perfectly fit inside your cabinet. To use space even more efficiently, try transferring your spices into uniform jars. You would be shocked by how much easier spices are to store when you don't have to account for different jar shapes and sizes!
Apartment Organization Tips
10. Spice Gripper Clips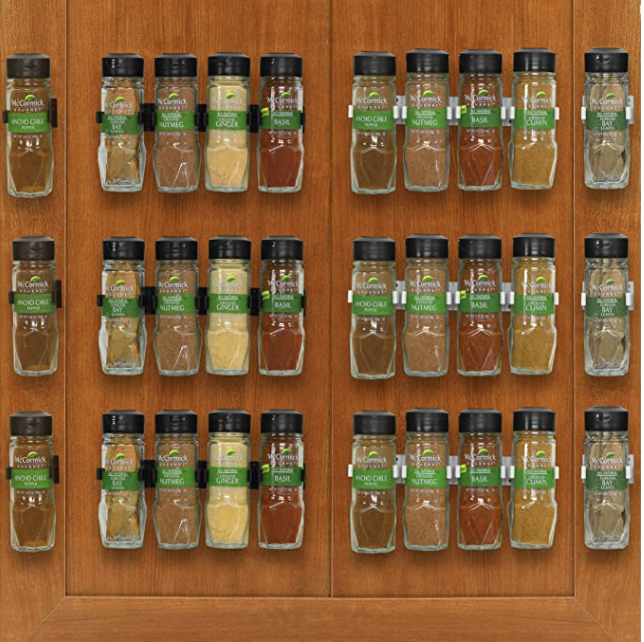 If you're super tight on cabinet space, try using your cabinet doors! These Spice Gripper Clips are top-rated on Amazon and allow you to organize your spices so they are easily accessible and leave plenty of cabinet space for more important things!
11. Use Refridgerator Organizer Bins

One of the most important apartment organization tips you will need is to snag a fridge and pantry organization kit. These will help you keep your apartment organized, prevent catastrophic spills, make it easier to access your food, and help you split the fridge space evenly if you have roommates.
This Set of Clear Refrigerator Bins has everything you need to keep your fridge organized and clutter-free.
12. Closet Hanger Organizers
When you are figuring out how to maximize space in your small apartment, one of the most important things to consider is how you will store your clothes. Clothes need to be accessible and stored in a way that keeps them from wrinkling.
One of my favorite apartment organization tips is to use Closet Hanger Organizers to organize your clothes. These are AWESOME for both keeping clothes organized and maximizing what you can fit in your closet.
13. Compact Cutlery Organizer

Utensils can take up a lot of valuable storage space in a small apartment. Most cutlery organizers take up a whole drawer on their own or leave you with extra space. This Compact Cutlery Organizer is very highly rated and will make the most efficient use of your space.
14. Cleaning Tool Organization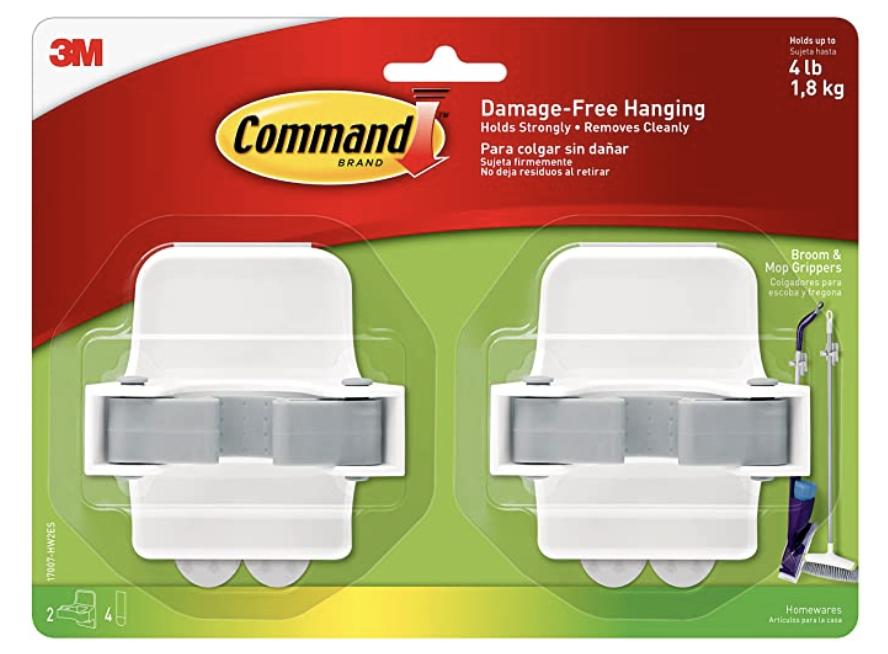 This one apartment organization tip has truly changed my life and has made our space so much more workable. Cleaning tools can be very frustrating to keep organized because they fall over easily and never quite fit well in your floor space. Until now!
These Mop and Broom Grippers are incredible. They are renter-friendly, easy to install, and super heavy-duty. I have had them up in my house for over a year and don't have any complaints. You can attach these to any solid surface to take your cleaning tool organization to the next level.
Space Saving Furniture for Studio Apartments
15. Storage Ottoman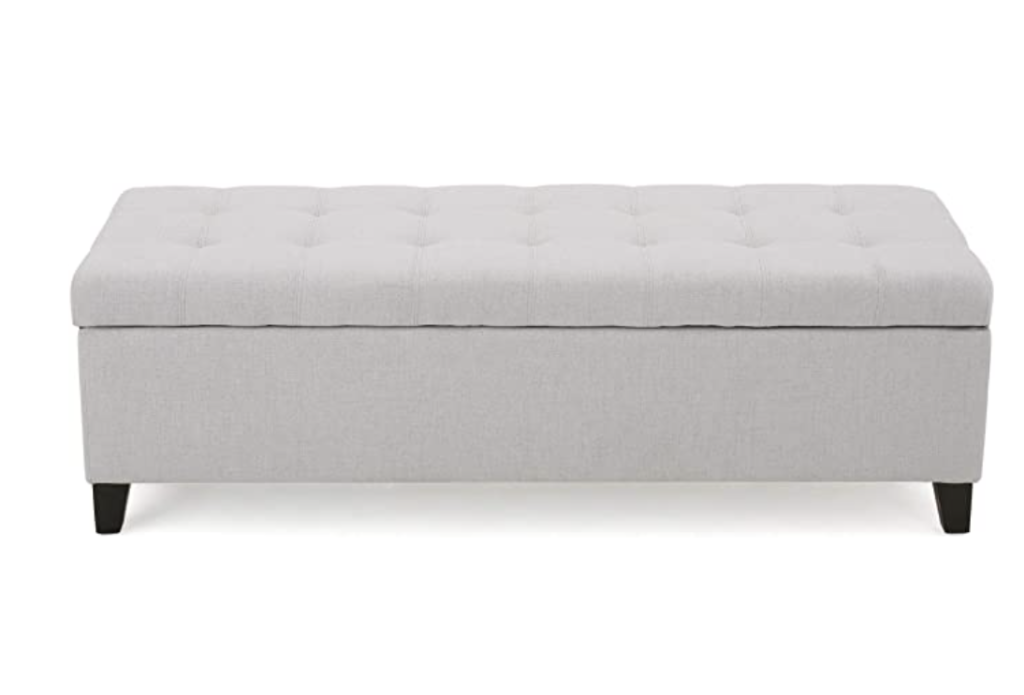 Space-saving furniture is a great way to maximize space in a small apartment. This is especially important in studio apartments where you may not have very much storage space. This stylish Storage Ottoman is a great option for adding seating and storage all in one go.
16. Media Console with Storage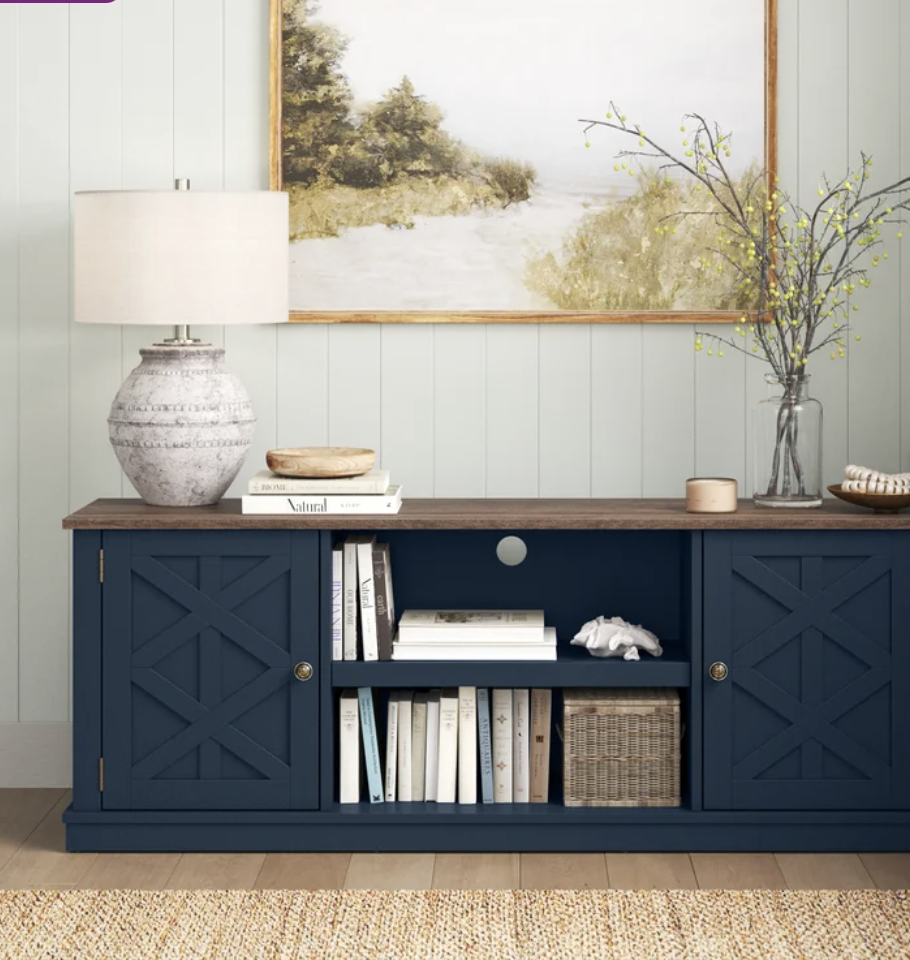 A media console is one of the best space-saving furniture tricks for studio apartments. Adding a media console not only provides a place to keep your TV but can also provide ample storage.
This Media Console looks very high-end despite the affordable price tag. Bonus – it currently has free shipping!
17. Compact Shoe Organizer

Studio apartments can feel disorganized very easily. The best way to prevent this is to make sure that not only does everything have a place, but that your storage setup also hides anything that shouldn't be out. This will help to make the space feel calm and prevent overwhelm from being able to see all of your things even when the apartment is clean.
My personal favorite way to do this is by using a compact shoe organizer. This Slim Shoe Cabinet allows you to keep your most frequently used shoes easily accessible while also keeping them from cluttering your space. This cabinet is extremely sleek and fits easily in a tight space.
18. Slim Kitchen and Bathroom Storage Racks

Most apartments could do with a little extra storage in the kitchen and bathroom, but not much space to add additional cabinetry. This Slim Storage Cart is top-rated on Amazon and is a great way to add extra storage to tight spaces. This cart rolls, so you can easily roll it between tight cabinetry to make the best use of your space.
Small Apartment Decor
19. Large Artwork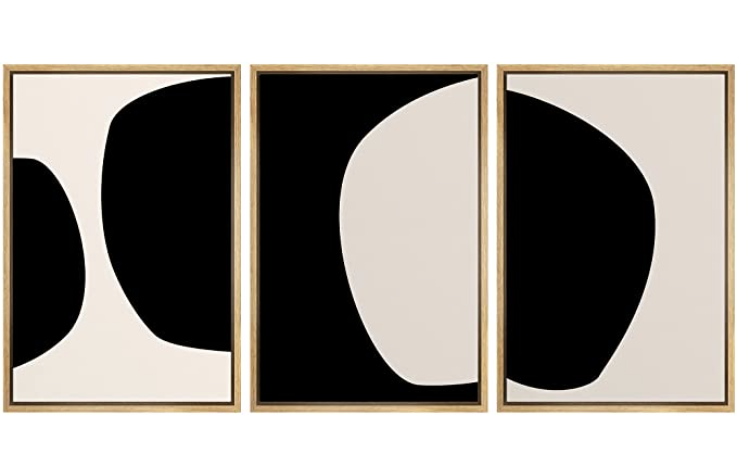 One of the most transformative things you can add to a small apartment is large artwork. Large artwork allows you to play with scale and makes your space feel larger and less cluttered.
This set of Framed Canvas Prints is ready to be the focal point of your apartment wall decor. You would never guess it was from Amazon!
20. Decorative Storage Baskets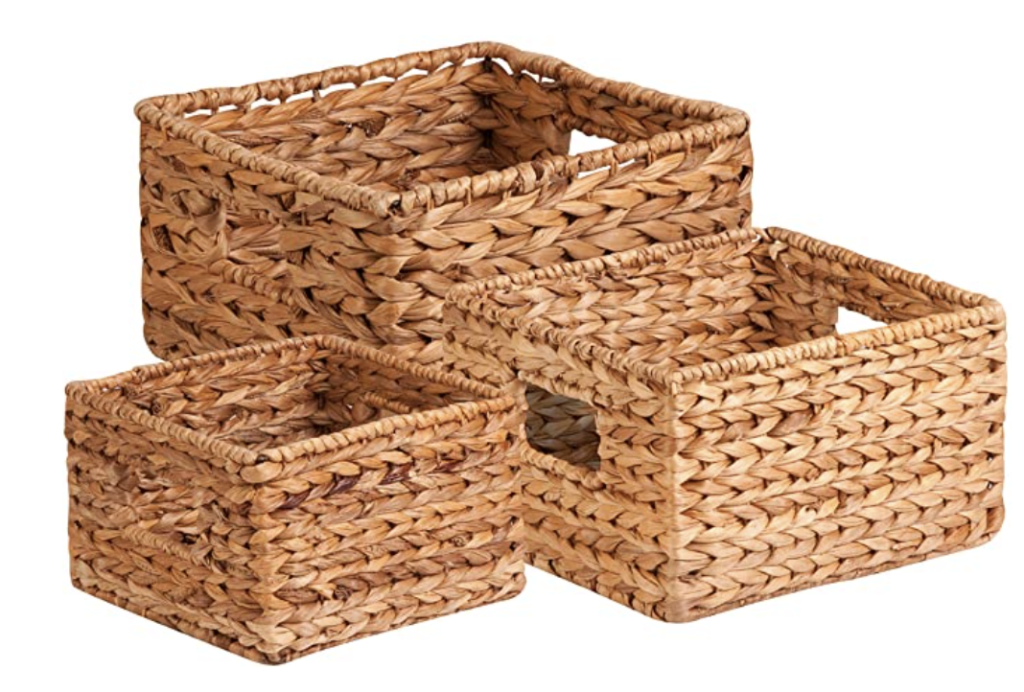 Decorative baskets are one of the best ways to both decorate your space and keep clutter hidden. These Decorative Baskets are timeless and add the perfect amount of texture to your space.

If you prefer a more girly vibe, these Affordable Scalloped Baskets are very similar to pricey options from Ballard Designs and Serena and Lilly!
21. Decorative Trays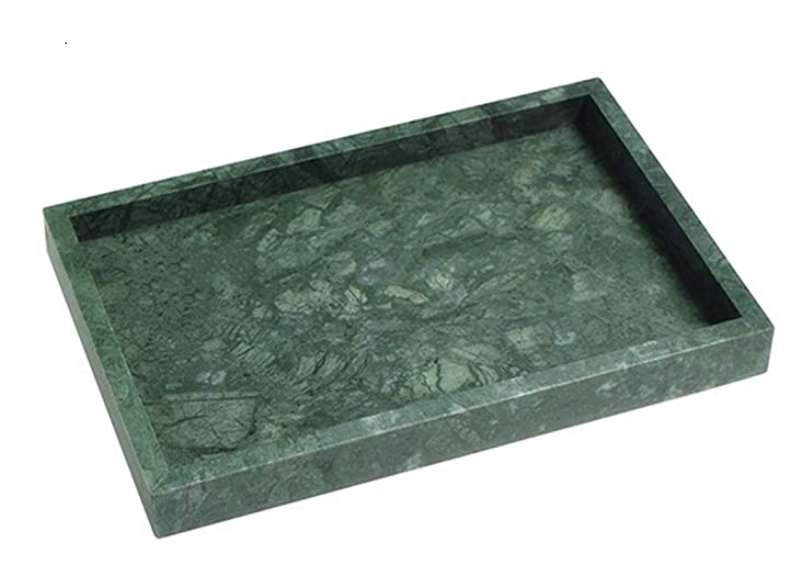 Sometimes you have to keep things out on a countertop due to lack of space or for easier access. Decorative trays are a great way to both maximize space and make your space look organized.
This Marble Decorative Tray is super affordable and will instantly make your space look intentional and well put together. You could use this for anything from a fancy coffee bar to organizing your bathroom countertop.
22. Color Code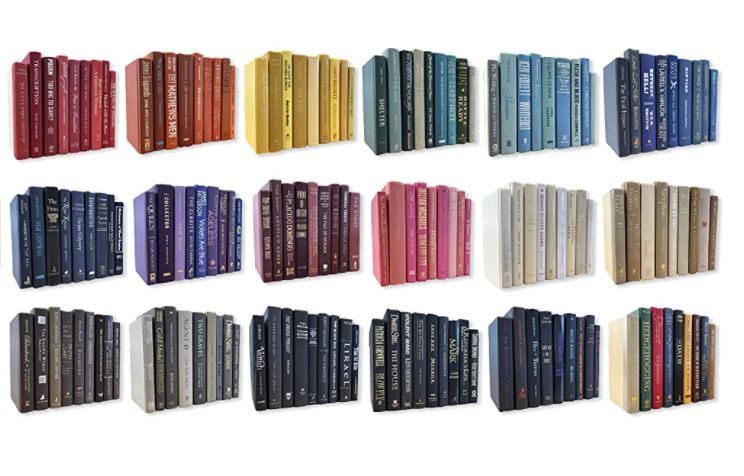 Using color-coding in decor is a great way to make a space instantly feel more thoughtful and organized. You can apply this to any part of your space that is feeling a little disjointed. My favorite way to do this is on a bookshelf!
If you're interested in making an intentionally color-coded bookshelf, these Color-Coded Books on Amazon are a great option. You can add more books in a certain color or build a whole bookshelf!
23. Light and Airy Curtains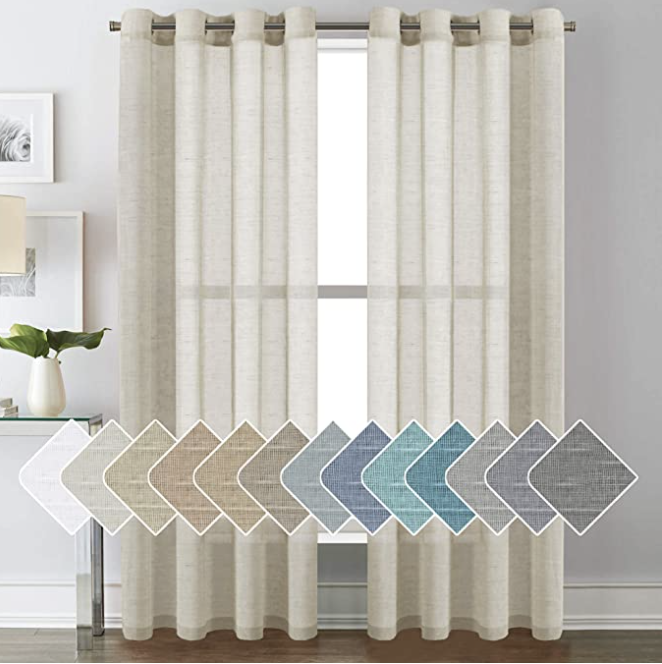 If you asked me for my number one tip for how to maximize space in a small apartment and wanted to have an immediate impact without spending a lot of money, I would say curtains, curtains, curtains. Light and airy curtains instantly transform a small space. Not only do they make the ceilings look higher and the room feel bigger, but they can also help to balance out an off-center window and to make a space feel really finished.
These top-rated Linen Blended Curtain will add the perfect amount of texture and airy-ness to your apartment while still allowing light to filter through.
If you are not sure which curtain length to buy, I would choose a length that just "kisses" the floor and that hangs near the top of your ceiling. This will make your ceilings seem higher and is a little small apartment hack that will make your apartment seem larger than it is.
This post was all about genius ideas for how to maximize space in a small apartment.
Other Posts You May Like: