Do you want to find the perfect summer dresses for wedding guests that will 100% win you best dressed? These insanely chic summer dresses for wedding guests are sure to wow everyone at your next summer wedding!
Disclaimer: as an Amazon and RewardStyle affiliate, I may earn a small commission from purchases made through my links, at no extra cost to you. Read my full disclosure here.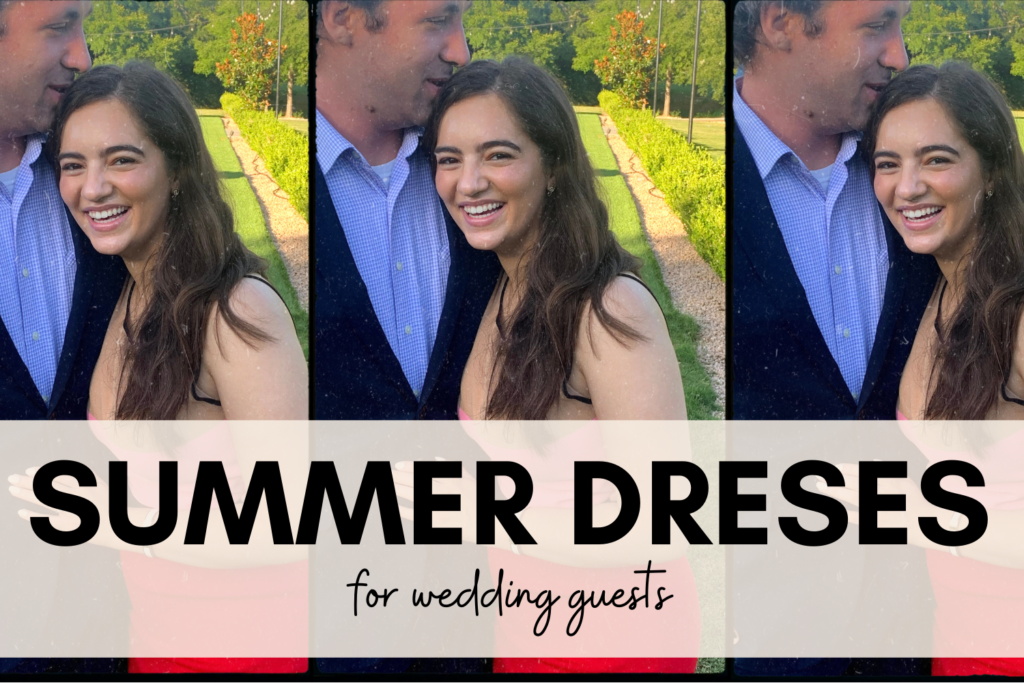 If there's something I have an extreme love-hate relationship with, it's shopping for wedding guest dresses. Between making sure you're sticking to the dress code, finding something that you feel comfortable in, and wanting to look chic in pictures that someone will look back on for the rest of their lives, dress shopping can be a really stressful experience.
As an (almost!) summer bride and Summer Wedding Enthusiast, I know a thing or two about finding summer dresses for wedding guests. After shopping for dresses for my friends' weddings, helping people find a dress for my own wedding, or even just dreaming of what I wish my guests would wear, I have spent a lot of time researching, trying on, and returning summer dresses that wedding guests will love. And, not to toot my own horn, but I think I've found some really, really good ones.
I am obsessed with all of these dresses and I truly think that any wedding guest will look and feel amazing in these. I hope you will be too!
This post is all about summer dresses for wedding guests.
Summer Dresses for Wedding Guests Abroad
Lucky, lucky you traveling abroad for a wedding! Destination weddings are my personal favorite. I would much rather shell out for a Mexico beach wedding than shell out for a wedding in a random town in Missouri that I've never heard or thought of before the wedding invitation arrived.
These summer dresses for wedding guests abroad are breezy, packable, and oh-so-fun. They really commit to the "tropical glam" theme that I wish every wedding would be!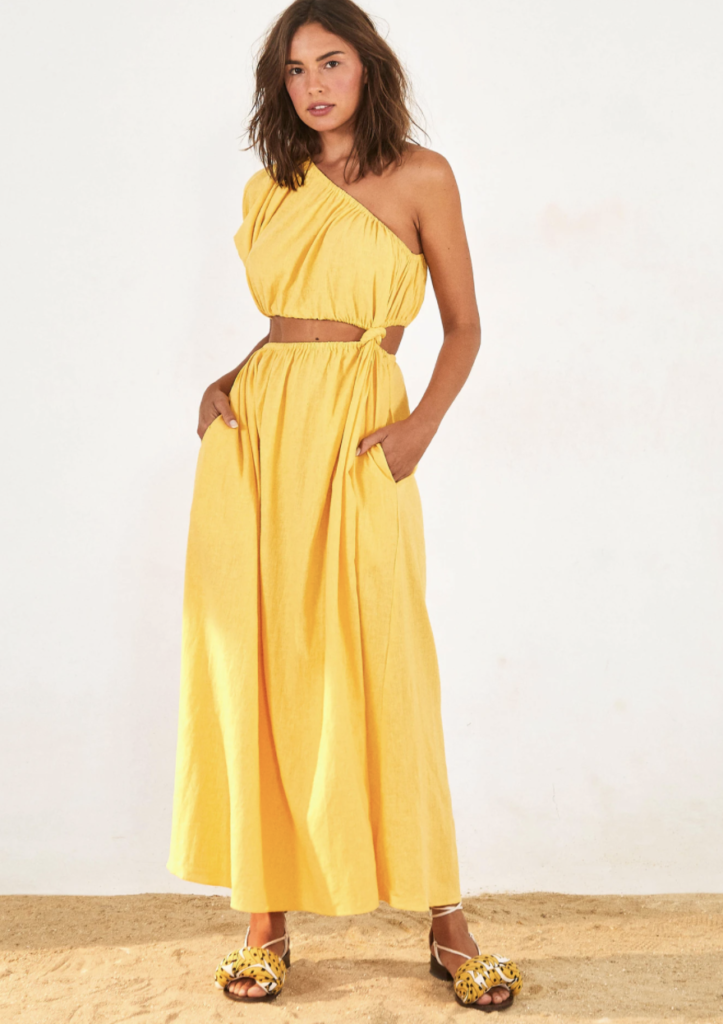 This dress would work for anything from a villa in Tuscany to a beach in Costa Rica! If you're traveling traveling for a summer wedding abroad and don't want to go for a printed look, this drss is absolutely perfect. It will work just as well for summer weddings in your home town!
I love a good lemon print! This dress would be perfect for a beach wedding or a more casual summer wedding abroad. It would also be great for wedding-related events that aren't as fancy!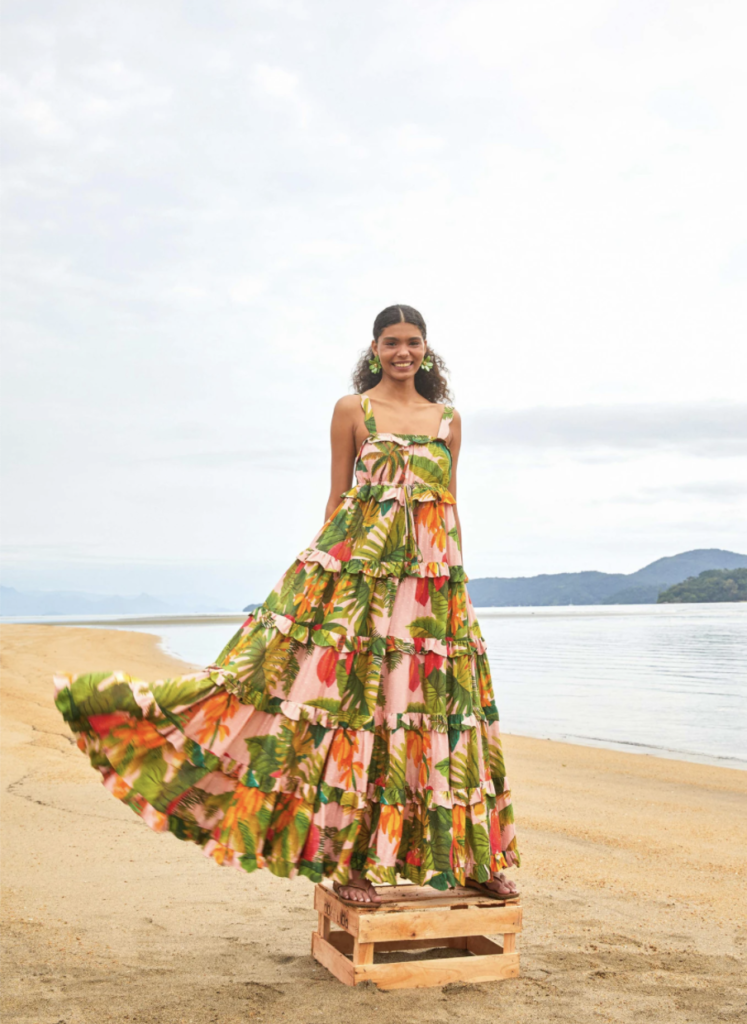 If I was attending my wedding as a guest, this is what I would be wearing. This over-the-top, tropical summer dress is perfect for a tropical wedding! Just imagine it on the dance floor!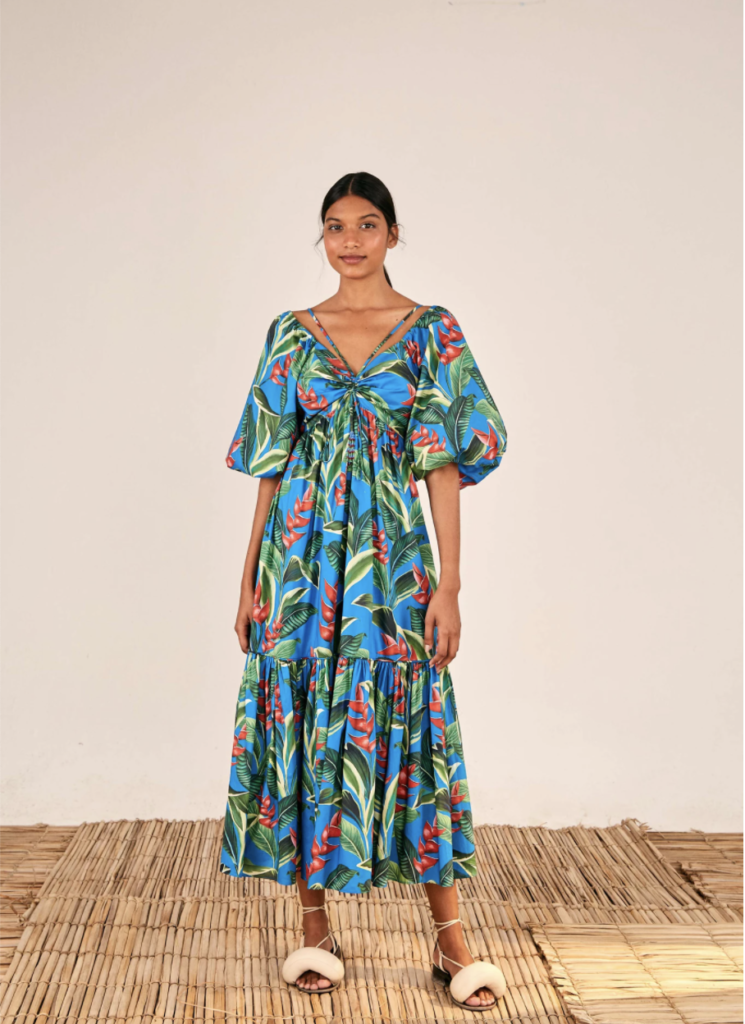 I can't stop thinking about this dress! Cocktail welcome reception vibes, anyone?
Elegant Summer Dresses for Wedding Guest
This elegant number is perfect for a summer wedding! This pink dress is so elegant, but the midi length keeps it from being too formal. It would be a great mother of the bride dress for a cocktail or less formal wedding.
I need someone to have a fancy event so I have an excuse to wear this dress! This elegant summer wedding guest dress option is perfect for anyone, but would work especially well for a mother of the bride.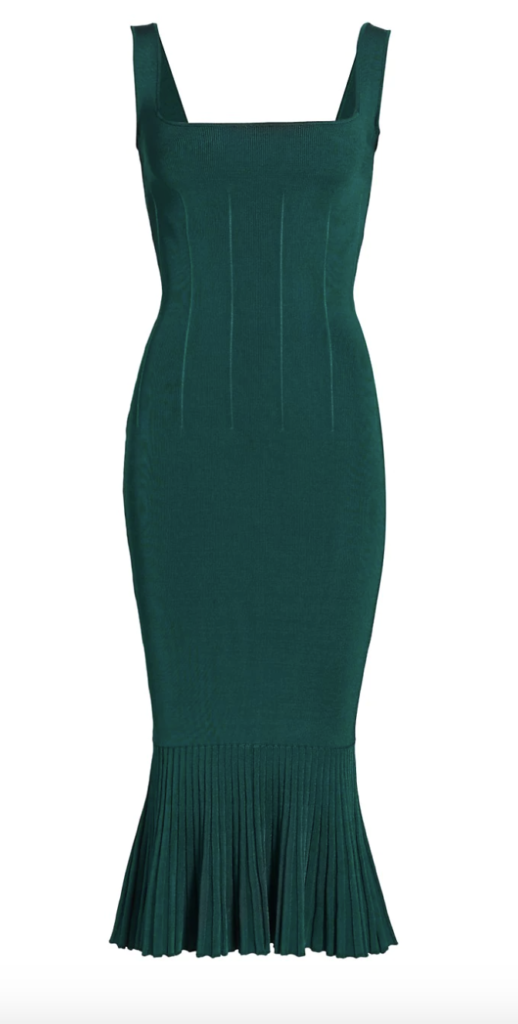 This dress is STUNNING and a perfect elegant option for anything from a backyard to a formal wedding. It's midi length, so it won't work for black tie. However, it is SO wearable. Honestly, you could wear this to a nice dinner and wouldn't look out of place. This is perfect for one of those weddings where they don't set a dress code – one of my pet peeves!
This is such a classic and elegant summer wedding guest dress! I love the draping and the shoulder bow detailing. You'll be able to keep this in your closet forever.
Cute Summer Dresses for Wedding Guest

The only word I have to describe this dress is CUTE. This cute summer wedding guest option is so beautiful, unique, and still timeless thanks to the beautiful cut and neckline. You will look stunning in this one at your next summer garden wedding!
This cute summer dress is so fun for a number of dress codes! It is definitely short, but the conservativee neckline makes it wedding-appropriate.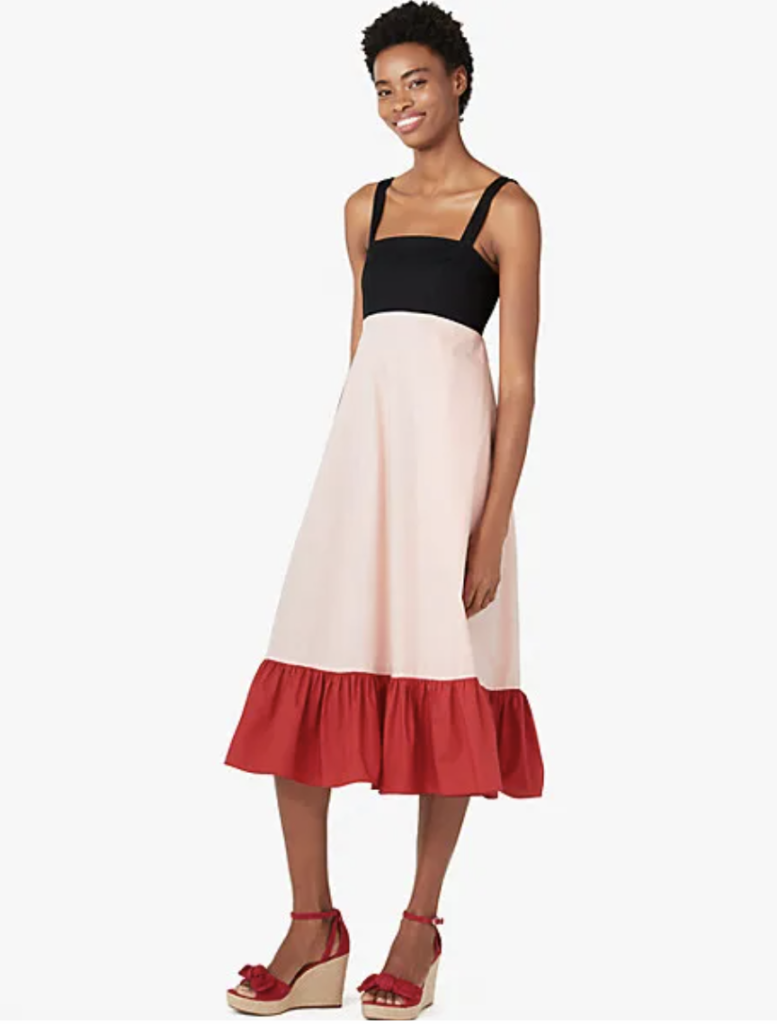 I wish I had something to wear this cute summer dress to this year! This is one of my favorites. You can dress it up or down!
Summer Dresses for Beach Wedding Guest
Summer dresses for beach wedding guests can be really difficult to shop for! I have put together a few options that I think have the right mix of cute, comfortable, and won't make you accidentally make you expose yourself!
I love this beach wedding guest dress! the structured fit will be easy to control in the sea breezee, but the slit will ensure you have a grand old time on the dance floor!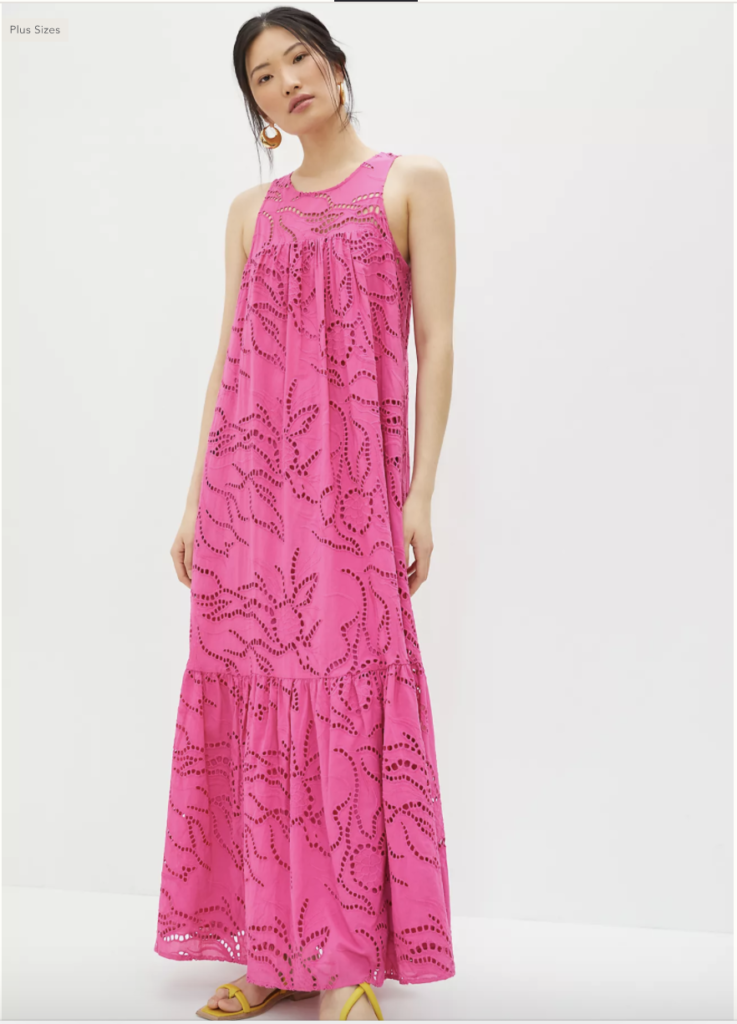 Truly, this would be great for a beach wedding but would also be so versatile! I might buy it for my bachelorette beach trip…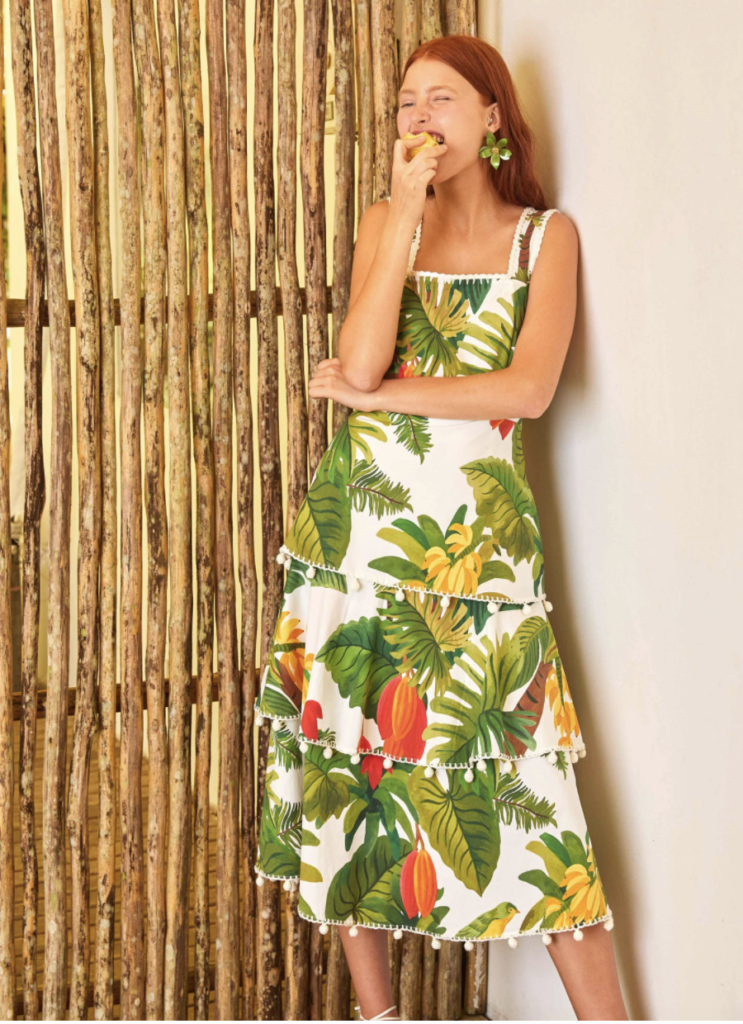 I LOVE HER. There are no words. Might also buy this for my bachelorette beach trip. 2 nights = 47 dresses, right? This dress is too perfect for words. It would look stunning at a beach wedding, on your honeymoon, or really anywhere warm.
Lulus Wedding Guest Dresses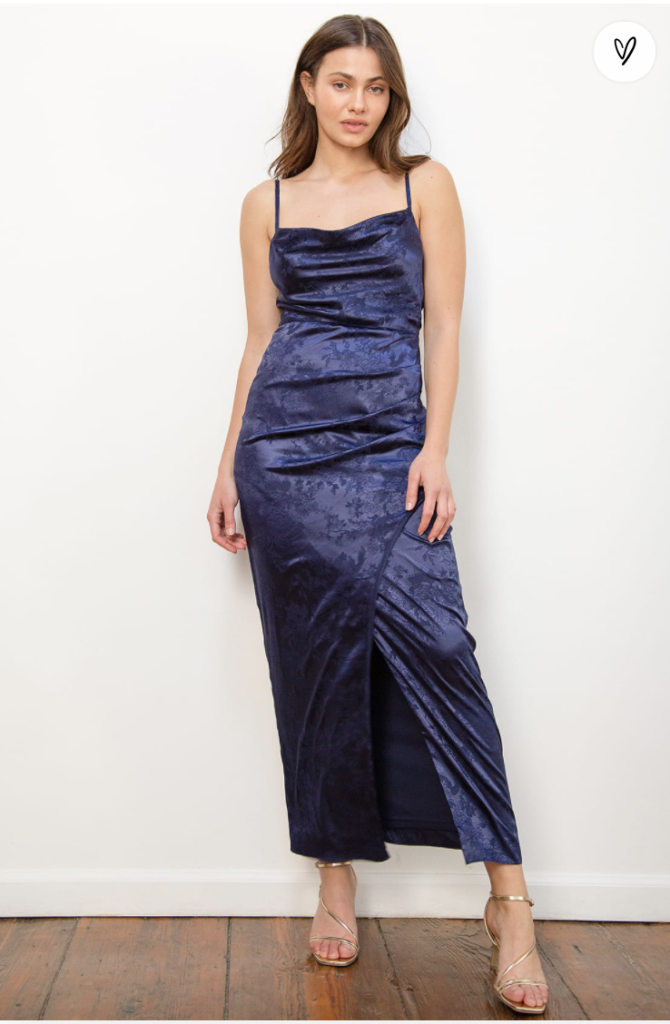 This dress is so stunning and affordable! A few of my friends swear by Lulus and have found some amazing dresses there. I like how this one adds some more interest to the classic slinky dress look by using a subtly patterned fabric. Buy this one if you want to take home a groomsman!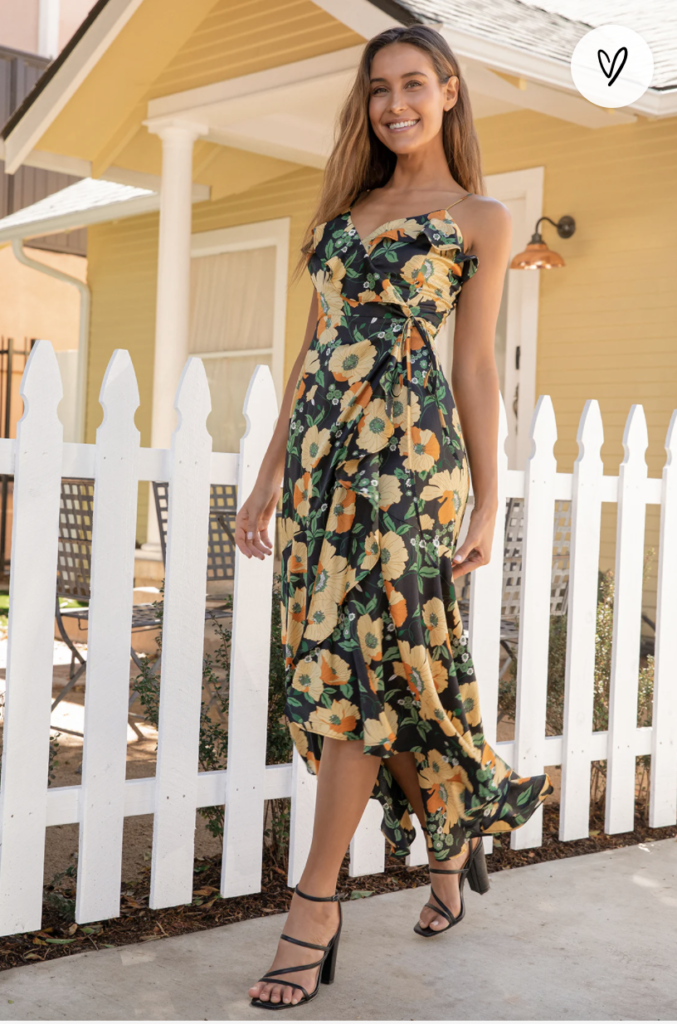 I love a good dark floral! This lulus wedding guest dress is perfect for a daytime or afternoon affair. The wrap detail is so flattering!
This lulus dress is so sweet, and is definitely a "2021" dress. The trend might not last, but, thankfully, the price point is great! This would be great for a daytime or a garden wedding.
Casual Summer Dresses for a Wedding Guest
Casual summer weddings can be so much fun to attend, but so difficult to shop for. Like, do they mean jeans and a nice top casual or a dress?! In this case, it's always best to err on the side of over dressed. Thankfully, these casual summer dresses for wedding guests will make sure you fit right into the dress code while still standing out as best dressed.
This dress is GORGEOUS And so versatile. You'll get plenty of wear out of it and will look so cute and trendy! I'm going to ride this puff sleeve trend until Gen 3000 makes fun of me for it on the 2050 version of tiktok.
I love love love the texture of this dress! It is perfect for an outdoor wedding or any casual event. Aperol spritzes on the balcony? You got it!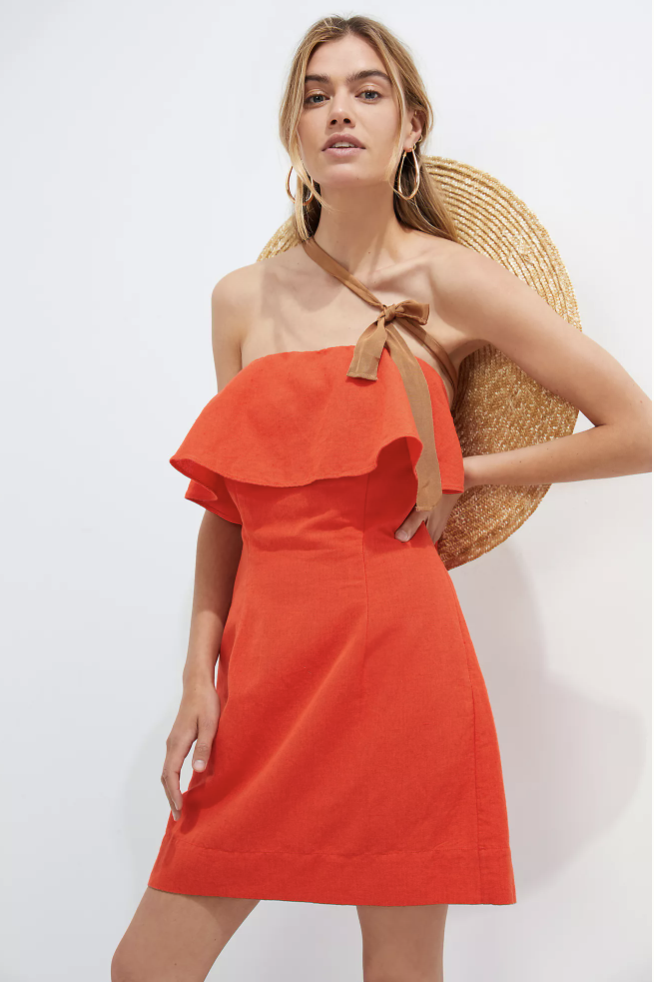 Orange-you glad I picked another orange dress? This hue was made for summer wedding guests!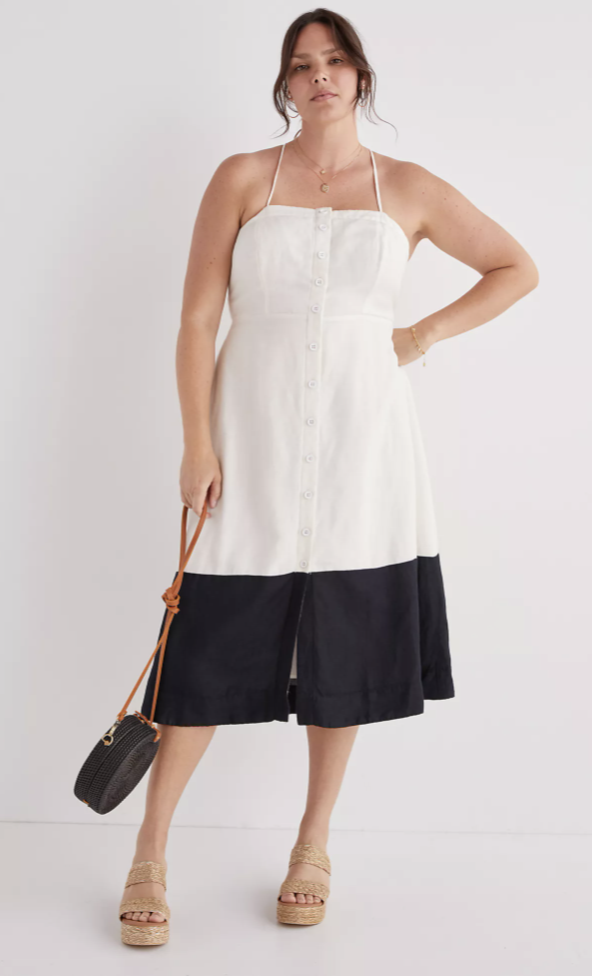 Okay, wearing white to a wedding is usually a no go, but every now and then the bride encourages it! As a bride who is having all her bridesmaids wear ivory, I'd love to see some more white at my wedding.
Another lulus find! This summer dress would be perfect for a casual wedding, or even for a bridal or baby shower. I love the subtle puff sleeves, but you already knew that 😉
Formal Summer Wedding Guest Dresses
Formal summer wedding guest dresses are some of my favorites to shop for! I just want everyone to have a fancy event, okay!? I will happiy eat mac and cheese in a ball gown. Just give me an excuse to dress up!
I'm on a year-long campagin to make my mom choose this as her mother-of-the-bride dress. It is SO. GORGEOUS. Seriously, this dress is breeath taking.
This black dress is so chic! You'll be able to wear it forever.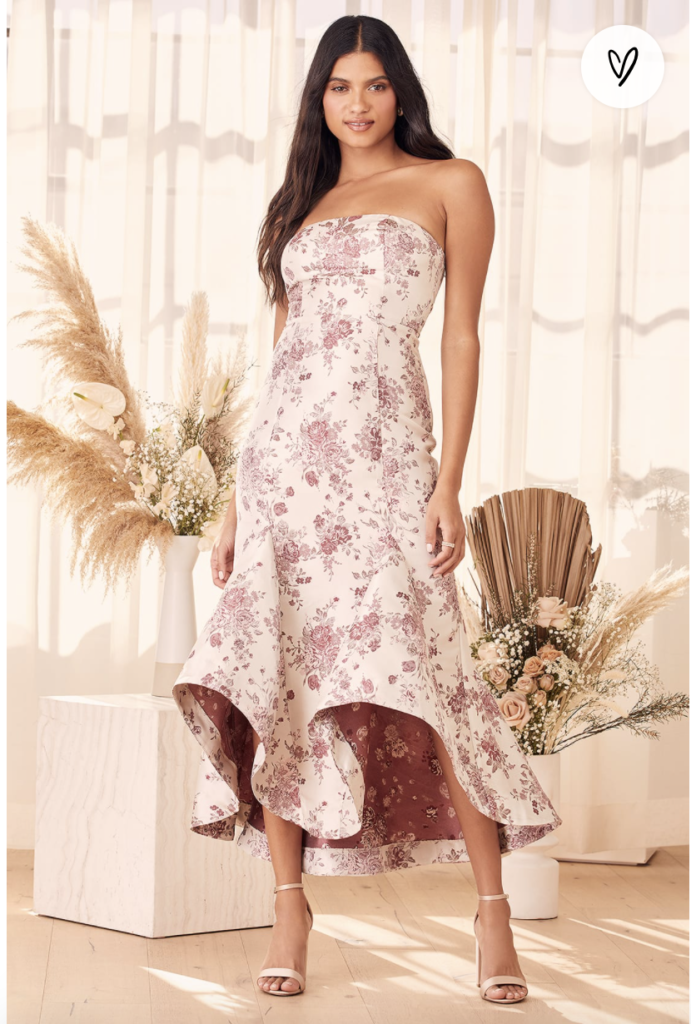 The cut of this skirt is to DIE for! This dress is so fun and flirty. You will look just like the dancing lady emoji!
Summer Wedding Guest Dresses for an Outdoor Wedding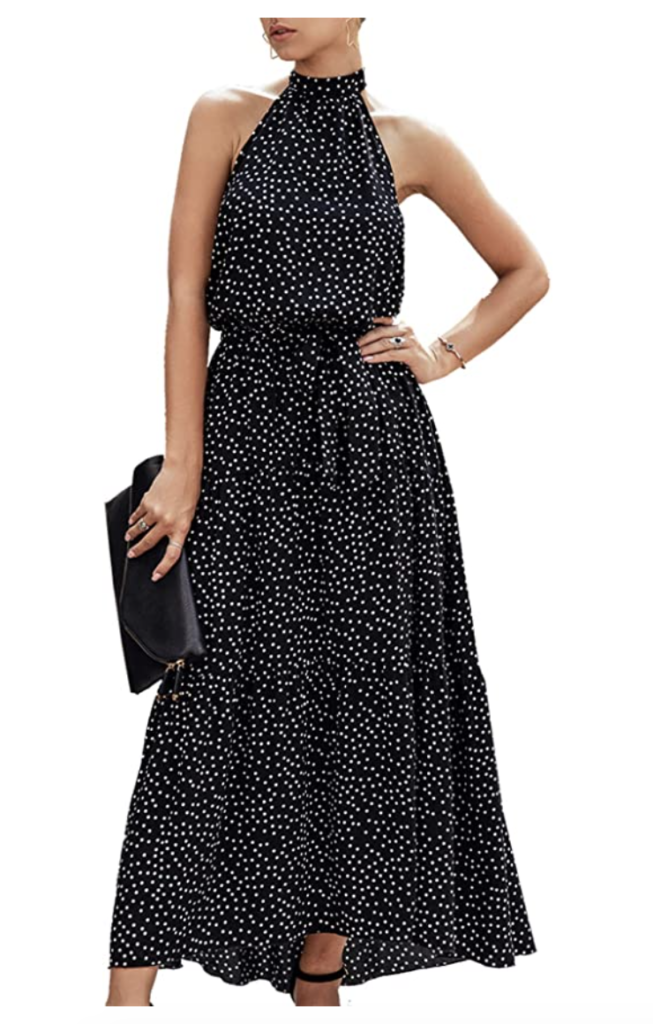 Love this breezy high neck option!
The best garden dress! This would also be great for an afternoon at a brewery.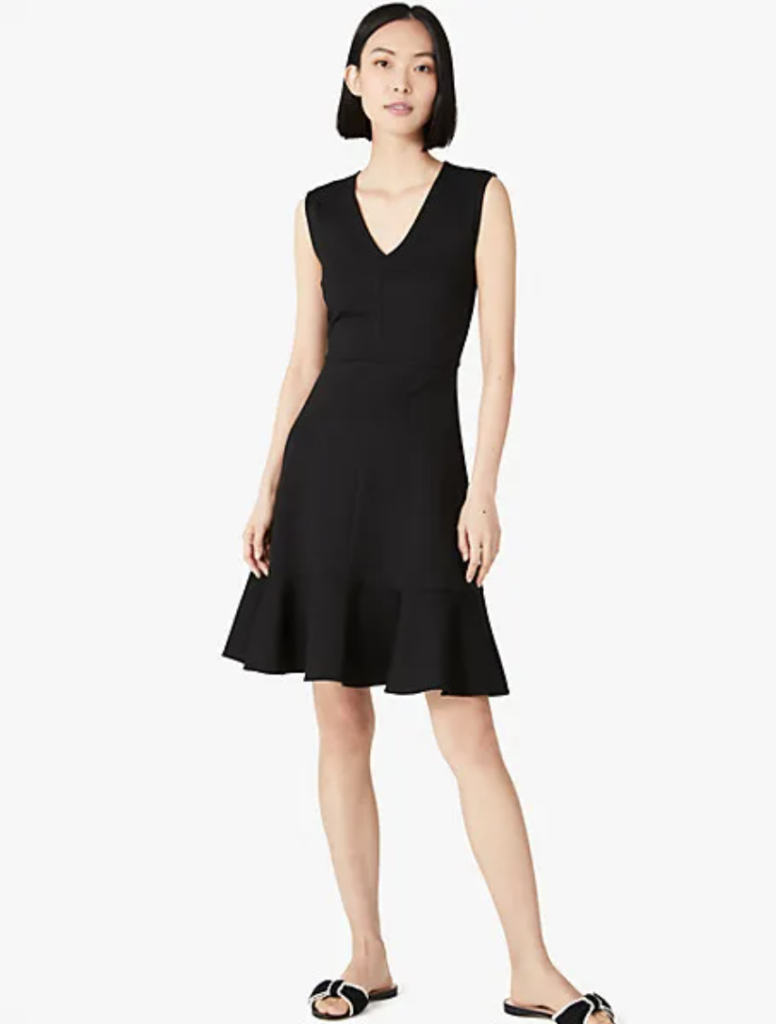 This is perfect for anyone who doesn't love a maxi dress!
Reformation Summer Wedding Guest Dresses
This dress is so chic. I can't handle it! If you get lost on the way to the wedding, you might just end up on Leo Dicaprio's yacht.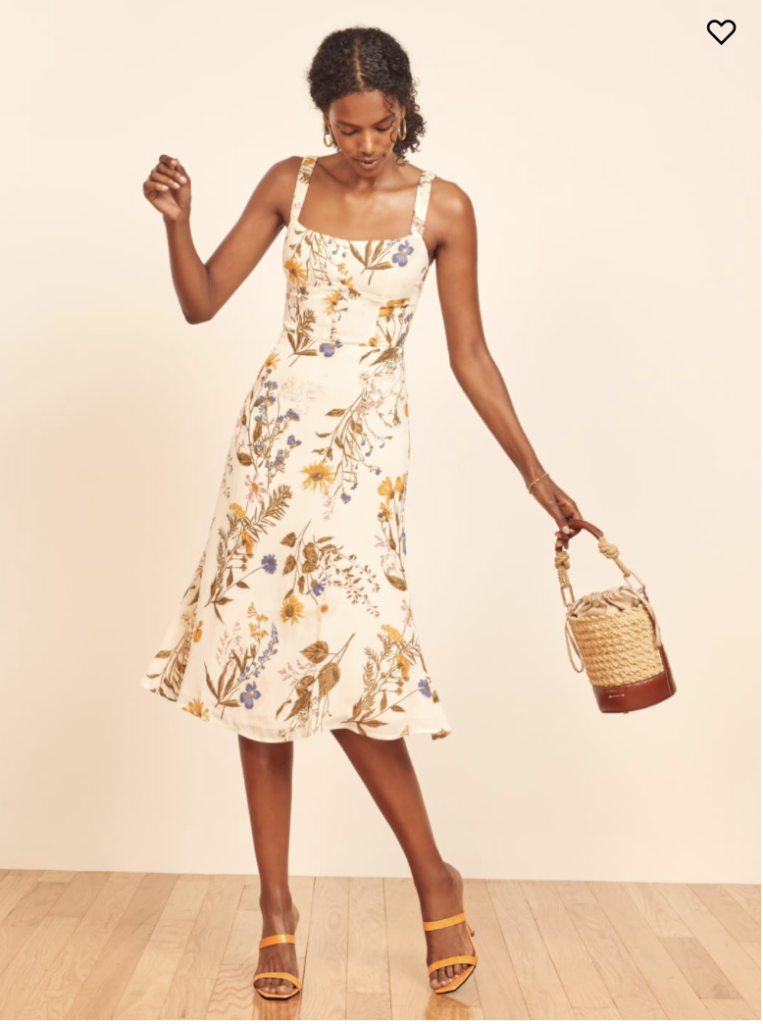 This sweet dress is so so good! Reformation dresses are great for weddings because the fabric are lightweight, but the cut and quality are so high that you will never look too informal.
Who needs a bouquet? You are the bouquet!
I've been eyeing this dress for YEARS. I just need an excuse to buy it.
Another timeless dress pick that happens to be perfectly on-trend. You will toile the night away!
Possibly the most demure wedding guest dress I have ever seen. That blue!
Wear this dress if you want to elicit a few proposals by the end of the night.
This dress is SO sweet. You will look stunning in it.
I can't turn down a black floral, I just can't!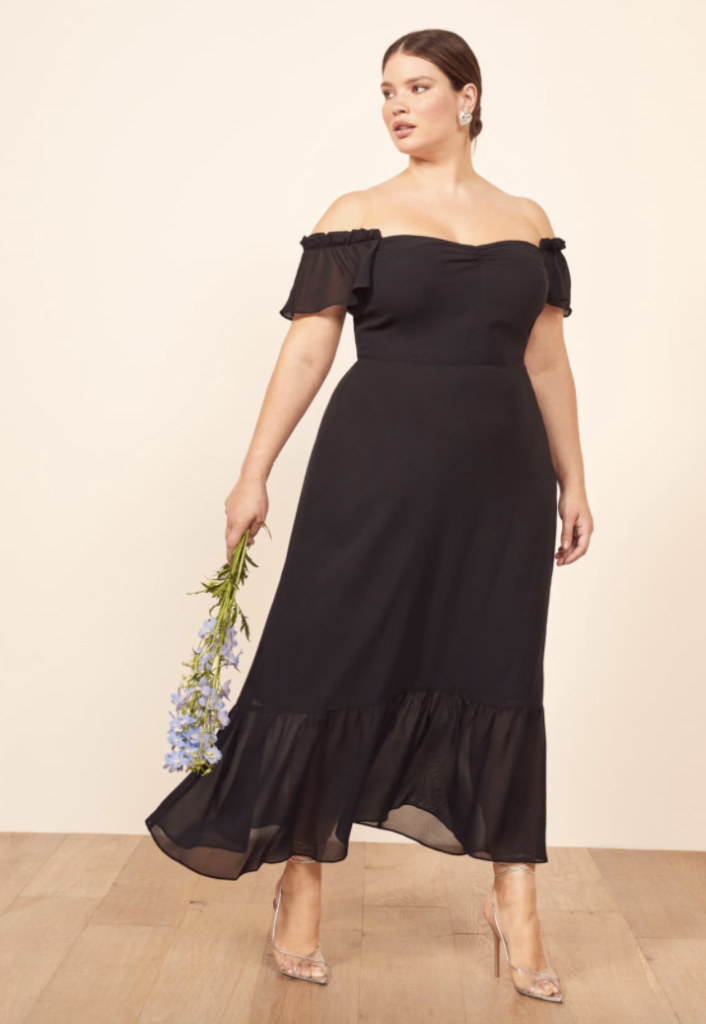 I can't handle how elegant this dress is. It's just too good!
No matter what kind of wedding you're attending, this list has the perfect wedding guest dress for you! Just try not to outshine the bride 😉
This post was all about summer dresses for wedding guests.
LOOKING FOR MORE? TRY ONE OF THESE…
This post contains affiliate links. Thanks for your support!