Have you had a chance to see Behind Her Eyes on Netlfix, yet? It is so, so good! I binged the whole thing in two days. While there are a lot of things to like about it, my favorite part was the style. This post is all about the absolute best Behind Her Eyes style inspiration, with a focus on the show's stand-out style icon – Adele Ferguson!
Keep reading to learn more about the show, Adele, and her fresh, luxurious style!
This post is all about Behind Her Eyes Style Inspiration
The Best Behind Her Eyes Style Inspiration
WHAT IS BEHIND HER EYES
Behind Her Eyes is a British television limited series based on a 2018 novel by the same name. It is available to stream now on Netflix, and I highly recommend giving it a go.
The story is told primarily through the point of view of Louise, a single mother who finds herself in a love triangle with her boss and his mysterious, troubled wife. No one is who they seem and twists and turns abound. It is a super quick watch and definitely binge-worthy!
The series is a psychological thriller with a paranormal twist. I can't give too many details without giving away the ending, which, if you've seen it or read the book, you know has to stay completely unspoiled! But let's just say, wow. That. Ending.
Who is Adele Ferguson?
Well, isn't that the question of the hour! In short, Adele Ferguson is the previously mentioned mysterious, troubled wife.
She is absolutely gorgeous and very compelling. Adele's past is mostly unknown to us and we don't get a lot of answers throughout the series. Without giving too much away, we know that she is an orphan, very wealthy, and has been married to Dr. David Ferguson (total dreamboat Tom Bateman) since she was 18. We also know that Adele was in a rehab center in her late teens, but we never really find out what landed her there.
Beyond those key points, Adele is really a mystery to the audience. Her motives remain mysterious up until the very last episode, in which shocking facts are revealed.
BEHIND HER EYES FASHION: ADELE
The audience doesn't know a lot about Adele or her mysterious circumstances, but there is one thing that is abundantly clear – Adele has amazing style.
Adele's style in the present day seems to be all about the image she wants to project – no spoilers, so I won't say anymore!!! She has a very refined, elegant wardrobe that features mostly whites and neutrals. If you're a fan of British fashion houses, you'll notice a lot of Ted Baker and similar mid-range designers. Adele has expensive taste!
Adele primarily wears white or cool neutrals. The coolness of her color palette accentuates her cool, aloof, distant personality. Adele is not supposed to be an approachable, warm character. Though she may attempt to be friendly or kind at times, the audience is always left with a feeling that the way she is acting is never quite right.
Adele's proclivity for white wardrobe pieces reads very interestingly as soon as you know the twist. I don't want to reveal what the twist is, so I'm going to tiptoe around it as carefully as possible. I believe her primarily white wardrobe pieces are meant to project her upper-class status. We know that Adele has never had a job and that she comes from an extremely privileged background. Her wardrobe is very deliberately curated to be a recognizable extension of her wealth and status.
Well, that's all that I can really say without giving too much away! So, let's get on to how you can recreate Adele's wardrobe for yourself.
REFINED FLORAL DRESSES
Adele uses refined floral dresses whenever she is playing up her role as David's wife. You see her in a gorgeous blue floral when she is at dinner with David's partners, and she frequently wears luxurious floral dresses for their dinners at home.
Again, if you are familiar with British designers, you probably recognized a few of Adele's pieces. She wore a few Ted Baker florals throughout the series. Unfortunately, the exact styles she wore are no longer available. However, I have found several similar pieces! Maybe Tom Bateman will waltz through the door the next time you wear one of these. You never know!
Adele stays true to her luxurious, cool neutral palette even with her floral dress choices. The dresses you will find below are all true to this palette. If you aren't a formal-dress-for-family-dinner type of gal, I think these would look beautiful for a bridal shower, baby shower, or really any spring event!
SHOP SIMILAR STYLES

Crisp & Elegant Cream Pieces
Adele primarily relies on crisp white or creams to ensure her wardrobe gives off a luxurious vibe.
While I love a good white piece, sometimes it can be intimidating to wear pure white. I highly encourage you to wear pure white even if you are hesitant, as it truly looks beautiful on all skin tones. However, if you aren't willing to commit to a bright white, rich cream is a great way to dip your toes into whites.
I have found some beautiful white and cream pieces that are perfect for your spring and summer wardrobe. These are beautiful for any summer vacation, event, or church service. However, I think they would be especially beautiful for any brides to be! The gorgeous lace overlay of dress #1 is sure to help you exude romantic, bridal style at your next wedding-related event.
Any of these white and cream pieces would also be gorgeous for engagement pictures! I wore a gorgeous white dress for my own engagement pictures, and I can't recommend doing so enough! Wearing white gives a beautiful, timeless, refined effect that is difficult to recreate with other colors.
SHOP SIMILAR STYLES

Cool, Crisp, and Silky Neutrals
If Adele isn't wearing white, she is typically wearing a crisp, cool neutral. You see cool neutrals in every part of her life, throughout her home, and especially in her wardrobe.
Beyond cool neutrals, Adele is also a huge fan of silky fabrics. This not only serves to emphasize her wealthy background but also her cold and aloof personality.
While I personally don't love seeming cold or aloof, I love adding silky pieces into my wardrobe! They give a luxurious, elevated effect. If you are worried about a silky fabric looking cheap, I have a few tricks for you! If it a piece is low cut or too short, you could pay thousands of dollars for it and it would still look cheap. However, if you stick to a higher neckline, longer skirt length, or loose, flowy silhouette, you can ensure that you will give off a refined, luxurious effect instead of looking cheap. This trick works at any price point, so don't feel like you have to pay an arm and a leg for a nice silky shirt!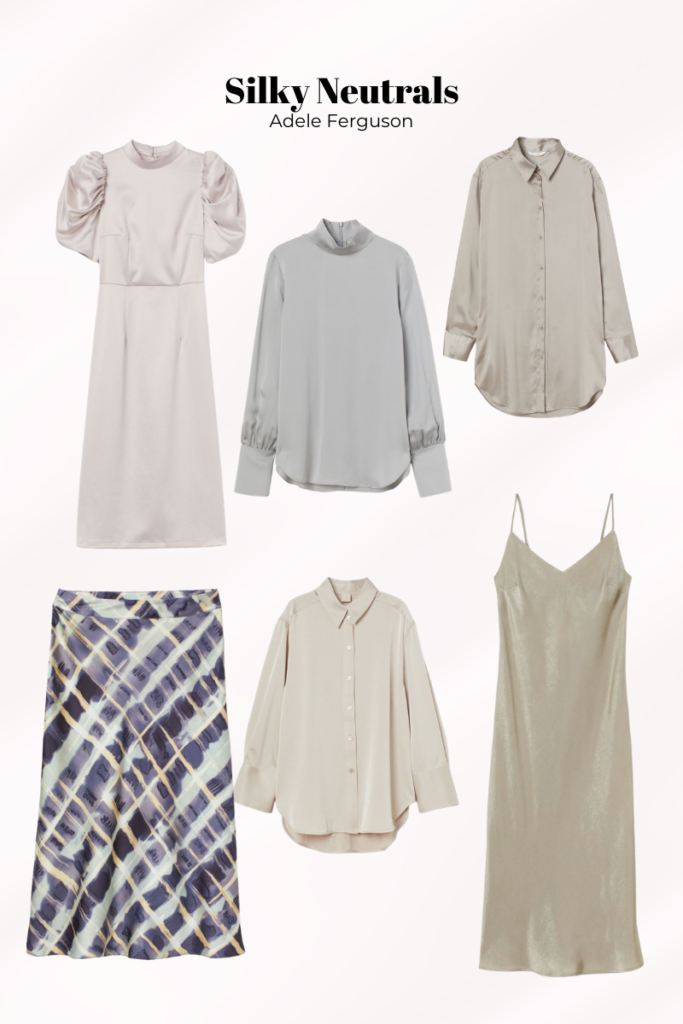 SHOP SIMILAR STYLES

Elevated Basics
One of my favorite parts of Adele's wardrobe is her luxury-or-bust approach to clothing. Even when she is puttering about the house or doing a floral arrangement, she is bringing her fashion A-game. This results in her incorporating elevated basics into her wardrobe for whenever her formal pieces would not be appropriate.
Source: Netflix
When a "normal" person might be in a casual sundress, white shirt, or cardigan, Adele makes sure to inject an overt sense of luxury and refinement into even her most casual pieces. I mean, this girl goes for jogs in a $118 jacket, she is not playing around with her fashion choices!
Adele frequently opts for pieces that have a sharp or contrasting neckline. This draws attention to her face and ensures that she gives off an elegant effect. The luxurious clothes are there to be a part of her persona, not to draw attention away from her.
If you would like to recreate some of Adele's elevated basic pieces, you can rely on pieces that use her signature color palette – lots of neutrals! – or choose pieces that have a little extra something. For example, you can opt for a linen shirt in lieu of a plain white tee, or choose a shirt that has some delicate detailing that makes it look unique.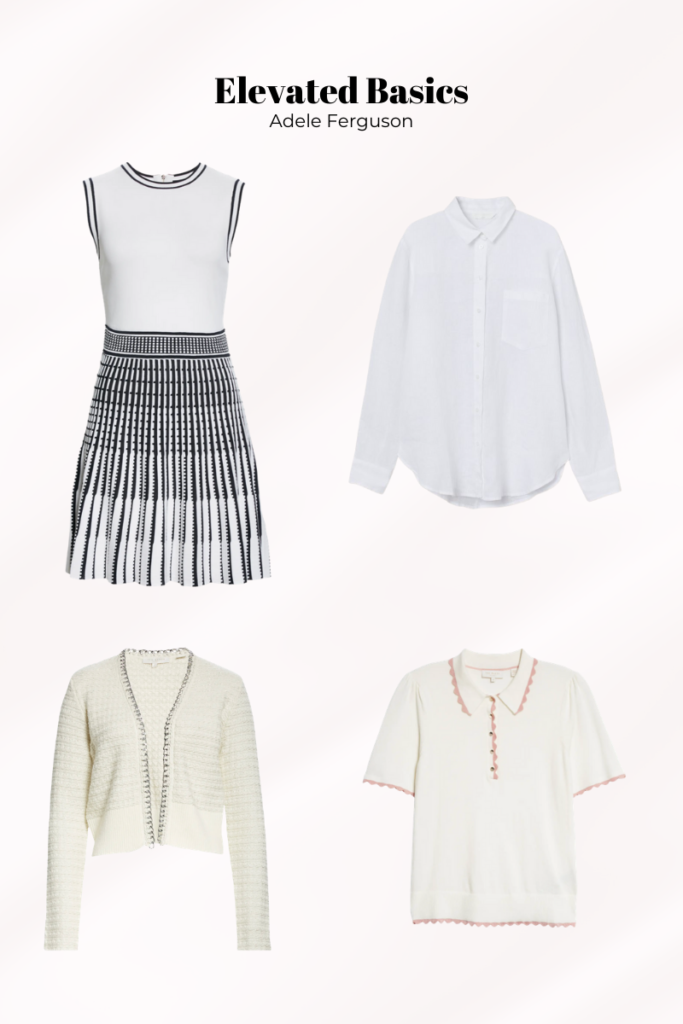 SHOP SIMILAR STYLES

Luxurious Sleepwear
Adele's luxurious sleepwear is possibly my favorite part of her character's style. Her silky robes, matching pajama sets, and (again) neutral color choices absolutely scream luxury.
Thankfully, silky sleepwear is possibly the easiest thing you can recreate from her wardrobe! The options for affordable, silky sleepwear really are endless. I have found some great sets from Amazon that you can wear to lounge around at home, for an alfresco brunch in your backyard, or on a terrace the next time you take a vacation!
SHOP SIMILAR STYLES

I hope you enjoyed this dive into Behind Her Eyes style inspiration and the focus on Adele Ferguson! Adele is the most exciting character that we see throughout the series – fashion-wise. Her signature style and how she puts herself together are very important to her character. If you have seen the series, you know how true this is! Again, I'm trying not to give any spoiler since the show premiered so recently, but MAN I wish I could! There are so many things I wish I could say! That scene at the end?! How she puts herself together and you just know it's her?! I could talk about it for hours.
If you liked this post all about Behind Her Eyes style inspiration, you might enjoy some of my other "Inspired By…" series posts, so I have linked some for you here! This Bly Manor style inspiration post is by far my most read post ever – someone reads it every single day! And if you are a Bridgerton fan, you cannot miss my Bridgerton style inspiration post. The pieces I found in this post make up 90% of my spring 2021 wardrobe, so it is safe to say that I am obsessed!
LOOKING FOR MORE? TRY ONE OF THESE…
This post contains affiliate links. Thanks for your support!