Today's post is all about Bridgerton style inspiration. If you are like me and have spent every moment thinking about all things Bridgerton, then keep on reading for all things Bridgerton style!
All is fair in love and war, but Bridgerton's Regency-core style definitely has its rule book! If Lady Whistledown has anything to say about it, we'll be in dreamy pastels, puff sleeves, and square necklines all the way through next summer. Thankfully, Bridgerton style inspiration is everywhere, and there are plenty of affordable options to make you feel like a pretty Bridgerton.
The Bridgerton Style Rules
Bridgerton definitely has its style rules. Some style rules are taken from the Regency era and others are plot devices. For example, in Regency England, young women who were in their first season would frequently wear white or pale colors. This is why you see the young ladies of high breeding in primarily white, pale blues, pinks, and other light colors. Beyond a nod to Regency England, color is used as a plot device for everything from establishing a luxurious, refined color story for the Bridgerton family to painting the Featheringtons as gilded outsiders.
However, to earn the favor of the queen (and Lady Whistledown), the debutant fashion rules are pretty simple:
White or pale colors
Scooped or square necklines
High drama sleeves
The Diamond in White
In the first episode, Daphne Bridgerton is proclaimed that season's diamond, aka the most desirable debutant. This, coupled with Daphne's desire for marriange and a love match , explains our protagonist's proclivity for pristine white dresses at formal occasions.
Daphne's diamond white had me dreaming of all things bridal, especially honeymoon essentials! If you are planning a honeymoon somewhere tropical anytime soon (or maybe a spring/summer city hall wedding?!), these gorgeous white pieces would bring all the dreamy, romantic vibes.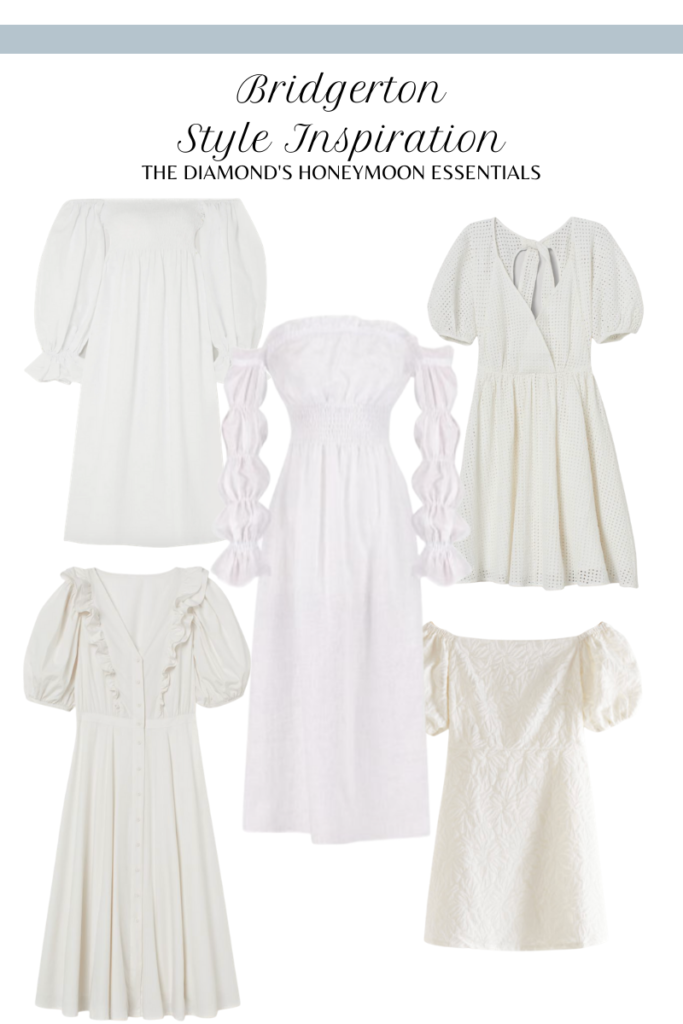 ONE // TWO // THREE // FOUR // FIVE
Daphne's many white dresses throughout the season had me absolutely swooning. White is a universally flattering color that always looks chic and elegant. Incorporating a puff sleeve detail or a square neckline will have Lady Whistledown singing your praises in no time.
Daphne Blue
We rarely see Daphne in anything darker than a powder blue until after her marriage. This is an intentional move to signal her developing character and maturity. The costume designer intentionally based the Bridgerton family's color palette around Wedgwood blue, which signals their status within the ton. I like to think of Daphne's signature palette (before her marriage) as Daphne Blue. She is usually wearing this shade and looks every bit the Diamond of the First Water.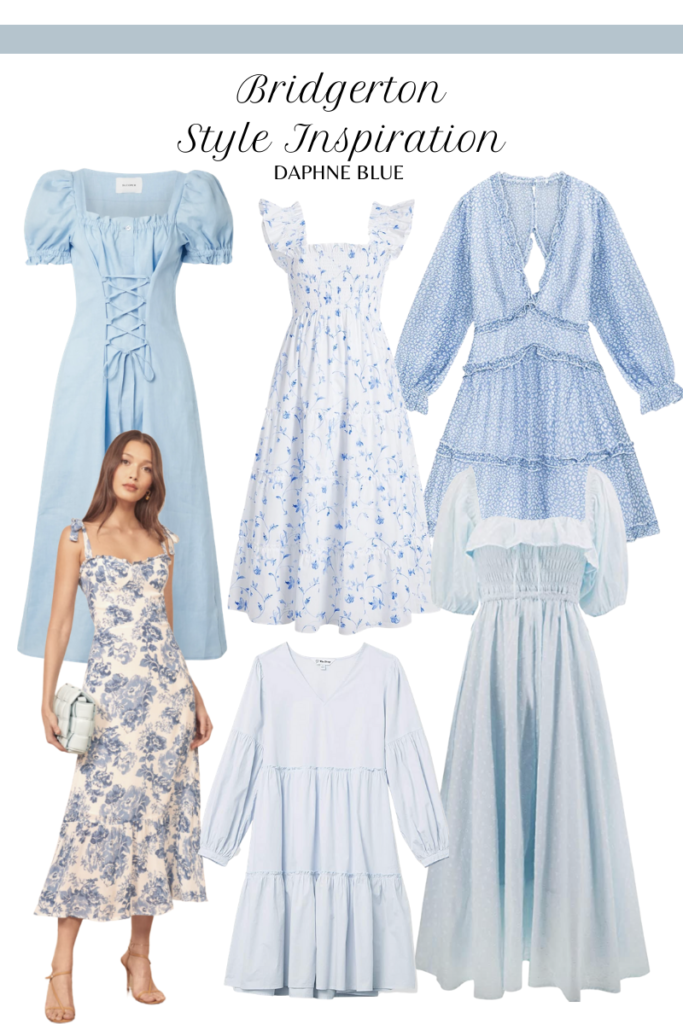 ONE // TWO // THREE // FOUR // FIVE // SIX
Easy, breezy, blue dresses will certainly help you gain Lady Whistledown's favor. I am particularly drawn to the sweet puff sleeve detailing on so many of these dresses. They add a touch of regency-core glam to an otherwise simple and elegant style. If you aren't a fan of the square neckline or midi dresses, this under $20 dress from Amazon (!!!!) will certainly turn heads the next time you promenade for suitors.
English Roses
If Bridgerton Blue isn't quite your thing, you might be more inclined to dress like an English rose. These dreamy pink dresses are perfect for promenades, enjoying tea in the garden, or seducing Regé-Jean Page (if that last one works for you, text me. I want to know all your secrets).
ONE // TWO // THREE // FOUR // FIVE
Bridgerton on a Budget
Unfortunately, we aren't all Viscounts' daughters or Dukes' wives, so we generally have to pay attention to our clothing budget. Rather than ballin' on a budget, allow me to present Bridgerton on a Budget. While the dresses I've previously linked include a mix of higher and lower pricepoints (nothing above $250, I'm not a maniac), I wanted to pull some of my favorite dresses that you can find for under $40. Some of these dresses are even as low as $15 and most are under $30! These would be perfect for a picnic, spring wedding, promenade for suitors, or even a garden party with the queen.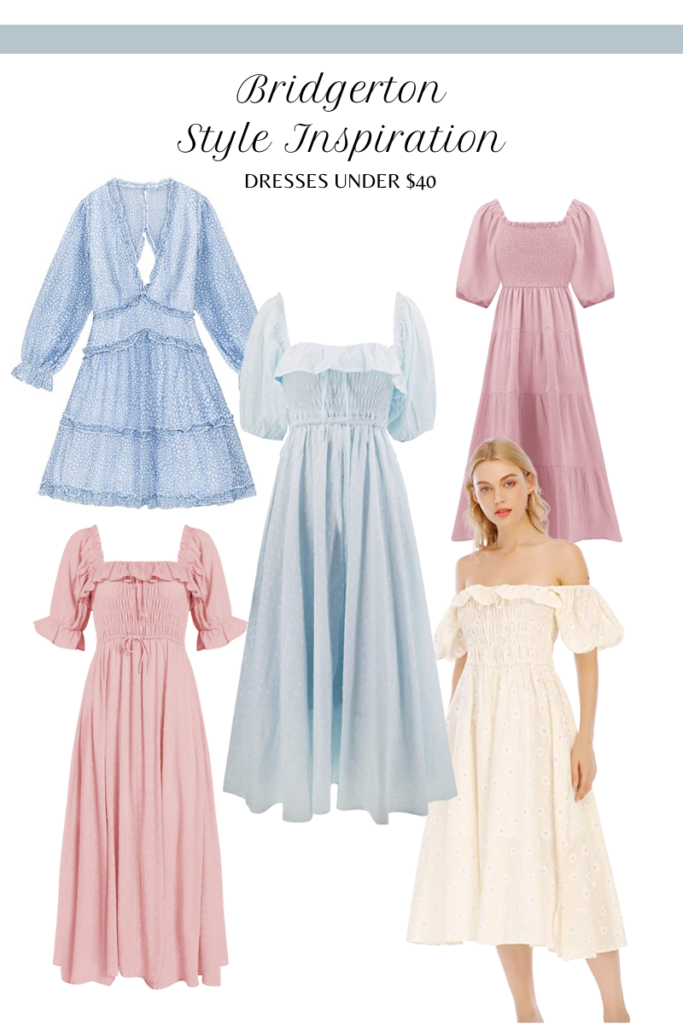 ONE // TWO // THREE // FOUR // FIVE
Winter-friendly Bridgerton Style
Though the London season traditionally took place throughout the winter and spring, when parliament was in session, it is pretty clear that Bridgerton Netflix is set in the spring and summer. Though I have never been to England, I can say with pretty firm confidence that you won't find yourself in short sleeved, organza dresses during an English January. I am itching to wear all the Bridgerton-inspired dresses as soon as it's warm enough. If you (like me) can't wait until spring, there are definitely of Bridgerton-inspired winter pieces that will carry us through. In lieu of light, flowy fabrics, look for pieces with sleeve detailing, square or scoop necklines, or Bridgerton-approved color palettes.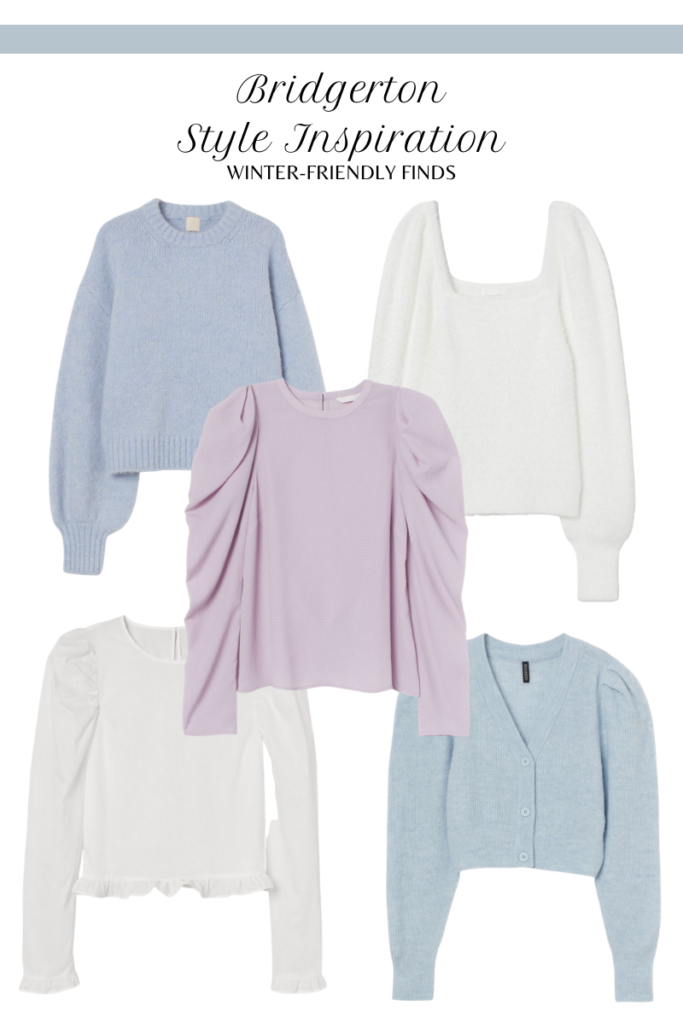 ONE // TWO // THREE // FOUR // FIVE
The Bridgertons take Amazon
Not only are there plenty of affordable options for my fellow Bridgerton lovers, but you can also find a plethora of affordable, Bridgerton-approved options on Amazon!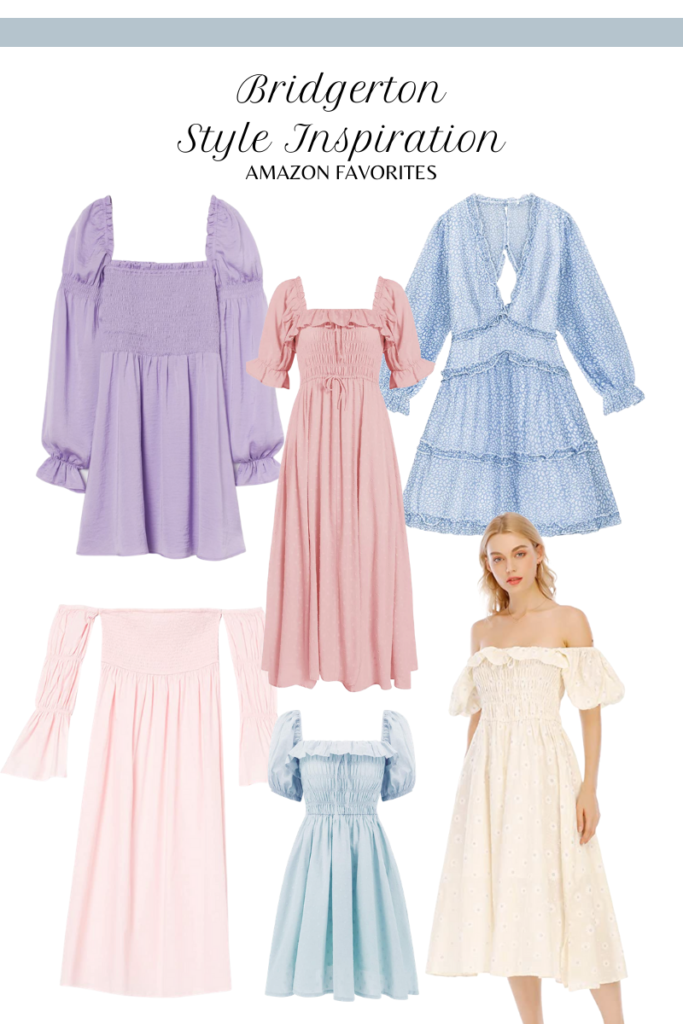 ONE // TWO // THREE // FOUR // FIVE // SIX
Subtle Bridgerton Vibes
If you aren't quite ready to rock a statement sleeve or billowy dress, these pieces are a great way to subtly incorporate the Bridgerton magic. They fit seamlessly into your everyday wardrobe. No one would bat an eye if you wore any of these to your next Zoom meeting or patio-dining date!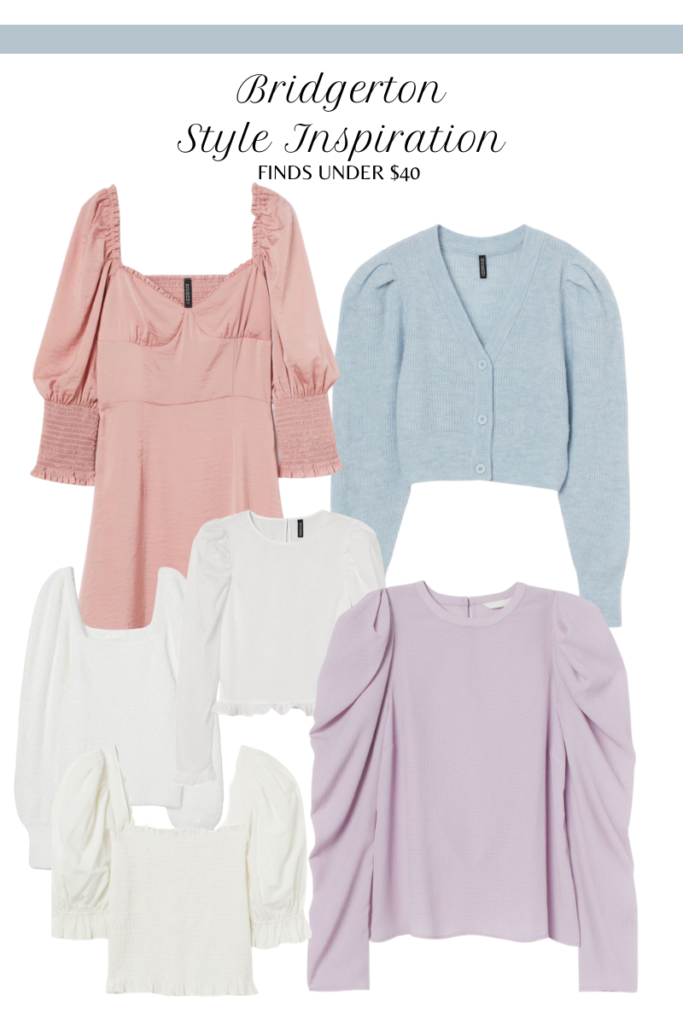 ONE // TWO // THREE // FOUR // FIVE // SIX
Bridgerton Sherbert Rainbow
Last but not least, I wanted to put all of the pieces together to create a "bridgerton rainbow" of sorts, and I love the effect of all these pieces together. The easy, breezy, refined Bridgerton color palette gave me all sorts of feelings, and it's so nice to see the effect of all the dresses together. It makes me want to make all my friends go to a ball in their best bridgerton garb so I can be surrounded by the swirling, sherbert, pastel rainbow!
You can click on any specific dress you want and (if it's linkable) it will take you directly to that dress to shop. Unfortunately, the third white dress was sold out when I tried to link it, so I've linked a very similar option (same brand, material, and ovreall effect, just a slight difference!)
I hope that you enjoyed today's post! I really enjoy the "inspired by…" post series and hope to make another one soon. This Bly Manor Style Inspiration post is my top viewed post of all time, so I guess we're all on the same level of Netflix-inspired fashion obsession! I'm thinking I'll either do a Bridgerton jewelry post or a post all about the Queen's Gambit fashion, what do you think?!
Looking for more? Try one of these…
This post contains affiliate links. Thanks for your support!