This post is all about The Queen's Gambit Style Inspiration! I absolutely loved watching The Queen's Gambit on Netflix. It is such a compelling, binge-worthy show that may have even inspired the recent chess boom. I could go on and on about everything I loved about the show, but I have to say my favorite part was absolutely the style. Beth Harmon's fashion game definitely matches her chess skills! Keep reading to find out how you can create outfits inspired by the style in The Queen's Gambit.
The Style Rules
Beth's style throughout the series goes through a few transitions. She starts off wearing her orphanage-provided uniform, then transitions to discount clothes, then she is finally able to make her own fashion choices once she can afford to buy her own clothes. This post focuses on the style rules Beth adhered to once she was able to decide what she wanted to wear.
There may have been a few deviations (I mean, who hasn't rocked a questionable look during an emotional breakdown?), but most of her outfits adhere to the same general principles:
High Necklines
Create an Hourglass Figure
Stick to (mostly) Neutrals
With those rules in mind, you'll be on your way to a Beth Harmon inspired look in no time!
I've rounded up some of the best Beth Harmon-inspired pieces available now. I was very surprised to see how many affordable options there were out there! The majority of the pieces I found were $30 or under, which is amazing. You can safely try out Beth Harmon's style without having to make an investment. Most of these would be great for work or really any event. Let's get to the clothes!
High Necklines & Tie-Necks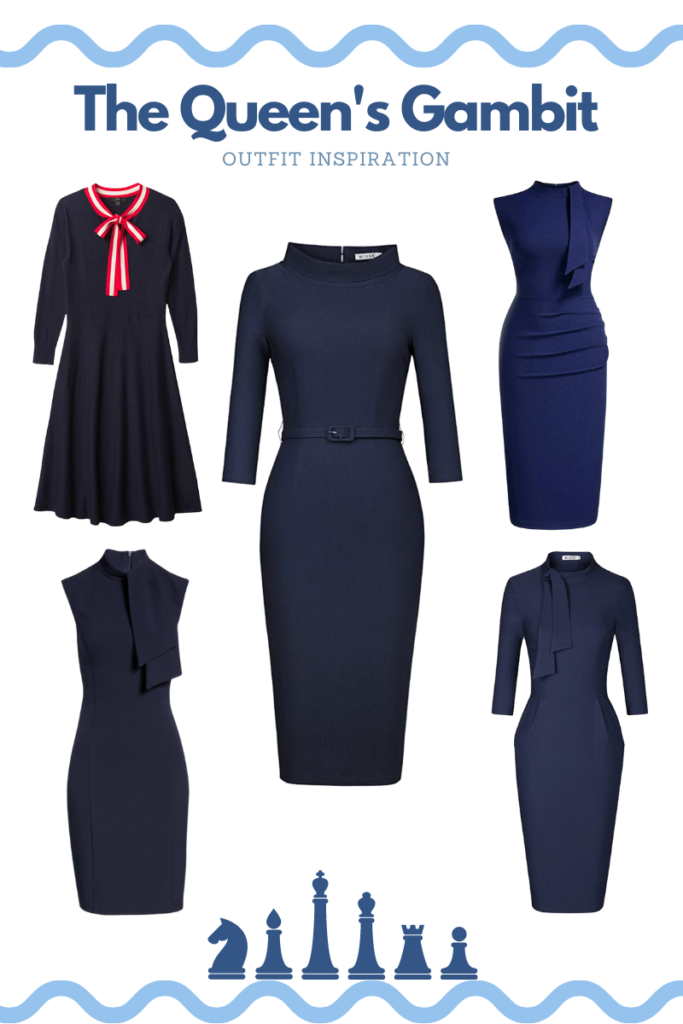 click below to shop!

We see Beth rocking many high necklines and tie-neck pieces throughout the series. This creates a beautiful, elegant that draws your attention straight to her lovely face. When you wear this style, you want to stick to a neutral color or a clean, soft blue. Otherwise, you could easily end up looking like your clothes are wearing you. Keeping the rest of your outfit simple and subtle ensures that the attention will stay where it belongs – on you!
click below to shop!

These sleeve lengths are great for transitioning from winter to spring. They are just long enough to keep you from having to wear a blazer at work, but won't be so warm that you're dying from the heaters!
Modest Statement Separates
click below to shop!

If you prefer separates to dresses, there are plenty of options for you! Stick to a mock neck, turtleneck, or statement neckline and pair with a pencil or A-line skirt for the ultimate Beth Harmon vibes.
Mod-Inspired
click below to shop!

These dresses aren't strictly Harmon style, but they incorporate the key principles (high neck, clean lines, neutrals) and are just so cute! Add a belt to the sweater dress or shirt dress for an ultra-luxe look.
Pleats, Please!
click below to shop!

These 60s approved dresses are perfect for anything from work to a formal event. The A-line skirts and pleats are very flattering and will help you achieve a feminine, put together, understated look. I own the dress in the center and it is one of my favorites! It is a knit fabric and has a great weight to it so. your skirt won't go flying, but you'll still have some gorgeous movement from the pleats. I feel so fancy in this dress and plan to wear it to work this week, but it would also be perfect for a dinner date or any event.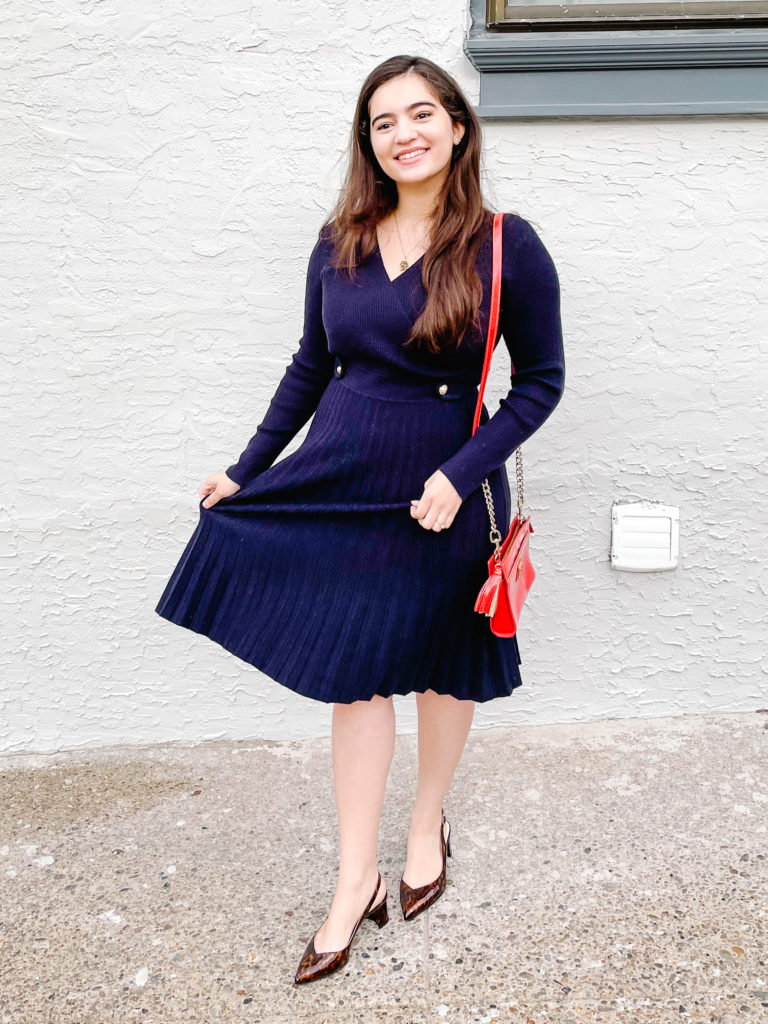 See?! I love it! It is a true dark navy in person, the lighter color is due to a filter. And how cute are my tortoiseshell pumps?! You can use my code SARAHFLINT-BAERIKAR for $50 off!
THE Winter White Outfit
click below to shop!

Of course, I couldn't talk about The Queen's Gambit style without talking about Beth's winter white ensemble at the end of the miniseries. This was my absolute favorite look! She somehow looked angelic and badass at the same time! She wears slacks in the show, but I thought this $30 dress was too good to pass up. Pair it with this blazer coat, a white beret, tortoise pumps, and cognac gloves for the ultimate winter white look.
LOOKING FOR MORE? TRY ONE OF THESE…
This post contains affiliate links. Thanks for your support!