Welcome to Valentine's Week! This week, all Shock & Delight posts will revolve around Valentine's Day. This way you have plenty of time to plan for how you will celebrate the day, what you'll wear, and any fun treats you may want to make! Follow along this week for all the V-Day fun!
Today's post is all about the best valentine's day products at Target! Really, it could also be called the best affordable, fun, and feminine products, because that's what these are. All of these Valentine's Day finds will be sure to put a smile on your Valentine's face. Maybe that's you, I won't tell!
Keep reading for all the cute Valentine's Day products!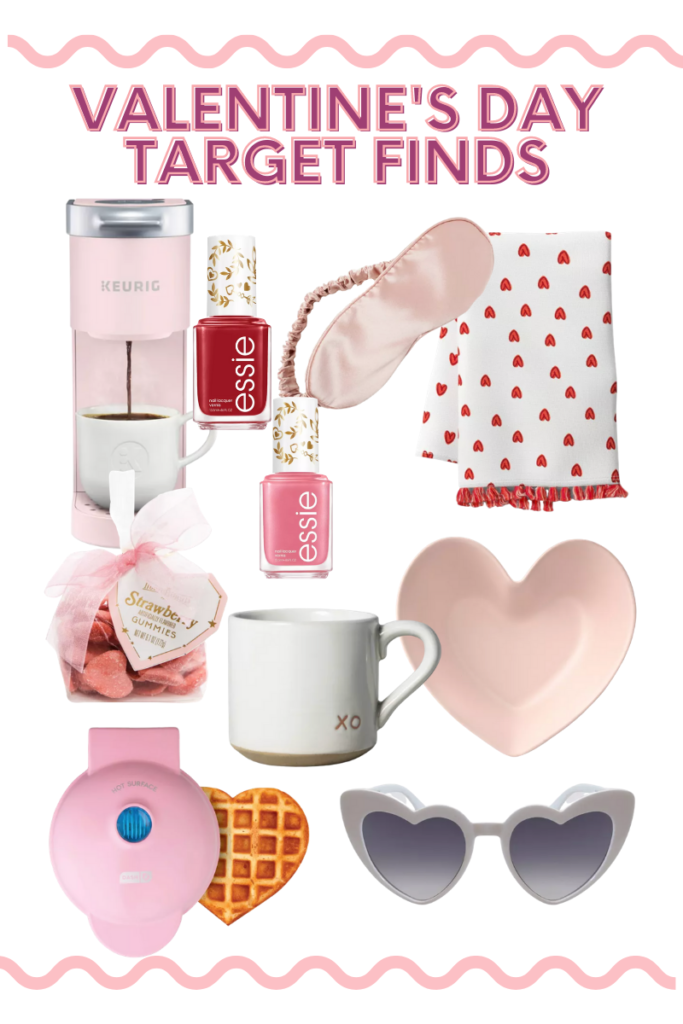 I think all of these Target finds are adorable and will brighten up anyone's day!
I own this Keurig, and it is soooo cute. It adds the perfect pastel pink touch to my kitchen and makes me smile every time I use it.
As a die-hard Essie fan, I couldn't leave these out. I went a few years not liking Essie, but their new brush and reformulation have me singing their praises!
Dish towels are an easy, budget-friendly, space-conscious way to decorate for different holidays. We don't have a lot of storage, so I like to change up my dish towels to add some holiday flair.
You can't go wrong with candy, especially when it's cute!
These mugs are some of my favorites from Target. They have a perfect, subtle nod to every major holiday without being too in-your-face. You could truly use any of these year-round and no one would bat an eye!
Cute idea alert: get these bowls, fill them with assorted candies, and give them to your friends for Galentine's Day!
I have this waffle maker in red (the pink was sold out at my store, boo!) and I LOVE it. It is really pretty versatile! Yes, everything is heart-shaped, but you don't have to limit yourself to waffles. I've used it to make cheese crisps, fried pickles, cinnamon roll waffles, and crispy cornbread muffins. Oh, and normal waffles, of course. If it fits, it cooks!
Okay, if you follow me over on Instagram, you know that I live for my heart-shaped sunglasses. These are perfect for spring and summer and will add the perfect, fun touch to any outfit!
LOOKING FOR MORE? TRY ONE OF THESE…
This post contains affiliate links. Thanks for your support!