Happy Wednesday, friends! Today is Day 3 of Gift Guide Week and I'm sharing the best gifts for your guy! These gifts are perfect for your partner, dad, or brothers. They are all practical gifts that the guy or guys in your life.
Without further ado, let's get to the gifts!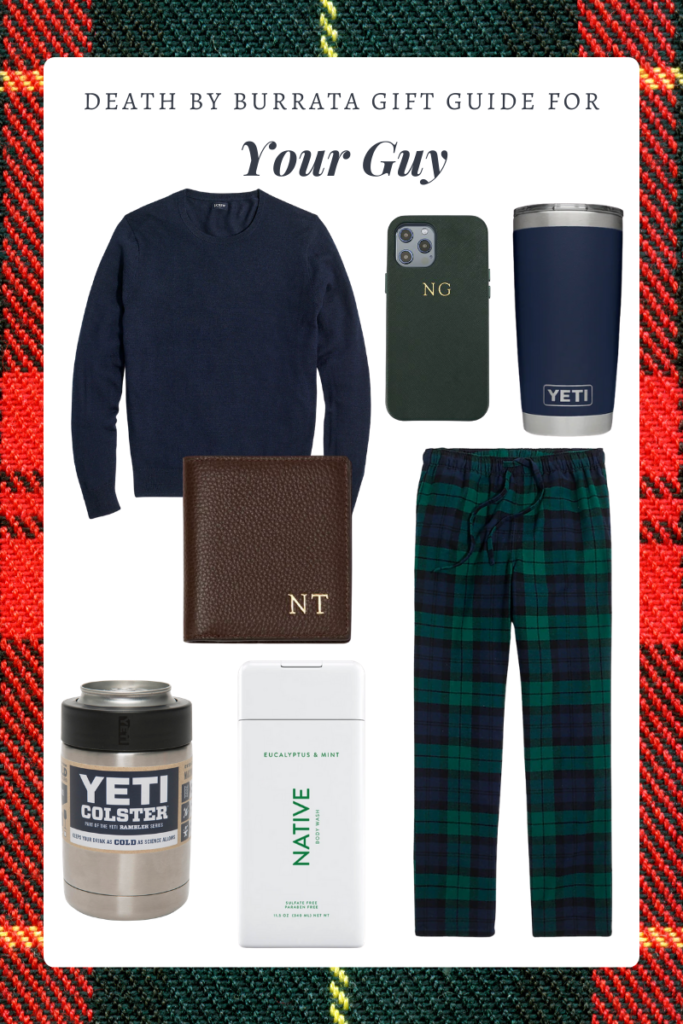 If the guys in your life are anything like my fiancé, gift giving occasions are a great excuse to pick up some clothes for them that they wouldn't normally get for themselves. I just got a couple of these sweaters for my fiancé, and they are such great quality and a great price! These would be an amazing gift for any guy on your list.
This personalized, leather phone case is such a great gift for any guy on your list. This is such a stylish, classic piece that he'll use and love for years.
I love these cups, and this navy color is perfect for the guys on your list! It is so classic and masculine looking. It's perfect for bringing a hot cup of coffee for a walk around the neighborhood.
I love this wallet so much! Wallets are such a great, classic gift. A great wallet is such a good investment, as they can last for years and years. The personalization on this one adds the perfect finishing touch.
This colster is perfect for keeping beers cold on the go. This is perfect for the beer lover in your life!
A nice body wash is my go-to stocking stuffer for my dad every year. I love giving a nice fresh, masculine scent to all the guys in my life. This one smells amazing, is such a great price, and has all clean ingredients. Bonus points, it looks so cute in the shower!
Is it just me, or do men never seem to have enough pajamas? These flannel pajama bottoms are cozy, comfortable, and perfect for any of your guys!
What's your favorite go-to gift for the guys in your life? Let me know in the comments!
Are you caught up on all my recent posts? If not, start here!
This post contains affiliate links. Thanks for your support!