Happy Monday, friends! Today marks the beginning of Gift Guide Week! I'll be sharing a new gift guide every day this week. I hope this is able to get you some great ideas for your holiday gifts. I thought I'd start off the week with one of my favorite categories, the best gifts for self care addicts!
As a total self care addict, I consider myself a bit of an expert in this department. This gift guide contains self-care-centric items for everyone on your list who could use a moment of self care. There are great items for helping mindfulness, coziness, and overall relaxation.
Without further ado, let's get to the gifts for self care addicts!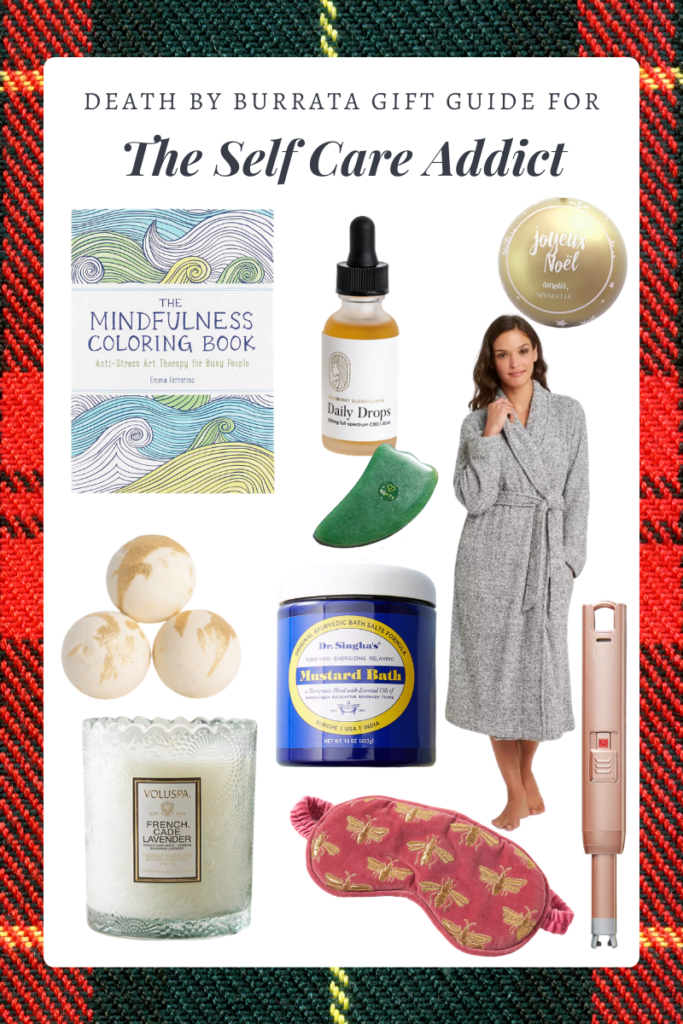 This Mindfulness Coloring Book is perfect for someone who needs help carving out moments of mindfulness in their day. Meditation can be difficult, and having something tangible and relaxing to focus on can really help create a moment of mindfulness without necessarily needing to meditate. This is the perfect self care gift for anyone who loves to color, is feeling the holiday stress, or just generally needs to chill out!
CBD Oil is possibly the best thing to come out of 2020 for me personally. This has completely transformed my everyday life and has allowed me to get off of anxiety medication. I can't sing it's praises enough. This is the perfect gift for anyone in your life (or even yourself!). CBD oil can help you relax, sleep better, and manage stress and anxiety throughout the day. Personally, I think CBD helps me think more clearly since I'm not spending valuable brain power on anxious thoughts. Code REFERIKASROG gets you $20 off your first order!
CBD Bath Bombs are another great way to elevate your recipient's bath game. These are the ticket to complete bath time relaxation. REFERIKASROG gets you $20 off your first order!
This Bath Soak is absolutely incredible. If there's a bath connoisseur on your list, definitely pick this up for them. It is perfect if you're feeling sick, sluggish, or just generally in need of a pick me up. Don't be scared off by the "mustard" bath, I promise it doesn't smell like mustard! I can't be near any kind of condiment without gagging, so if I say it doesn't smell like mustard, it really, really doesn't. This is the perfect gift for anyone who needs a little pick me up. It is a great price and super compact, so it's perfect to mail to friends or family!
I've heard amazing things about these sponges. They smell amazing, already have soap in them, and exfoliate your body! They're also super compact, so this makes a great stocking stuffer or easy gift for anyone on your list.
I recently picked up this Barefoot Dreams Robe Dupe and to say I'm obsessed would be an understatement. It is the softest, warmest, fluffiest robe ever and it is such an incredible price. The self care addict in your life will never want to take this off!
This Eye Mask is the perfect complement to a bath robe gift. The self care addict in your life will love how cute and cozy it is!
Gua Sha is the perfect way to add a few moments of relaxation to the end of your skincare routine. This makes the perfect gift for the skin care nerd, self care addict in your life. It also really helps with congestion, so your recipient will be thanking you for the rest of cold and flu season!
No self-respecting self care addict would be caught dead without an array of fragrant, relaxing candles. This candle is one of my personal favorites. It smells amazing, looks beautiful, and is a great price. This would look beautiful in any self care addict's home, but be warned, they might try to buy out the whole store once you get them hooked on this candle!
This USB Electric Lighter would be the perfect complement to your self care addict's candle! This lighter looks beautiful and is easily charged via USB. They'll never unexpectedly run out of lighter fluid again!
If you want to really splurge on a gift for the self care addict in your life, I highly recommend this weighted blanket! There is nothing more comforting and calming than cozying up under a weighted blanket at the end of a long day. I bought one for my little brother last year and he immediately wrapped it around himself and kept it on the entire time we were opening presents. Talk about a hit!
I hope you liked this round-up of gifts for self care addicts! I'll be back tomorrow with another gift guide.
Are you caught up on all my recent posts? If not, start here!
This post contains affiliate links. Thanks for your support!