Happy Tuesday, friends! Today is Day 2 of Gift Guide Week. This gift guide is all about Gifts for your Girlfriends. I love picking up little gifts for all my girlfriends to celebrate the holiday season. You can exchange cute, fun, useful gifts that don't necessarily break the bank. These would all be great for a secret Santa exchange, bridesmaids, or any friend who needs a little holiday cheer.
Without further ado, let's get to the gifts for your girlfriends!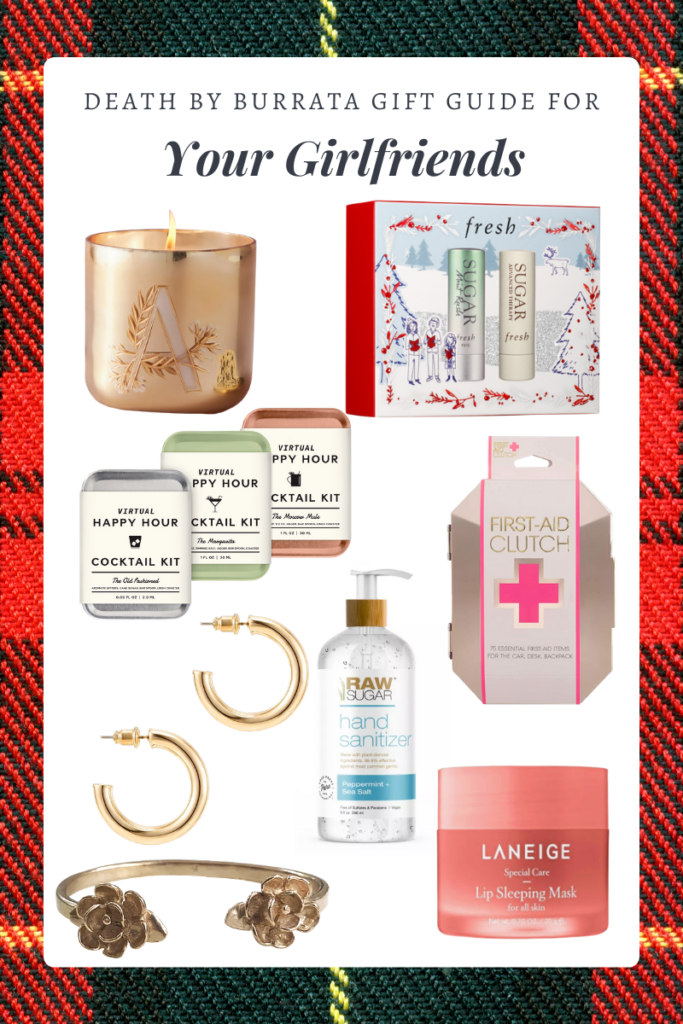 This candle is such a great personalized gift for anyone on your list. My friends and I are obsessed with cute, great smelling candles, and this one is a good one! This would also make a cute housewarming gift or a great gift for your mom or sister. It's just so cute and smells great!
Did you think I could make a gift guide without this lip treatment? I'm obsessed and have gotten so many of my friends hooked on these. This holiday gift set is perfect for anyone from the seasoned beauty expert to the beauty newbie!
These virtual happy hour kits are so. cute for your girlfriends! These would be great to mail before a scheduled holiday happy hour so everyone could share the same drink. They're also great if you have a friend who is a frequent flier or who has a long haul flight ahead of them for the holidays. All you need is some ice, a little bit of liquor, and you're all set!
This gift is perfect for your mom friend or your favorite human disaster. I may have to get myself one, because I happen to be both, lol.
I love these cute and trendy earrings. They are such a great price and will look so cute on anyone! These are the perfect secret Santa gift for your trendy, jewelry loving girlfriends.
If you want to go all out, I highly recommend this bracelet. A bunch of my friends and I all have it, and it's such a great piece! It truly goes with everyone and it is so cute and classic. The price point is great for such a high quality, solid metal piece. My mom has a matching one, and my fiancé just got one for his mom, too!
This lip sleeping mask is absolutely divine. Anyone who receives this will thank you forever, it is the best overnight lip balm, or the perfect touch if you want extra plump lips. I love it and recommend it to everyone!
This mini waffle maker would make the cutest gift for the girl who loves a good waffle, or who is working on building her kitchen. It's such a great price, you might as well get one for yourself, too! I actually really want one of these and would love to find one under my Christmas tree this year. Did you hear that, Nick?!
Would it really be a 2020 gift guide without some hand sanitizer? I thought this would be the perfect, easy gift for all your girlfriends. I keep this bottle of hand sanitizer in my car and it is the best. It has an amazing peppermint scent and doesn't leave any tacky residue. At $5 a bottle, this is perfect if you're buying for a big group of friends and don't want to break the bank.
I hope you got some great gift ideas for all your girlfriends! Let me know if you have any other gift recommendations. And don't forget to check back tomorrow for another gift guide!
Are you caught up on all my recent posts? If not, start here!
This post contains affiliate links. Thanks for your support!