Incorporating storage furniture in your apartment is a great way to maximize your space. Oftentimes, apartments in older buildings or in big cities will have small – or nonexistent – storage space.
Using clever furniture for small spaces will help you make the most of your space!
Disclaimer: as an Amazon and RewardStyle affiliate, I may earn a small commission from purchases made through my links, at no extra cost to you. Read my full disclosure here.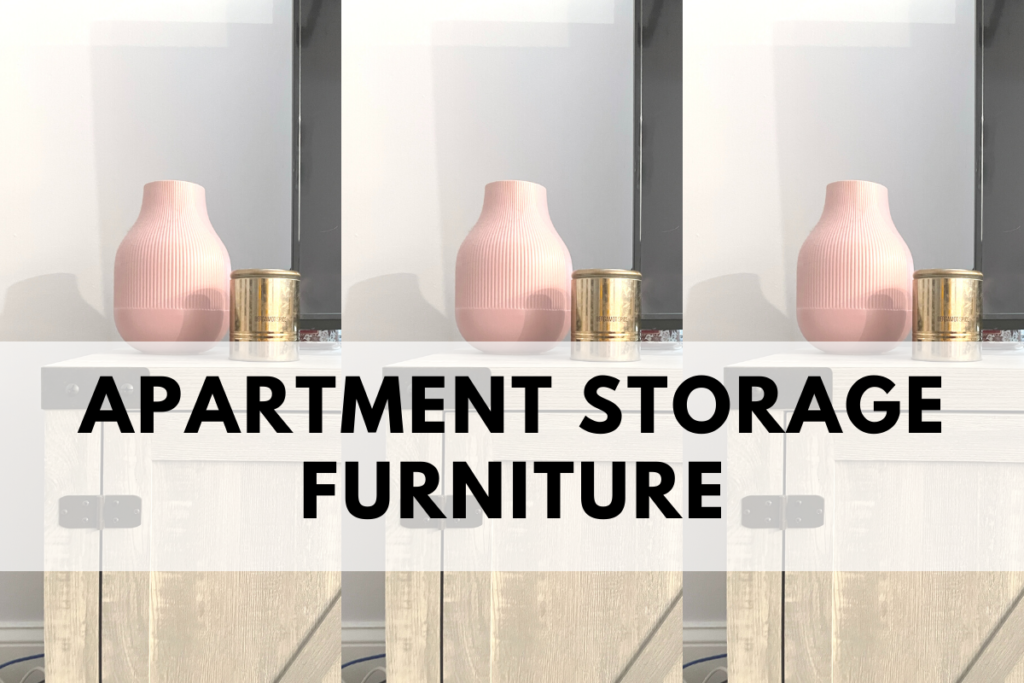 T
his post is all about apartment storage furniture that will save your small space.
The Best Apartment Storage Furniture
1. Small Apartment Storage Furniture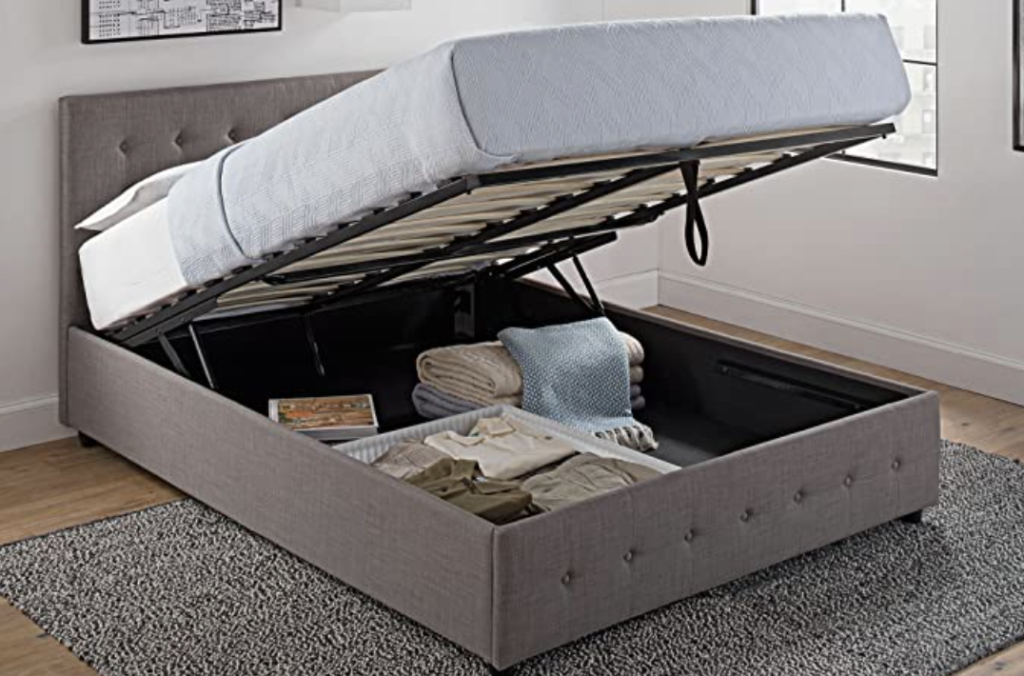 When you are working with a small apartment, it is so important to make the best possible use of your space. You can save a lot of time and frustration down the road by investing in furniture that is both functional for its intended purpose and maximizes storage space.
When you are shopping for your small apartment storage furniture, add a storage bed to the top of your list. A bed with storage underneath will allow you to store your essentials without adding any unnecessary furniture to your room. This is especially important in bigger cities, where you might not even be able to fit a dresser in your bedroom.
When my husband and I moved to Philadelphia, we knew we were getting an apartment that had one smaller bedroom and a larger bedroom. We walked into the first bedroom and decided we'd probably just put a desk in it and maybe overflow storage since it definitely wouldn't fit much more than a bed.
Turns out, that was our larger bedroom! Under-the-bed storage quickly became our new best friend.
This Convertible Storage Bed is a great option for small apartment storage furniture! This bed is super functional and adds tons of storage space to your room. Not only that, but the closed design means you don't have to worry about your room appearing cluttered or having to find a bed skirt that
2. Studio Apartment Storage Furniture
It is extremely important to keep things as organized as possible in a studio apartment. Due to the limited space, it can be very easy for things to feel cluttered and start affecting your sleep.
I am someone who cannot focus if things feel out of place in the room I'm in. I've found. that the best way to deal with this in a small apartment is to identify "hot zones" or any particular items that get messy quickly. In our house, the number one culprit is SHOES.
After months of battling with my husband and trying a bunch of different storage solutions for shoes in our tiny apartment, we figured out that the easiest possible way to make shoes look neat is to put them in a shoe bench/cabinet.
This Compact Shoe Bench is a great option that will allow you to easily store shoes in your studio apartment without looking messy or taking up valuable storage space. The bench is also great for putting on/taking off boots in the winter and doubles as an easy drop-off zone.
3. Apartment Bike Storage
Bike storage is extremely important in apartments, especially if you are in a big city! Few apartments will offer secure bike storage, and even fewer will have storage you can actually trust.
Compact apartment bike storage is a great option that will help you keep your bike safe and maximize your free space.
This Apartment Bike Stand has almost 8,000 on Amazon and will save you a ton of space. You can easily move it from room to room and it is renter-friendly!
4. Convertible Furniture for Small Spaces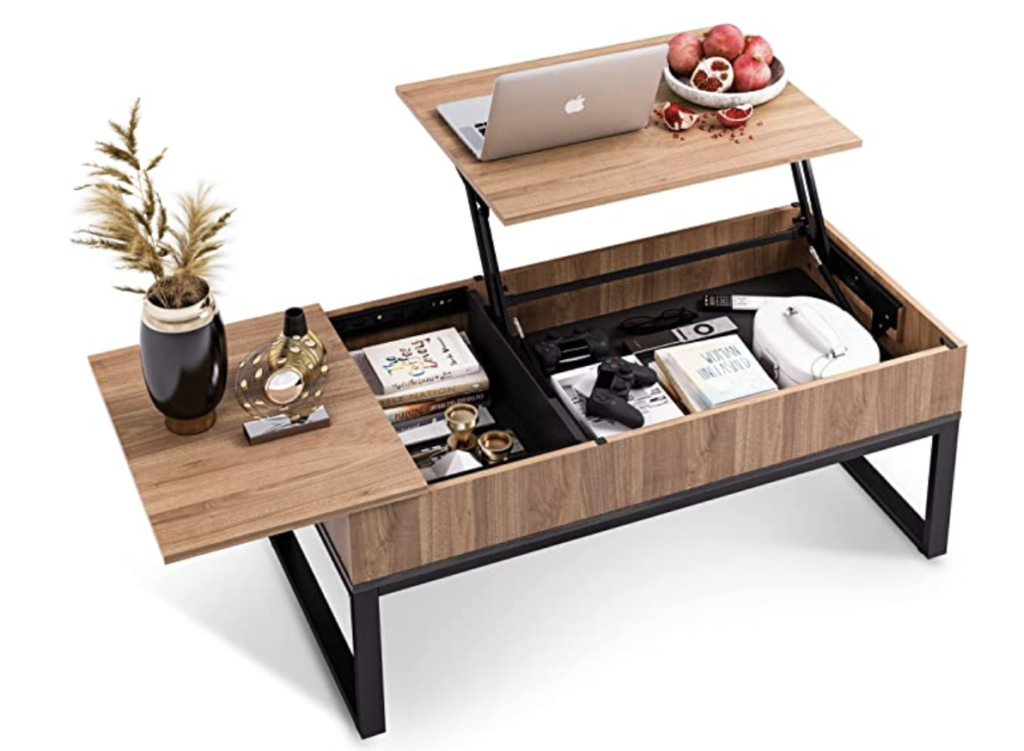 Coffee tables are the unsung heroes of small spaces! Not only do they help a small space feel finished, but they also provide ample storage without adding any unnecessary furniture to a room. Bonus, they make a great place to eat if your space is extra tiny!
This Convertible Coffee Table is an absolute game. changer. in terms of apartment storage furniture. It is super easy to put together and provides hidden storage and extra spce underneath for baskets.
The best thing about this table is that it also works as a desk or a tv stand! I highly recommend this coffee table if you don't have space for a desk or dining table.
5. Best Storage Furniture for Small Apartments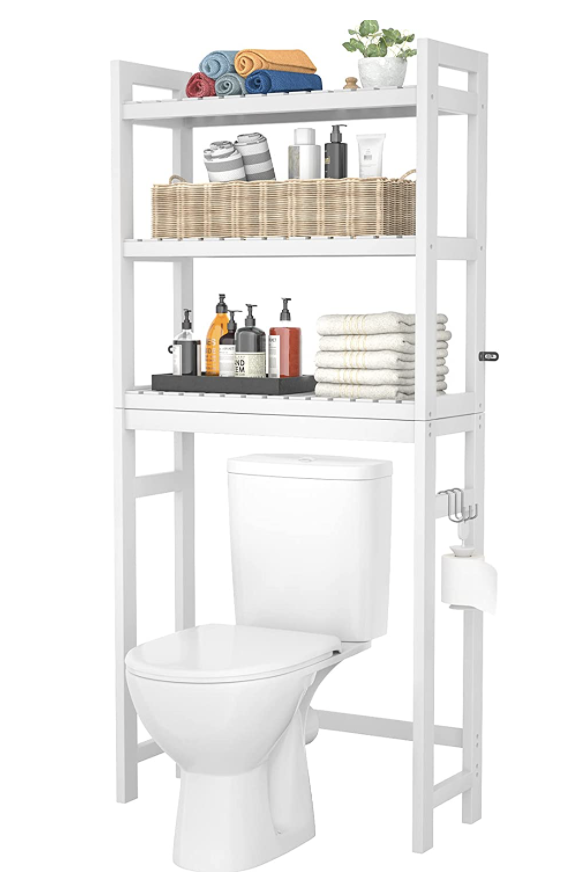 When you are planning for apartment storage furniture, you know you will likely need to get creative. Small apartments don't always allow for a lot of extras especially in tight places like the bathroom.
Maximizing the vertical space in your apartment is a great way to get around this!
This Over the Toilet Storage Organizer will add a ton of space to store linens, extra toilet paper, and toiletries. The vertical design will ensure that you don'/t waste any valuable square footage in your bathroom and can still keep everything organized.
6. Storage Solutions for Small Apartment Kitchens
Did you even realize how small apartment kitchens could be?! My parents had a gally kitchen growing up and I always had a similar set up in college, so I thought I was smart with my space and didn't need much storage.
When we signed moved into our apartment in Philadelphia (site unseen, but that's a story for another day) I was SHOCKED by how little cabinet space we had. Coupled with the complete lack of pantry space, we have had to get pretty creative to fit our bare necessities into our space.
Safe to say, "apartment kitchen solutions" was my top google search for a while, lol.
When I saw this Side Refridgerator Organizer I knew I absolutely had to include it in this post. This will add SO MUCH SPACE for snacks and essentials. The innovative design allows you to store heavier items without risk of falling, and the S hooks will clear up your counter space by giving you a place toput all of your tools.
Honestly, this is genius! It also functions as a freestanding shelf that you can place anywhere. This is a huge selling piont for me personally. I hate to buy things that I think I can't use forever, so knowing that this is convertible gives me a lot of peace of mind .
If you move somewhere with more kitchen space, this could always be used to organize a pantry. I think it could be cute with planters on a balcony, too! The possibilities are endless with this genius apartment storage solution.
7. Lightweight Furniture for Apartments
When you're first looking into apartment storage furniture, it's easy to get discouraged with how heavy some of the pieces can be. As someone who has moved…pretty much every year since I graduated high school, I'm always thinking about furniture that I'll actually (physically) be able to get to my next place.
I bought these side tables in a desperate effort to add more storage to my living room and have somewhere to easily put drinks. I could not recommend them more!!!
These Ultra-Lightweight Side Tables are super easy to put together and are super lightweight. Like, I can't even express how excited I was when these arrived and I could easily handle the box myself. They're only a couple of pounds each and have held up so well. I got the two-pack on Amazon and currently keep both in my living room
8. Affordable Small Space Furniture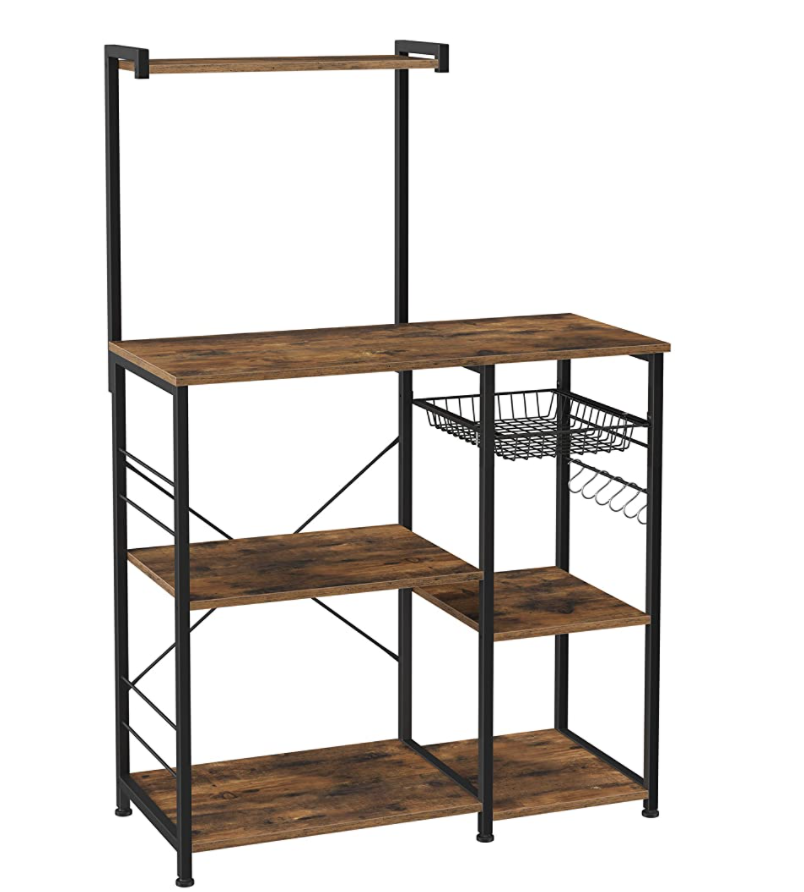 Furnishing your apartment can be super expensive. There are so many things you really can't cheap out on, so it feels like a major win whenever you find something that doesn't hurt your wallet.
This super-affordable Baker's Rack is a great cost-effective piece of storage furniture! Not only does it have a great price tag, but it also adds a ton of storage space without adding too much visual weight to your room.
If you're anything like me, it would be a great place to keep your coffee maker and supplies, or even as a super functional bar cart!
I'm seriously considering getting this as a little coffee station/bar. As a coffee/tea addict, I have a few too many appliances and mugs to fit in my teeny tiny kitchen.
9. Apartment Storage Hacks
Another thing you can't live without in a small apartment? Apartment storage hacks!!! Seriously, I have never been more creative with my space than I am in this tiny apartment.
Closet space has been the biggest adjustment for me personally since we only have two teeny tiny closets in the whole space. A hugely apartment storage hack that will save your sanity is storing off-season clothes under your bed. Winter clothes take up SO much room in your closet and looking at summer clothes when it's 10 degrees outside just feels cruel, so this works out in more ways than one.
These Clothes Storage Containers are GREAT because you can see what you have stored wear, they're super durable, and they have handles so you can easily pull them out when you need them. I highly recommend these for storing clothes or even blankets under your bed!
10. Living Room Storage Furniture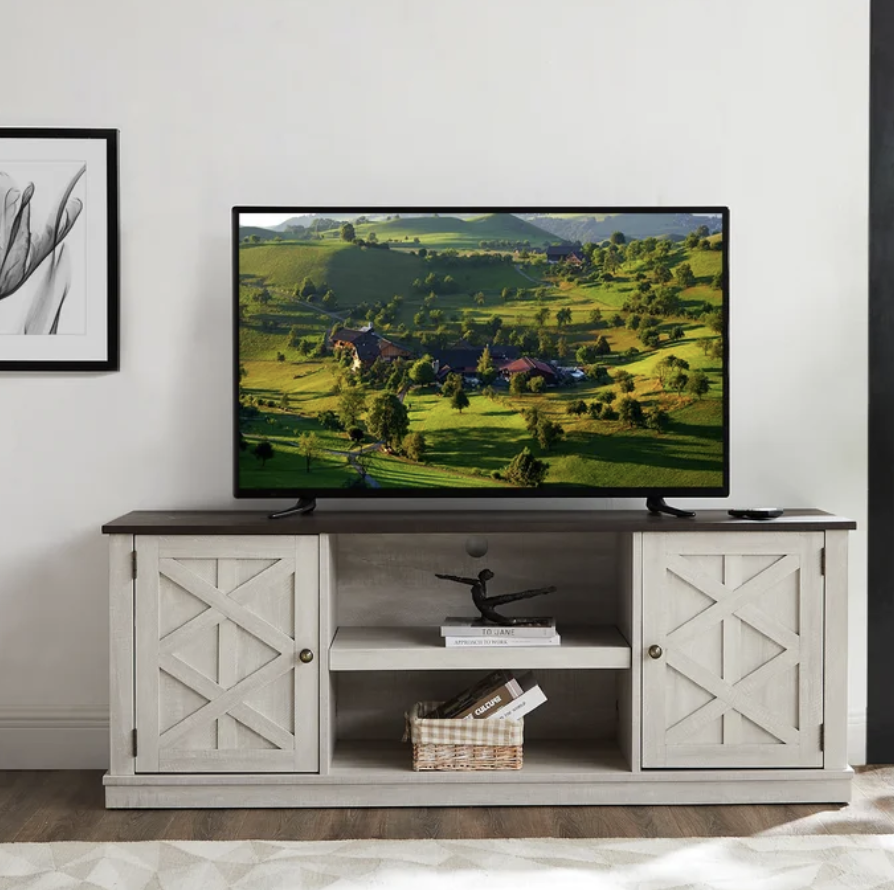 When you're considering apartment storage furniture, think of your living room first! Living room apartment storage furniture is a no-brainer because we expect to see bigger furniture pieces in this space to begin with.
An easy way to add a ton of storage space to your living room is to use storage-friendly furniture for your TV stand. This highly-rated Storage Media Stand is an incredible option for your living room storage furniture.
Something that really sets this apart is that it has both cabinets and a shelf. This will allow plenty of space for hidden storage without looking too bulky. I have an almost identical cabinet and keep large baskets in the center unit to really maximize the storage potential.
Having this big gap of space will keep your media stand from looking too bulky without sacrificing space.
11. Storage Furniture for Small Spaces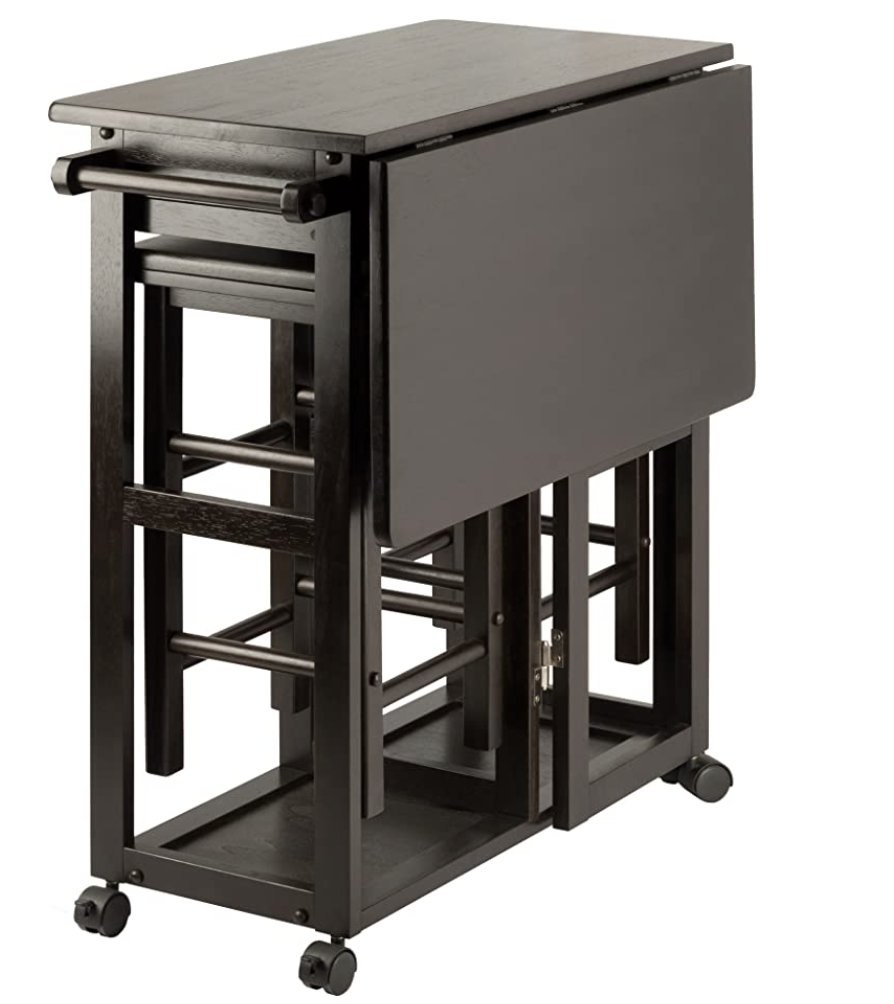 You don't officially live in a tiny apartment until you own one of these, lol! If you're in a really tiny space and can't fit a dining table (raises hand) then you need one of these Compact Dining Set-Ups!
This compact dining set can function as an extra side table just about anywhere in your home and also as a dining table! This is great if you don't have a ton of space, typically prefer eating on your couch, or even to use as a workstation that you can pack up to transition your studio into ~home~ mode at the end of the day. The possibilities are endless!
12. Small Kitchen Storage Cabinet
If you are in a small kitchen, a storage cabinet is going to be your best friend. This Rolling Kitchen Island is a must-have in a tiny apartment kitchen! It is a great alternative to open concept storage shelves and allows you to have extra prep space.
Personally, don't like to see different food labels and boxes out in the open – and I wouldn't store any food near to floor unless it was sealed really well. This cabinet will allow you to store anything from dishes to actual food items without having to worry about visually cluttering the space – or inviting a few animal "friends" over to your apartment.
Another important factor to look for is being able to rearrange your furniutre! This is so important for if you want to switch up your space in the future or even for when you move to your next place. The wheels on this cabinet honestly make it a huge plus for when you have to move it because you really only have to lift it when you're dealing with stairs or uneven surface. I love that it comes in this modern white and stainless steel colorway, but there are way more color options to choose from if you want it to match your kitchen!
13. NYC Apartment Furniture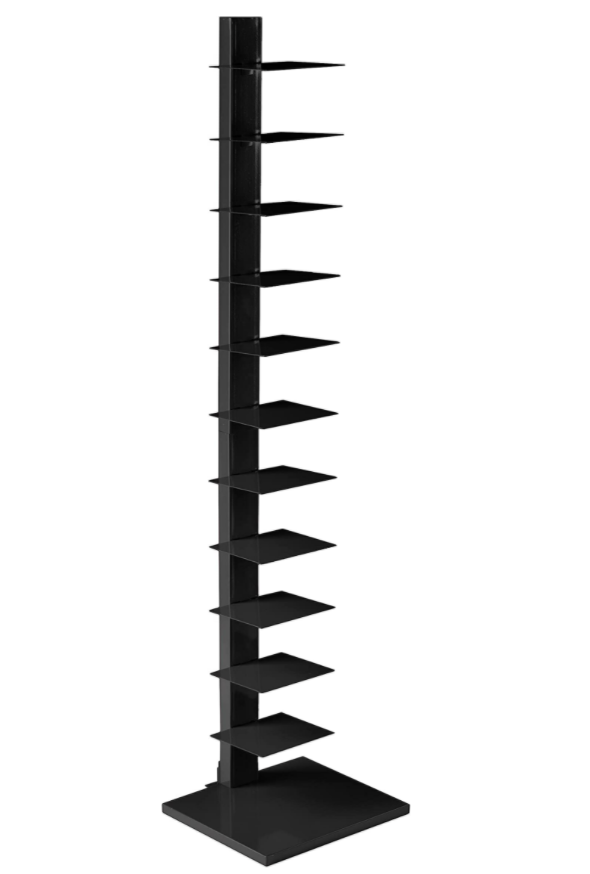 This is my favorite small apartment storage hack for any big city apartment, but especially for any friends in NYC who are dealing with some seriously limited space.
If you haven't heard of this yet, prepare to meet your new small space living best friend: This Spine Bookshelf!
Spine bookshelves – sometimes known as spine tower shelves – are a great way to maximize your storage space without taking up very much square footage at all. Seriously, just take a look! The bottom shelf takes up about as much space as a coffee table book and you can stack anything from books to other storage or decor items to really make an impact in your space.
One of my favorite ways to see these styled is with color-coded books that are packed to the brim. It looks like a floating tower of books and it it really makes a statement in your space!
14. Hidden Storage Furniture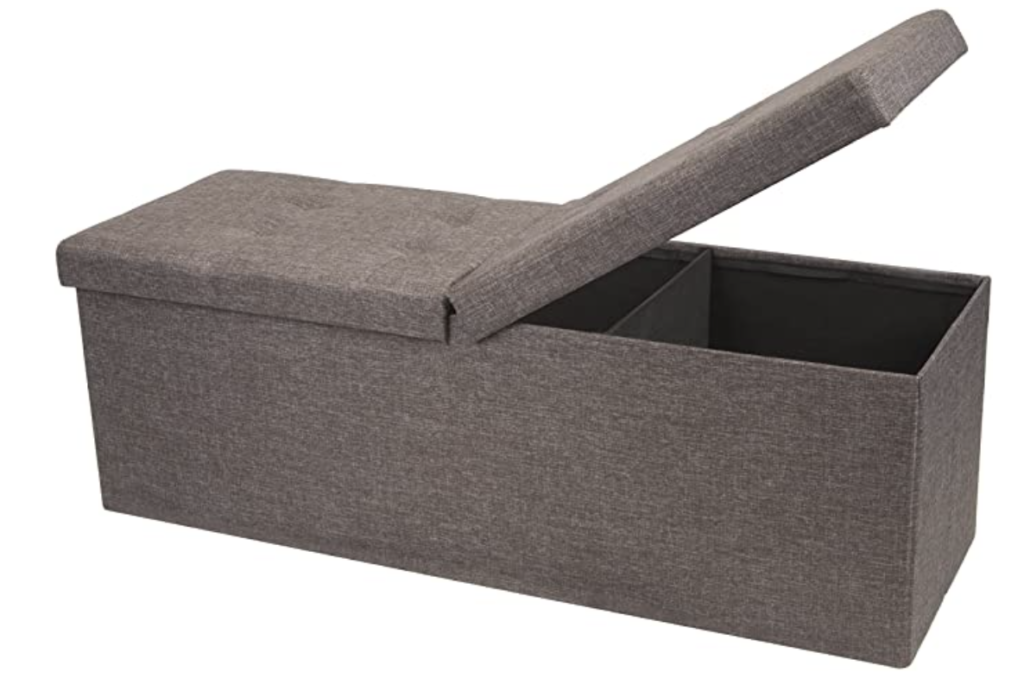 Last but certainly not least, you can't forget the trusty storage ottoman! Hidden storage furniture can really help to ensure that your space feels like a normal home instead of a tiny shoebox where you're just trying to maximize space.
One of the easiest ways to incorporate hidden storage furniture in your apartment is to add this Fabric Covered Storage Ottoman.
This ottoman is a great size and could really go anywhere in your home. Whether you used this as extra seating, a coffee table alternative (how cute would that be with a tray and some coffee table books on top?!) or even at the foot of your bed, this ottomon just works and would never seem unnecessary in your space.
This post was about apartment storage furniture.
Other Posts You May Like: