Are you looking for studio apartment decorating ideas on a budget? You've come to the right place!
Disclaimer: as an Amazon and RewardStyle affiliate, I may earn a small commission from purchases made through my links, at no extra cost to you. Read my full disclosure here.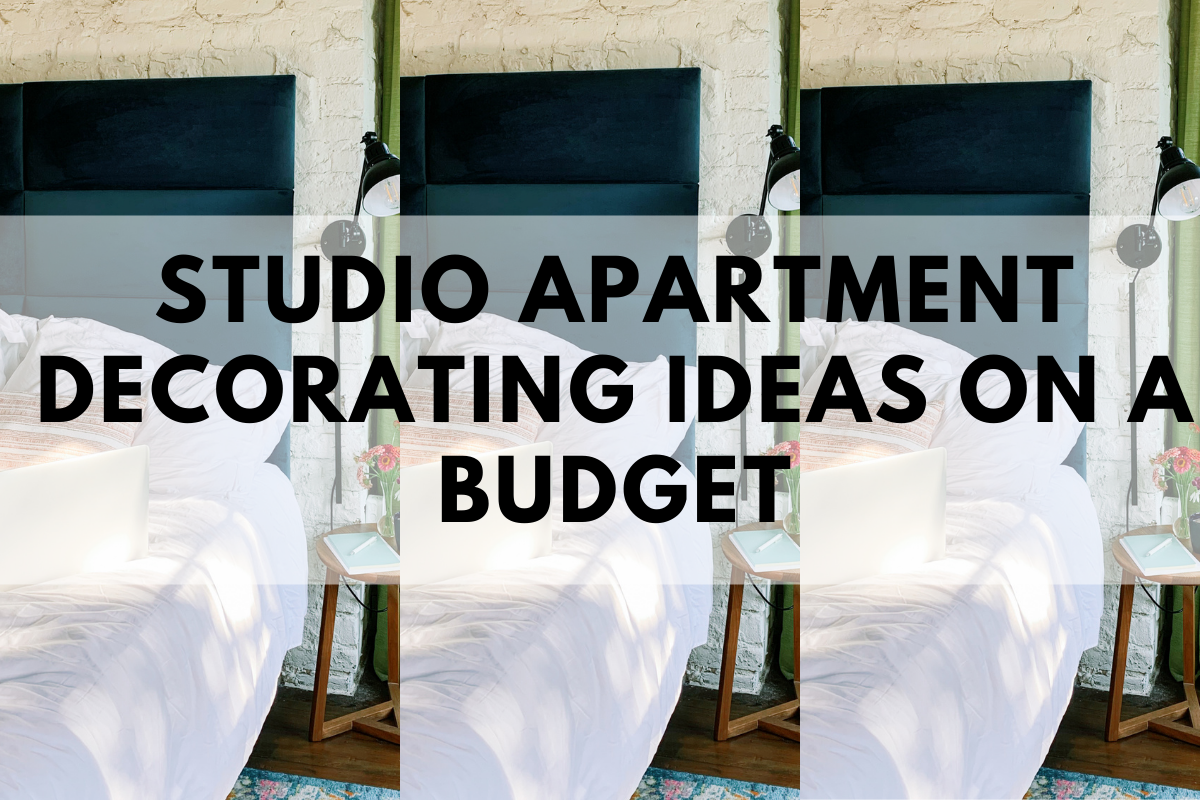 Wouldn't it be amazing if we could hire an interior designer to completely design each and every space? I wish!!! Decorating can take so much time (and money) that it can get overwhelming. However, nothing will bring you more peace than having a nicely decorated and comfortable space to call your own.
Sticking to a budget or being short on time doesn't mean you can't have a stylish and comfortable home.In this post, we will give you inspiration and easy to recreate ideas for decorating your studio apartment on a budget.
Studio apartments can be tricky to decorate, but with these tips, you'll be able to make your space look great without spending a lot of money!
This post is all about studio apartment decorating ideas on a budget.
How Do You Come Up With Studio Apartment Decorating Ideas on a Budget?
Moving into a studio apartment is an exciting time. You finally have your own place and can decorate it however you want! But then you realize that studio apartments are notoriously difficult to decorate. How do you make the most of your limited space without breaking the bank? Here are a few studio principles to keep in mind that will help you create a stylish and functional space on a budget:
– First, take inventory of what furniture you already have. You may be surprised how many pieces can be repurposed for your new space. For example, a coffee table can double as a dining table, and a dresser can be used as a TV stand.
– Second, think about what functions you need your studio to serve. Dining, sleeping, working, and relaxing all require different spaces and furniture. Try to create a layout that maximizes the use of your space.
– Third, (if you can) use paint to brighten up your space and add personality. A coat of paint can go a long way in transforming a room.
Now that we've got those down, keep reading for the BEST studio apartment decorating ideas!
Modern Studio Apartment Decor
If you're looking for modern studio apartment decor, you'll want to focus on sleek, minimalist furniture and accessories. You'll also want to keep the color palette simple, with black, white, and neutral shades predominating.
The key to successful modern studio apartment decor is achieving a balance between form and function. First and foremost, your furniture should be comfortable and inviting. But it should also serve a purpose; for example, a coffee table with built-in shelving can help you make the most of your limited space.
By keeping these principles in mind, you can create a modern studio apartment that feels both stylish and functional.
Minimalist Studio Apartment Decorating Ideas
Minimalism is all about making the most of what you have, and that includes your living space. If you're lucky enough to have a studio apartment, you can really maximize your square footage by decorating in a minimalist style. Here are some tips to get you started.
First, keep your color palette simple. Black, white, and gray are always classic choices, but you can also go for a more neutral look with beige or taupe.
Then, choose furniture that serves multiple purposes. A coffee table that doubles as a storage ottoman is a great way to save space, and a futon can be both a sofa and a bed.
Finally, don't forget the importance of accessories. A few well-chosen pieces can really add personality to your space.
RELATED:41+ BEST INTERIOR DESIGN COFFEE TABLE BOOKS
One important factor to keep in mind in a minimalist studio apartment is to add plenty of texture to the space. This will keep your apartment feeling warm and homey while sticking to a minimalist look!
Cozy Studio Apartment Decor
Cozy Studio Apartment Decor If you're looking to add a touch of coziness to your studio apartment, there are a few key elements you'll want to include in your decor.
First, consider adding some plush fabrics. A fluffy rug or a couple of cozy throws can make a huge difference in how comfortable your space feels.
Secondly, consider investing in some warm lighting. Soft, ambient lighting will make your space feel much more inviting than harsh fluorescent bulbs.
Thirdly, fill up your space! Whether you are adding artwork, photo prints, or even a tapestry, adding warmth and texture to your walls will make the space feel cozy and homey.
Finally, don't forget the power of candles! Each of these Cozy Studio Apartment Decor items can help make your space feel more like home. So go ahead and light a few candles, cozy up with a throw blanket, and enjoy your newly decorated space!
Chic Studio Apartment Decor
A chic, stylish apartment is truly the dream! If you are looking to achieve a chic look in your studio apartment, all you need to do is incorporate a few key items.
Firstly, choose a bold pattern to be a focal point in your room. This could be in the form of a gallery wall, a rug, or a stylish accent wall.
Then, add in a stylish or quirky accessory as a conversation piece. Unexpected elements instantly up the chic factor and make your space feel well thought out and intentional.
Finally, remember to tie all of your elements together. In a studio apartment, you can typically see all the different aspects of your space. Whether you are balancing out your space with clean, crisp bedding or making sure to incorporate a certain texture or color scheme across the space, tieing the whole space together will make a huge impact.
RELATED: 13+ CHIC APARTMENT BEDROOM DECOR IDEAS THAT WILL TRANSFORM YOUR SPACE
Area Rugs for Studio Apartments
Area rugs are a great way to add color and pattern to your studio apartment decorating. They can also help you create distinct areas in your apartment so the space feels more defined. But with so many sizes, colors, and textures to choose from, how do you know which area rug is right for your studio apartment? Here are a few tips to help you choose the perfect area rug for your studio apartment:
First, consider the size of your studio apartment. If you have a small studio, you'll want to choose a smaller area rug that won't overpower the space. On the other hand, if you have a large studio, you can choose a larger area rug or even multiple smaller rugs to define different areas in the space.
Next, think about the colors and patterns you want in your rug. If you want a bright and colorful rug, there are plenty of options to choose from. If you prefer a more neutral rug, there are also many options in muted colors and subtle patterns.
Finally, think about the texture of the rug. If you want a soft and cozy rug, choose a rug with a plush texture. If you prefer a more hardy rug, choose one with a rougher texture.
No matter what size, color, or pattern you choose, an area rug can add a lot of personality to your studio apartment.
Studio Apartment Organization Ideas
Now that you've finished decorating your studio apartment on a budget, you can get started on organizing it! Organizing a studio apartment can be a daunting task. How do you fit everything into such a small space? And how do you keep it all organized?
I promise, it isn't as hard as it seems! There are so many different ways to keep your studio apartment organized on a budget.
Here are some ideas to get you started.
Start with the basics: bed, couch, coffee table, TV. Then add in your desk, chair, and any other large pieces of furniture.
Now it's time to get creative with storage. Stack books on shelves, use baskets and bins to corral smaller items, and look for furniture with built-in storage, like ottomans and credenzas.
Don't forget about the walls! Hooks are your friend when it comes to hanging coats, towels, and other items.
Another apartment organization idea is to use storage containers to keep your belongings organized and out of sight. Under-bed storage bins are perfect for storing seasonal clothing, extra bedding, and other items that you don't need to have out all the time.
RELATED:
Tiny Apartment Hacks
Living in a tiny studio apartment can be tough, but with a little bit of creativity, you can make your space feel bigger. Here are some tips to help you out:
Use vertical space to your advantage. Install shelves or hooks on the walls to store things like books, pots and pans, or clothes.
Use a light color palette. A bright, cheerful space will make your apartment feel larger.
Opt for multifunctional furniture. A couch that also doubles as a bed or a coffee table with storage can help you save space.
Add plants. Plants not only add color and life to a room, but they also purify the air.
Use mirrors. Mirrors can create the illusion of space, and they also make a small room feel brighter.
Think outside the box. There are plenty of ways to decorate your apartment on a budget, so get creative with using some of the tiny apartment hacks below to help you maximize space in unexpected ways!
RELATED:21+ GENIUS Ideas for How to Maximize Space in a Small Apartment
RELATED: 7+ LIFE CHANGING APARTMENT KITCHEN ORGANIZATION IDEAS
This post was all about studio apartment decorating ideas on a budget.
Other Posts You May Like: