Welcome to a new post series: Wedding Wednesday! Today I'll be sharing the engagement pictures we took in El Yunque and San Juan, Puerto Rico last October. It seems like a lifetime since we were in Puerto Rico, and even longer since I even thought about wedding planning.
I may have mentioned this before, but, for obvious reasons, we postponed our June 2020 wedding that was set to take place in San Juan, Puerto Rico. Hopefully, we will be able to make it out there to get married sometime in 2021, even if it is a more low key affair. We postponed back in mid-March, so I haven't thought about wedding planning in a hot minute, thinking I had over a year to plan if the world was back in order by June 2021, which…hopefully, it is, but that definitely is no longer a year away!
A lot has changed since we postponed, so I'm no longer as big of a fan of some of the ideas that we had put together for our would-be wedding. I'm choosing to look on the bright side and take this extra time to plan a wedding that is closer to our values and energy now, and that is potentially better suited for social distancing that will likely still be in place when we do get married. However, in order for that to happen, I have to actually think about the wedding.
To get myself in the wedding zone, I decided to go back through our engagement photos from last year. Taking these was so fun. Let me walk you through our day.
Our photographer was one of my maids of honor's older sister! She has become a friend over the years and it was so nice to have her there. I am super, super uncomfortable being photographed, so it was nice to have someone there who I didn't feel like I had to perform for.
We started off in El Yunque, a rain forest national park in Puerto Rico. El Yunque is very special to me because I have so many memories of coming here whenever I would visit Puerto Rico as a child. It is such a beautiful place, with some of the most breathtaking views and flora. Unfortunately, the visitor's center was closed and we were not sure if the trailheads were open, so we did not venture too far into the forest. Thankfully there was plenty to see on the drive up!
El Yunque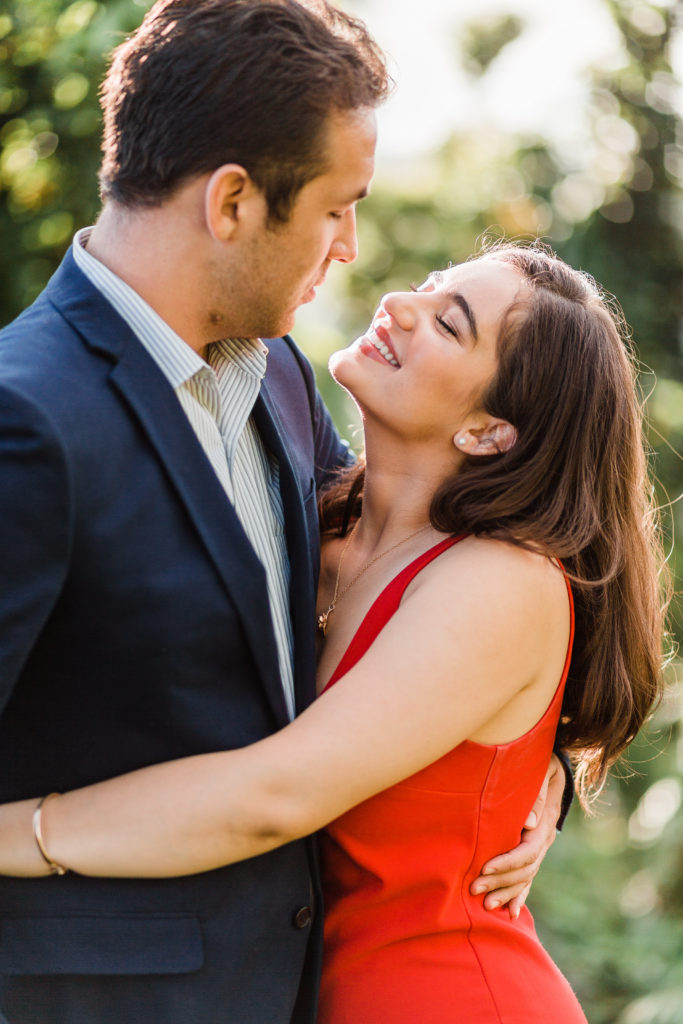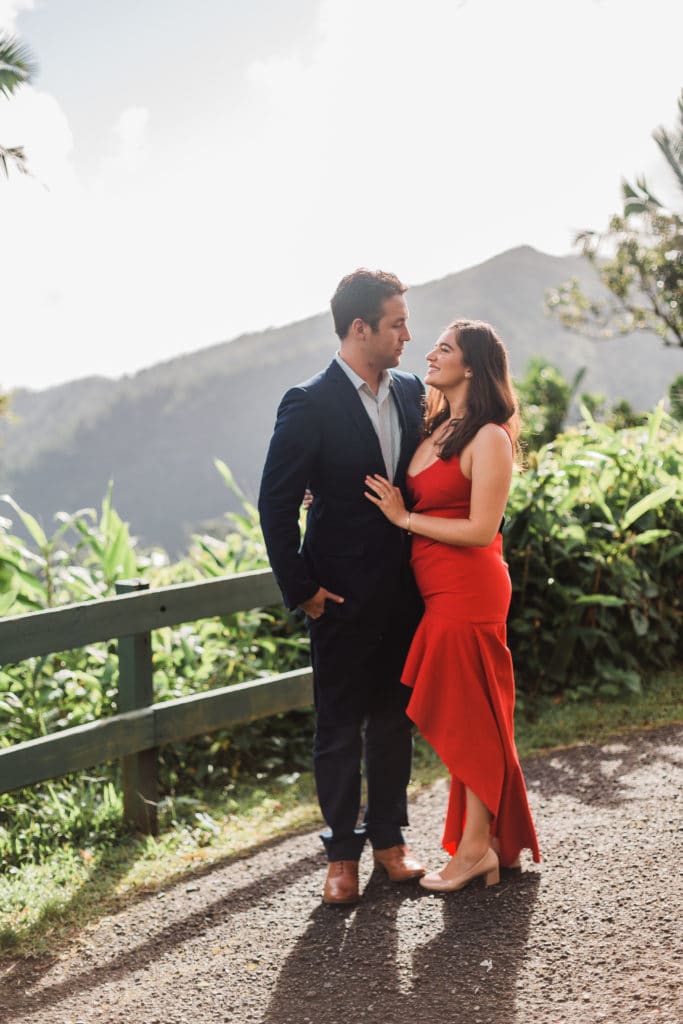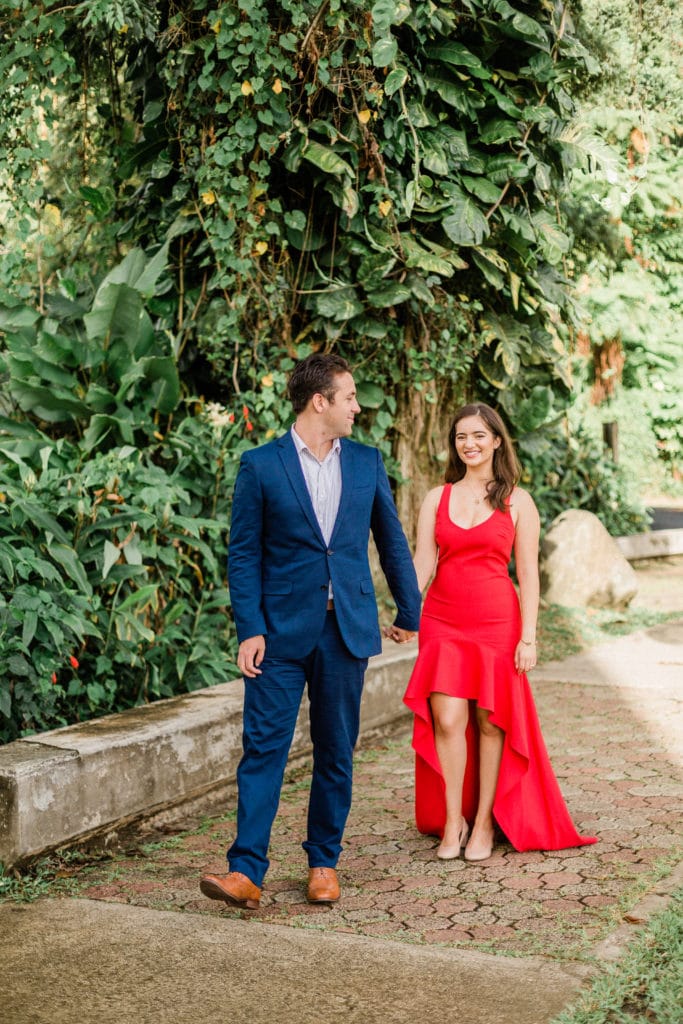 If you're planning to visit El Yunque for a photo session, get there early and be prepared to wait out a drizzle or two! I underestimated how nervous I would feel driving and we ended up taking a bit longer to get into the forest than we would have liked, but it was so worth it. I wish I could share everything we saw with our own eyes because it truly is such a beautiful, magical place.
We did sunrise/early morning pictures in El Yunque then left once the light got too bright. I remember getting little drinks and snacks with my family when we would go there years ago and thought we could have breakfast there, but I didn't think about the timing of our visit. We were there before anything was open, so we were HUNGRY by the end of the shoot. There was a Starbucks about half an hour out of the forest, but I highly recommend picking up food before and bringing snacks and waters to have on hand.
After our early morning session, we went back to our condo to rest up and planned where we would go for a sunset session in El Viejo San Juan (Old San Juan).
El Viejo San Juan
These pictures were my absolute favorites. Again, I have so many memories of Old San Juan and El Morro from visiting there with my family as a little girl. It was so nice to make new memories there together. It really feels like we're starting our own family!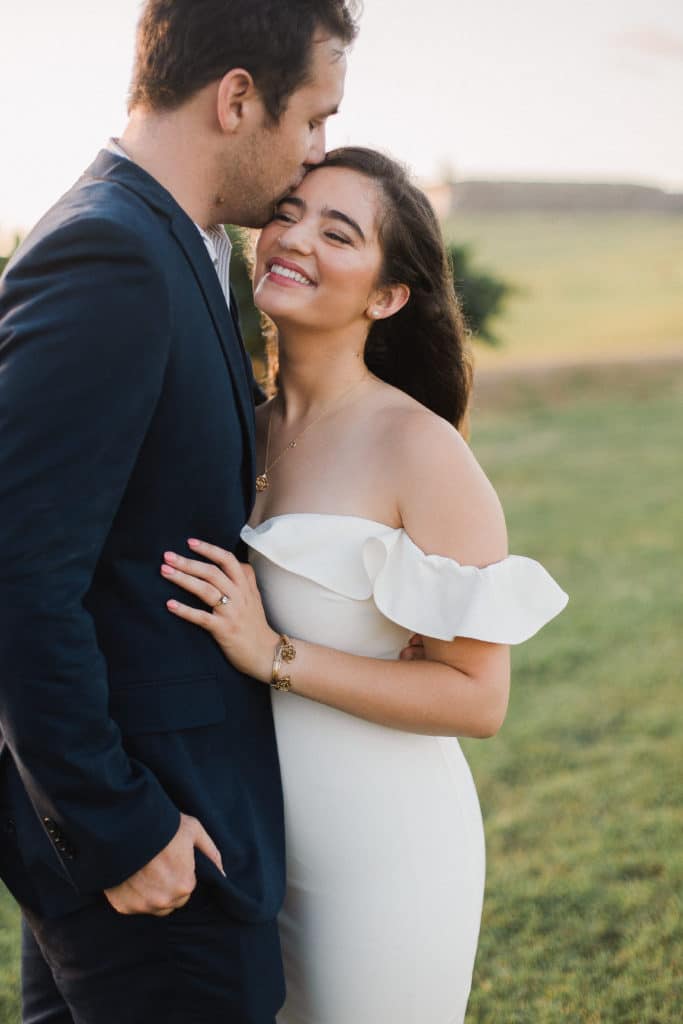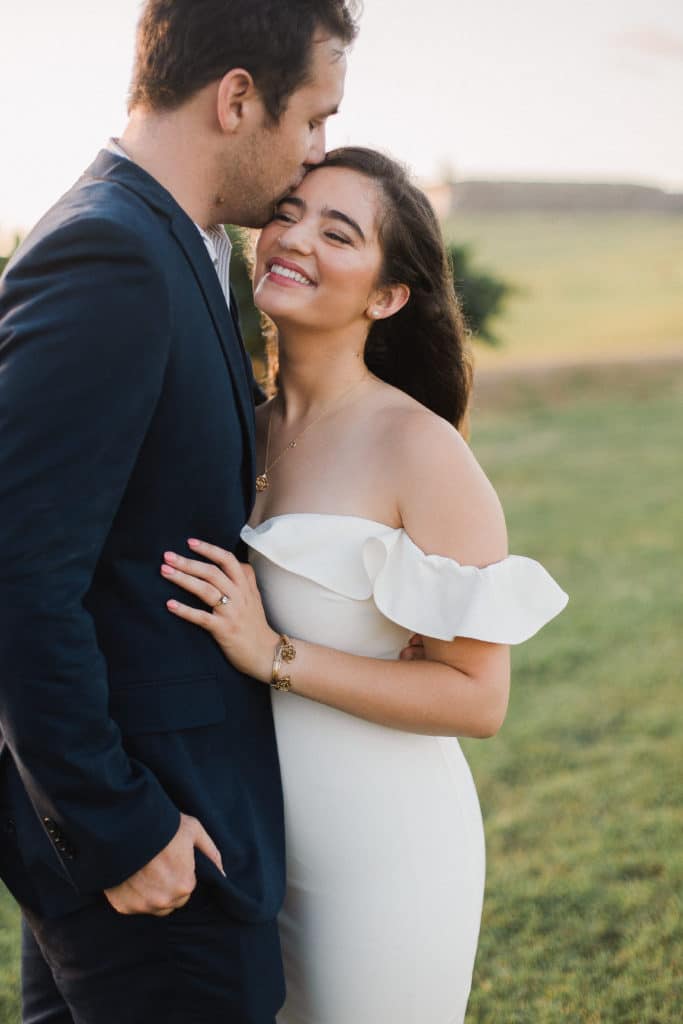 The Details
Both of the dresses I wore are from Likely and I highly recommend them! I found the white one in stock on Zola, but the red one appears to be sold out everywhere. I highly recommend jumping on this dress if you like it. I wanted it since 2017 and only saw it go on sale once, and it appears to be sold out most places! I was SOAKED in sweat wearing the white dress and you couldn't even see a drop of sweat, it was amazing.
I am wearing a size 8 in both dresses and wish I would have gone up to a 10 or maybe even a 12 in the white dress. I am usually a very solid 8, so if you are shopping the brand I would get a size or two up and plan for some slight alterations – my red dress was super loose in the bust but pretty tight in the hips. If you're on the average height to shorter side and don't want to wear super high heels, you may need to get a long dress from this brand hemmed. I'm 5'4″ and my grandmother hemmed about 6 inches on the white dress (in our air bnb like 2 hours before we left, lol!) prior to these pictures.
My jewelry was my engagement ring (obviously!), and my favorite everyday necklace and bracelet from Mimosa Handcrafted – my favorite jewelry brand! I also wore a bracelet my mom gave me from when she was in her 20s and my pearl earrings.
I wear pearl earrings literally every day – seriously, I sleep in them, wash my hair in them, swim in them, EVERYTHING. I've had this pair since I was 12, but if I was getting a new pair I would probably pick this one.
Makeup that Lasts
I'm no makeup guru, but if you're going to be taking engagement pictures in Puerto Rico – and running through Old San Juan in 80 degree weather – you need makeup that lasts. I was so glad I picked up this foundation from Estee Lauder (I wear the shade Rattan) before our trip. It seriously didn't budge even though I was dripping with sweat at one point. I also loved this lipstick in "Glowing Jen," which has now become my favorite everyday lip color. It was so creamy and I never felt like I had to reapply it. This setting powder is another holy grail that really kept everything in place. Finally, I will wear this blush in "Werk" until the end of time. It is so creamy, natural, and buildable!
That's all for now, folks! I hope you enjoyed this first Wedding Wednesday post. I'm excited to do more of these in the future. Now that I'm easing back into wedding mode, they'll be a good reminder to actually plan our wedding!
Are you caught up on all my recent posts? If not, start here!
DISCLOSURE: IF YOU BUY SOMETHING THROUGH MY LINKS, I MAY EARN AN AFFILIATE COMMISSION, AT NO COST TO YOU. I ONLY FEATURE THINGS I TRULY LOVE HERE. THANK YOU FOR YOUR SUPPORT!