Happy Monday, friends! Today I wanted to share gifts for the fitness fanatic in your life. I love fitness (especially fitness accessories!). I'm fairly new to exercise and was never super active as a kid, so I'm all about making fitness as fun, approachable, and pain-free as possible. It should be illegal to do a burpee in your house, right?! This gift guide is perfect for the seasoned fitness pro or fitness newbie in your life. If that's you, I won't tell 😉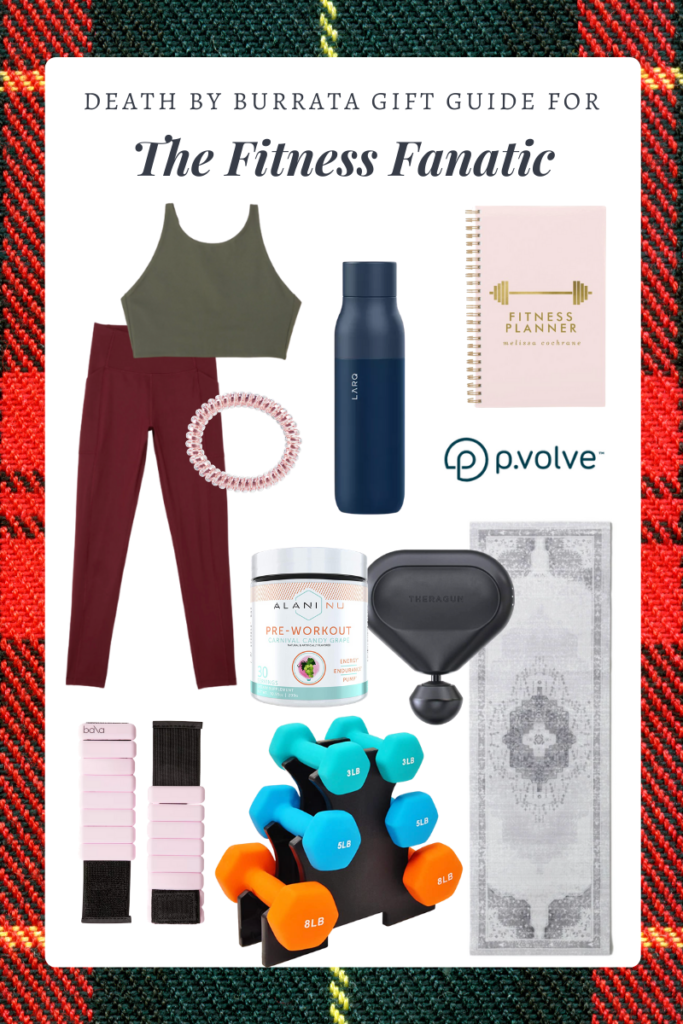 My favorite part of working out is getting to wear cute activewear. These are some of my favorite leggings and sports bras. They're a sustainable brand, too!
This SELF. CLEANING. WATERBOTTLE. is at the top of my Christmas wish list this year. It is the perfect gift for the germaphobe or fitness fanatic in your life.
This fitness planner is perfect for any seasoned fanatic or newbie in your life. If you fail to plan, you plan to fail!
These are my favorite hair ties! They always stay put in workouts.
P.Volve is my absolute favorite streamed workout. I love how hard it is without requiring any crazy movements. This leaves me sore for days without requiring any "traditional" workout moves or burpees. It's perfect for at-home workouts! This set comes with equipment and three months of streaming, it's such a great deal!
This is my favorite pre-workout. Hawaiin Shaved ice tastes just like a tiger's blood snowball. It's the perfect little treat if I need extra motivation for a workout.
This device is the absolute best gift for the fitness fanatic in your life. It helps so much with sore muscles!
This beautiful yoga mat would be perfect for any fitness fanatic in your life. Since we're all working out at home most of the time now, it would even look beautiful if you left it out all the time!
These ankle weights are the absolute cutest. They are such a nice little luxury that will brighten up any fitness fanatic's routine!
This weight set is such a great price, and makes the perfect gift for your fitness fanatic!
If you want to go all out and really splurge on the fitness fanatic in your life, I can't recommend this foldable treadmill enough. This is perfect for small spaces. You can easily fold it up or hide it under a table or desk. It's an excellent price, too!
Are you caught up on all my recent posts? If not, start here!
This post contains affiliate links. Thanks for your support!